Fan Photo Pictorial from Instagram and Beyond: Stickerbombings, Vercetti Selfies, Custom Kicks...
In our latest photoset of cool Rockstar-related stuff seen and shared on Instagram, we've got everything from Liberty City golf cart shenanigans, to sick (and quite painful looking) Rockstar tattoos, to an entire ongoing Instagram account from the perspective of Tommy Vercetti circa '86 living the life in Vice City.

As always, if you happen upon (or take) cool Rockstar-related shots, make sure to send them our way via Mouthoff and remember to follow us at instagram.com/rockstargames for our latest official pics.
| | | |
| --- | --- | --- |
| @thomas_scott recovered this holy grail archaeological find - his vintage decade-old hand-written #ViceCity cheat sheet. | | Spotted in the streets of our homebase, #NYC. |
| | | |
| --- | --- | --- |
| Just one of our faves from the anachronistically awesome @tommyvercetti86 account: "Me and Colonel Cortez on his yacht talking business. Afterwards we had some sushi and watched reruns of Diff'rent Strokes." And who can forget that time when Tommy joined the VCPD... | | This one was captured a few months back at Art Basel Week in Miami. A fantastic meta graf mural rendition of #ViceCity's martini girl snapped by @ris4romero. |
| | |
| --- | --- |
| Says @ashisbest: "Custom Grand Theft Auto canvas slip ons for my husband's 21st birthday. Logo on the left shoe, Diego Mendez on the right shoe, and the GTA5 roman numeral on the backs surrounded by six wanted stars. Not perfect but he likes them and I'm happy with how they turned out!" So are we - very sweet! | @jasonb5 found out what happens when you steal putters from the mini golf in Firefly Island. |
| | | |
| --- | --- | --- |
| Found on Tumblr, check out Shoomlah's spot on portrayal of RDR's Bonnie MacFarlane, as rocked at this year's Wild West Con in Arizona. Being Bonnie to a tee. | | Looks like this San Andreas temptress has become somewhat ubiquitous in the world of custom car graf. Credit to @ryanpanayis who spotted the top one in a Tesco parking lot, and @we_do_graffiti who personally painted the bottom one on a Porsche. |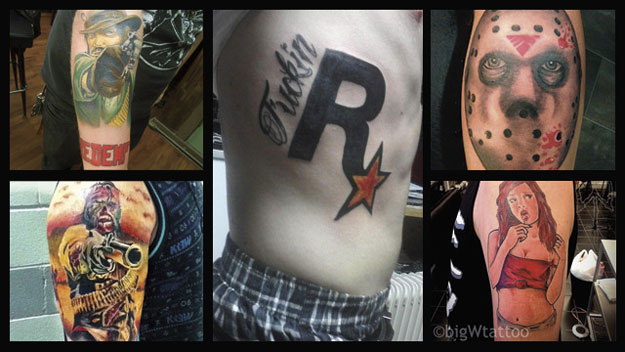 Hardcore. A collection of Rockstar themed tats that we've seen or have been sent our way. Marston of the Red Dead and Undead variety, Lollipop Girl of GTAIV fame, and even one of the more memorably menacing Hunters from Manhunt. Most impressive of all perhaps though is the gentleman who got "F***in' R*" across his ribcage - no words...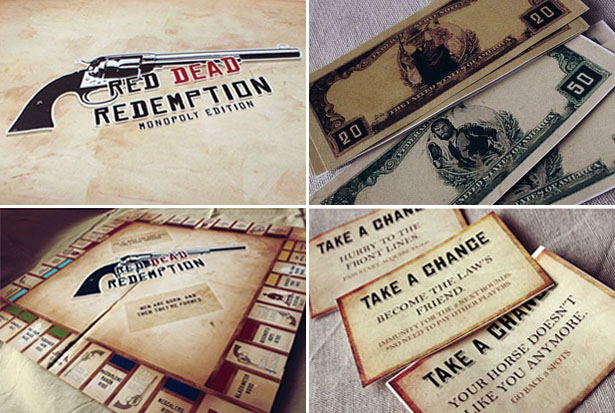 And finally - who needs Marvin Gardens when you can build an empire around MacFarlane Ranch? Hats off to Thea Larsen of Norway, with great attention to detail in this custom Red Dead Redemption Monopoly board she made for an art class. Having lit up Reddit last month, Thea's version of the classic board game has some incredible game pieces, including apropos property cards and even currency with characters from the game on it.
Previously:
Found on Instagram: #RDR Tattoos, Toys and Rockstar Costumes, A Few #GTA Instagram Faves