Crew Cut: The Feuds Edition
As we approach the one year anniversary of Max Payne 3's release, the competitive landscape of multiplayer continues to be a breeding ground for battles between Social Club Crews. In addition to scheduled matches, one of the ways rival factions can settle their differences is via Feuds, which are automatically triggered during skirmishes and give bonus XP to the first Crew to notch kills on their opponents.
Our latest edition of the Crew Cut pays tribute to those Crews who've not only Feuded plenty as of late, but have also been beefing consistently with some of the same squads. To evaluate these kings of conflict, we looked for the Crews that Feuded the most but also had the best win percentages.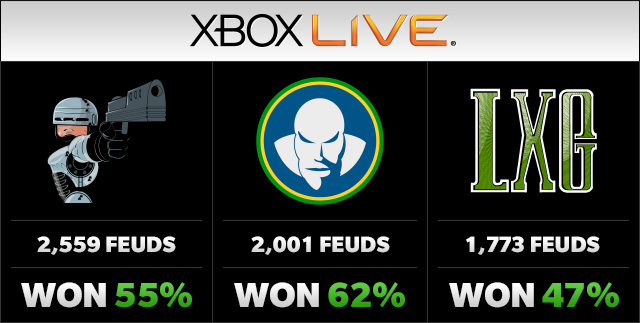 Going by total Feuds in March, the beefiest of the beefers on Xbox LIVE were the
Consumer Products (OCPC) Crew
.
Out of 2,559 total Feuds OCPC has 1,412 wins (55%). Over the last month, they've Feuded the most with the
Eu Soul Brasil e VC (ESBV) Crew
.
Going all the way back to August, OCPC just can't seem to dominate ESBV though, racking up 135 wins against 217 losses. Their rivalry with
KILLER SMOKING ACES (XKSA)
,
which also dates back to last August, is going better with 191 total wins and 78 losses. Speaking of Eau Sou Brasil e VC, this squad ranks second with 2,001 total Feuds, winning 1,238 of them (62%). In addition to their tussles with Consumer Products, ESBV have also been Feuding a lot with the
OneEightSeven (X187) Crew
,
trailing 79-105 over the month of March. In third last month was the LXG Crew (LXGC), winning 840 out 1,773 total Feuds (47%).
While not as voluminous as the aforementioned trio, credit must be given to the
Fear The Wrath (FAHQ) Crew
– who had an astonishing 94%, and
The-Agency-xVx (AGNT) Crew
– who came in at 63%. What they lacked in overall volume (FAHQ Feuded just 612 times) they more than made up for in the epicness of their ugly, ugly beef against each other. Over the last month, FAHQ have dominated AGNT 90-14 but their rivalry goes waaay back, as evidenced in
this compilation video from February
. We love the intensity and passion guys, but your cardiologists might recommend you dial it back just a tad.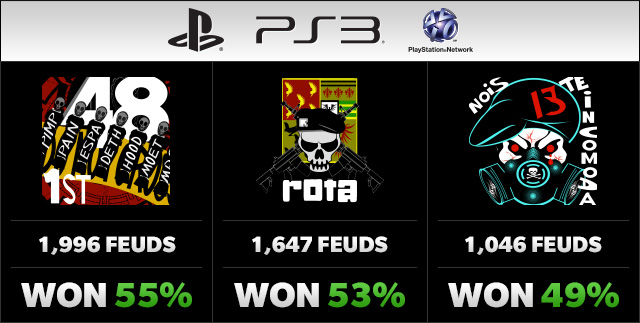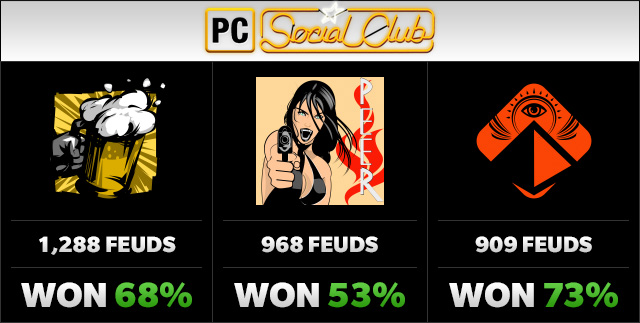 On top of the PC Leaderboards for March is
The Beer Barons (BEER) Crew
- who we had the pleasure of battling back in January - winning 68% of their 1,288 Feuds. They claim to not be a serious Crew and yet their 881 wins tell a different story. One of their biggest rivalries over the last month has been the second place
peacekeepers
(PEER)
Crew
(53%), besting them 239-129. With their 909 total Feuds,
The Illuminatti Crew
- who got the best of us in the match highlighted below - came in third.
Have you and your Crew been racking up the Feuds with a particular opponent as of late and want to settle it once and for all on the Rockstar Games TwitchTV Stream? If so, have Crew leaders from both sides get in touch with us so that we can set a time to play. To facilitate the live stream and make things fair we'll also add a single Rockstar Dev to each team and stream the match live at
twitch.tv/rockstargames
.
Hit us up at
crewchallenges@rockstargames.com
to get things going - and stay tuned for info about those matches both here at the Crew Cut and by following us on
Twitter
and
Facebook
.
THE BATTLES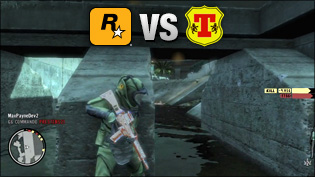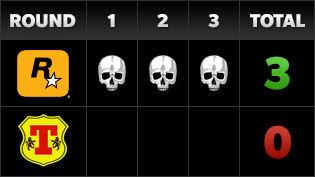 The battle started off a tight one as we faced off with some Gang Wars in Nova Esperança.
Bremmer72
got things going for Tennents Special by blasting MaxPayneDev2 with the M10. With two minutes left in the first chapter and Tennents Special up 12-10, their guys stepped it up with likes of
TanMan1977
abusing MaxPayneDev9 and finally,
RenoX47
blasting MaxPayneDev2 with the 608 Bull. It was close but Tennents Special eked out the 25-24 Chapter One win. After that, our Devs seemed to wake up and not only won every remaining chapter but then roasted them 85-58 in a Team Deathmatch to win Round Two. Round Three's Gang Wars in the Hoboken Alleys had some good back and forth, particularly with some great work from TanMan1977 – he stuffed a few of our Devs with bullets from his IA2 like they were haggis. Still, with a particularly strong showing from Dev2, we were able to pull ahead and win the day 3-0.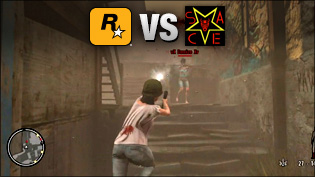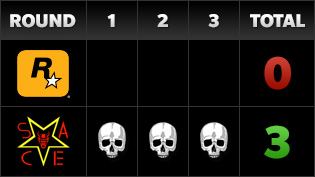 In the January 29th faceoff with the
Team 4Sace Crew
things didn't go quite as smoothly for our group. Once again starting out with some Gang Wars in Nova, vX Demize Xv (XBL ID) immediately gave Dev2 a taste of defeat by owning them 6-1 with their PT92. With
Rezurrectionz
surviving the most vendettas and having the highest kill streak and
xinsaneiakx
having the most kills, Team4Sace whipped us 5-0. In a round of Gang Wars at the São Paulo Bus Depot, Rezurrectionz picked right back up where they left off with a 3-0 onslaught on Dev2. Despite MaxPayneDev3 and MaxPayneDev1 stepping up their games considerably, Team4Sace still wound up with a 3-0 shutout. Props also are in order to
SHADOWISKANE
, who had a particularly strong outing, and all the members of Team 4Sace.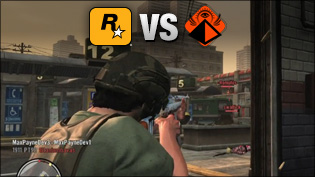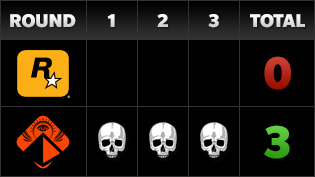 We tried to pick up the pieces on February 1st when we faced off with
The Illuminatti Crew
. Despite a quick double team on
-Romulus-
by Devs 1 and 4 at the start of Gang Wars, we were no match for their New World Order and lost 50-28. A Round Two Team Deathmatch over at the Bus Depot went even worse –
swallick
,
_Vagg_
and -Romulus- dispatched Dev1 to hell and back a total of 16 times and they just brutalized us 165-111. In Round Three's Gang Wars at Tietê River Docks, we just were still outmatched by the killer trio of _Vagg_, -Romulus- and
Docteur.Stup
– but we did manage to win one round before ultimately losing once again 0-3. Was it all a conspiracy? We'll never know.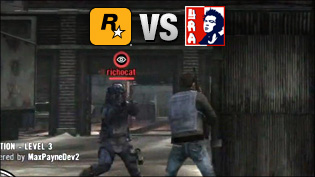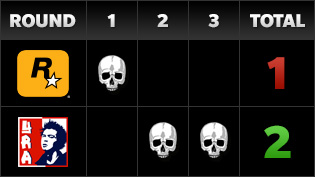 Our Devs started February 2nd's matchup with
The YRA Crew
back in Hoboken for some Gang Wars action. Just seconds in,
toNy--StArK92
snuck up on Dev1 like a ghost, obliterating them with the sawn off. Throughout the round poor Dev1 got it again and again from the likes of
Richocat
,
yabadaduuuu
and Leader
BobbyGonda
. Eventually, they started teaming up with Dev14 and turned it around, giving us the win in the initial round. Thanks to
KingKoshan
's plethora of grenade attacks and handy work by Richocat, their Crew took Round Two's Team Deathmatch 123-94. All tied up at one, Round Three's make or break Gang Wars contest featured a little more back and forth, but outstanding games by KingKoshan and
punkrokmik
were just too much for us to handle and the YRA Crew took the overall match 2-1.
CREW HIGHLIGHTS
Over the last couple of months we've also seen some great videos from the Social Club Crew community. First up, we have this Team Deathmatch featuring
Red-Electronica
nd Mister Norway of the previously mentioned Consumer Products Crew. Spend over 11 minutes with these Crew mates on the Canal de Panamá as they display their natural chemistry, taking on members of the
Golden Scorpions
and
FireRep
Crews.
In another nod to our Feud theme, el_serpe of the T Good T Bad T Ugly Crew (TRIO) put together the montage below of some of their guys take on members of the Penguin Protectors Crew (BLIP). Spoiler alert: TRIO performs very well.
Lastly, we have a video from our old friends in the Ganja Outlaws Crew. Check out some classic ShootDodging and other stunting in this remix clip.
A big hearty shout out goes out to all the Crews who battled us over the last few months, as well as those Crews who Feuded with such abundance. We couldn't think of a better forum for settling beef.
Previous Editions of the Crew Cut: