Unreleased Original Radio Espantoso Songs from Vice City Now Available on iTunes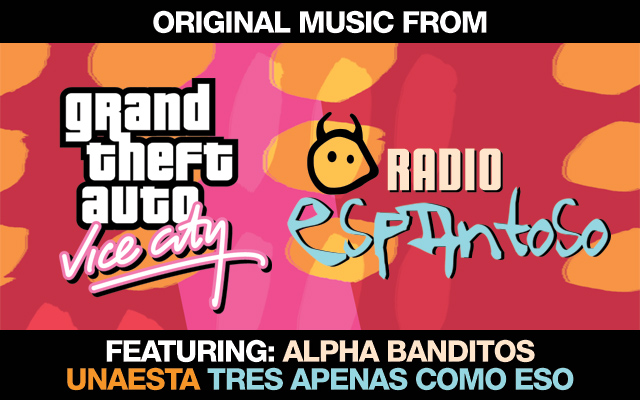 On top of the classic Love Fist EP we remastered and released not too long ago, we've just dug even deeper in the vaults to release a trio of original sought-after tracks from Vice City's Radio Espantoso airwaves.

"The Bull's Wrong" by Alpha Banditos

"Yo Te Mire" by Tres Apenas Como Eso

"La Vida Es Una Lenteja" by Unaesta

These latin jam bands were a sureshot to get the fiesta going back in 1980s VC and now fans of their funky sounds (special shout to LegionYT1994) can grab the digitally remastered tracks for the low price of $0.69 each over at iTunes. They're also available for streaming on Spotify and have been added to our official playlists.

Previously:
Official Grand Theft Auto Radio Playlists on Spotify and iTunes
Love Fist's Original 1986 EP Is Now Available on iTunes
Head Radio & Lips FM Station Albums from Liberty City Stories Now Available on iTunes
Grand Theft Auto III: Head Radio & Lips FM Station Albums Now Available on iTunes