Rockstar Game Tips: Ruling the Streets in Midnight Club 1 & 2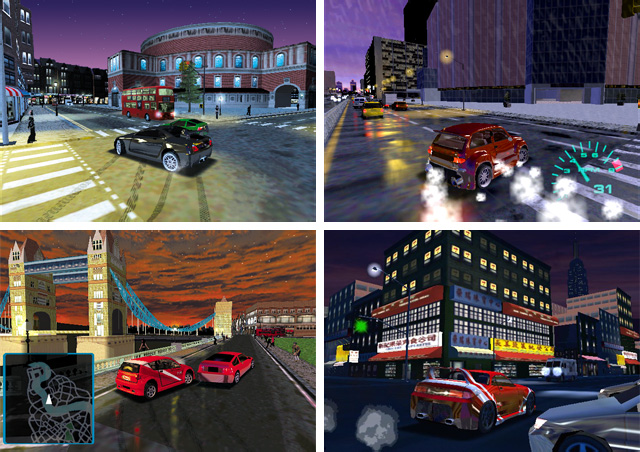 Midnight Club has a wide array of special vehicles to unlock in New York and London. Doing so will help you greatly in your rise through the ranks of street racers.
With the recent release of both the original Midnight Club: Street Racing as well as Midnight Club 2 (on the occasion of its decade anniversary year) as downloadable PS2 Classics on PlayStation Network, we've hit their vintage pavements to help gather up some helpful tips to help shake the dust off your racing street cred and make your mark on the avenues and alleyways of New York City, London, Los Angeles, Paris and Tokyo.
The original Midnight Club: Street Racing's Career Mode pits you against a series of increasingly formidable rivals, each with their own personalities and driving styles. Heed this advice to leave each of them in the wake of your exhaust fumes:
Rush Hour - New York and London traffic have been the bane of many a commuter on both sides of the pond, and they can also be your undoing at the start of a Waypoint race. Try to steer of any jostling and focus on pulling ahead of the crowd.

Crush Hour - On the other hand, in a Head 2 Head race don't be afraid of getting physical and ramming your rival out of contention. Aim for their rear bumper on either side for optimum sabotage. Because you're not racing against robots, opponents will sometimes make mistakes and spin out ahead of you. Make the most of this and smash them out of contention.

Bird's Eye View - Waypoint Races don't follow a linear path; they are made up of a series of checkpoints and a finish line, and it's up to you to navigate the quickest route. At the start of the race, hit the Select button to zoom out on your map to make this easier.

I'd Tap That - The handbrake can go from best friend to mortal enemy in the space of a millisecond. A gentle tap will take you round sharp corners like a dream but hold it too long and you'll quickly find yourself staring into your opponents' headlights. Go easy!

Pink Slips - As you come up against increasingly challenging rival racers you need to make sure your ride is up to the task. As you work your way through the ranks you will win your rivals' cars, so it's worth checking your garage regularly to see if there's a faster model available. If you're really struggling with a particular race, don't be afraid to forfeit - you can always come back later with a gnarlier whip.
In addition to unlocking cars by defeating rival racers, there's also a number of special vehicles up for grabs in both New York and London. Here's a list along with pre-reqs to unlock:
The Type-S - In Career Mode, you must beat all Hookmen in both New York and London. When you finally beat the World Champ, the Type-S will be waiting for you in your Arcade garage.

Manhattan bonus cars - In Arcade Mode, you must place first in the 11th, 12th, 13th, 14th, and 15th Waypoint races. This will unlock the Beta, Bus, Ice Cream Truck, Meter Maid, and Foirenza II.

London bonus cars - In Arcade Mode, you must place first in the 11th, 12th, 13th, 14th, and 15th Waypoint races. This will unlock the Alpha, Double Decker Bus, Black Taxi, Crown Mail Truck, and Crescendo.

The Kuruma Faasuto GR, Kuruma Faasuto GS and Kuruma Faasuto GT - In Cruising Mode, look for the red circles that are hidden throughout London. Place your car over the circle and you will hear a sound indicating that a new car has been unlocked and is waiting for you in your garage.

The Super Taxi and Marauder Taxi - In Cruising Mode, look for the red circles that are hidden throughout New York. Place your car over the circle to hear the unlock sound indicating that new cars are in your garage.
Midnight Club 2 has long carried a rep as having some of the most challenging races in the entire Midnight Club series - so winning all the races across Los Angeles, Paris and Tokyo is still a formidable task. Here's a few pro tips that may help give you an edge:
Rearview Mirror - Use your rearview mirror to see when someone is coming, and on which side they're on. A well-timed cross checking swerve will deter opponents from taking your hard-earned lead. Practice blocking opponents when they use SST and Nitrous.

Shortcuts - Find them. Use them. Win with them. Explore on your own in Cruise Mode, or go through a race slowly, and examine all of your options leading up to each checkpoint. And watch the NPC racers. Sometimes they will tip you off to a ground-saving shortcut, as long as you don't mind smashing through a few glass windows.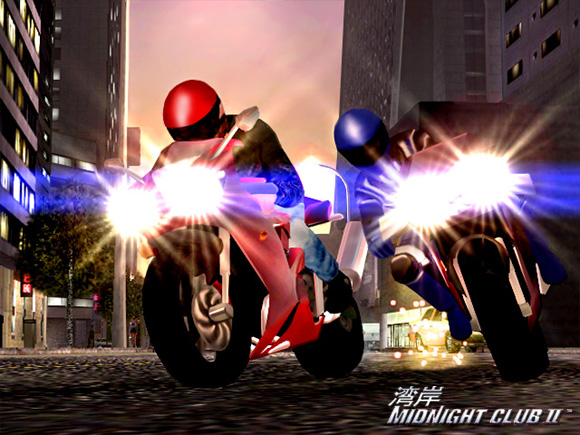 Master the wheelie in Midnight Club 2 to earn infinite boost, but be careful where you use it...
Your Best Friend, The Motorcycle - The most maneuverable vehicle. As your Midnight Club challenger Gina says, if you master it, no one will be able to touch you. So practice, practice, practice. As they are similar in effect to the nitrous, you can use wheelies to pick up speed. Once you master the wheelie, it becomes an infinite boost.

Save Those Nitros Until The Final Stretch - NPC racers use their nitrous early. Hold yours in reserve until the final straight, and then blast it for the win.

Learn To Corner - Take turns as tightly as possible to save ground. Some computer racers are not as adept at taking corners, so cut inside your opponents to gain that extra edge.

Mini-Map - Your second best friend. Glance at it on the fly to plan your best route. Keep an eye out for pink-colored buildings as they indicate shortcuts.

Battle Mode Powerups Special - Experiment with Pulse, Stealth and Stop to frustrate and bewilder your opponents.

Cut That Brake Cable - Some of the races you'll encounter will include several sharp turns. Ease through the turns by tapping the gas (as opposed to full throttle); you will lose less speed than you would if you had slammed on the brakes.

Know How Your Car Handles - The comparative handling ratings given to each vehicle are important, so pay close attention to them.

Cheats Never Prosper? - We're only suggesting this as a last resort, but Midnight Club 2 does have a cheat menu that can be found in the "Options" section of the Career Mode menu. Cheat codes are case sensitive and we won't give a full list here (a quick search online will yield that) but here's one for if you're truly stuck: to adjust the game's difficulty, enter "howhardcanitbe0", or "howhardcanitbe1", "howhardcanitbe2"... etc. The higher the number at the end of the code, the more challenging the opponent AI will be next time you race.
Share your tips in the comments below, and drop us a line if you need any assistance making it through a particular race, unlocking a car, or help with any other bit of the game. You can email mouthoff@rockstargames.com if you want to contact us directly, but it's also often worthwhile asking in the comments as it's a place where fellow Social Club members can collaborate to help out.