Red Hook Crit 2013: Round One Recap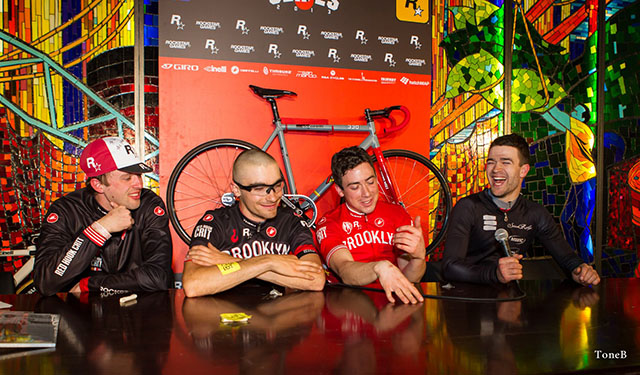 RHC organizer David August Trimble with Saturday's victorious trio: third place finisher Walton Brush, winner Neil Bezdek and second place finisher Evan Murphy (Photo by
ToneB
).
It was an epic night of cycling action this past Saturday in Brooklyn in the kickoff to the 2013 Red Hook Crit Championship Series. Cheers to the estimated 8,000 spectators who flooded to the Brooklyn Cruise Terminal to watch some serious competition in the evening crit. With the top ten racers all finishing within three seconds of each other, cycling fans were witness to a genuine nail biter. Our congratulations to the first place winner of Saturday's Red Hook leg - New York's own Neil Bezdek with a time of 41:32.31. Already a two-time winner and favorite from the beginning, Bezdek rode consistently, staying in the lead pack for most of the race. During a tough final hairpin turn, Bezdek made a move for first and never looked back - finishing three or four bike lengths ahead of the competition. In second and third were Evan Murphy and Walton Brush, crossing the finish line at 41:33.02 and 41:33.68, respectively.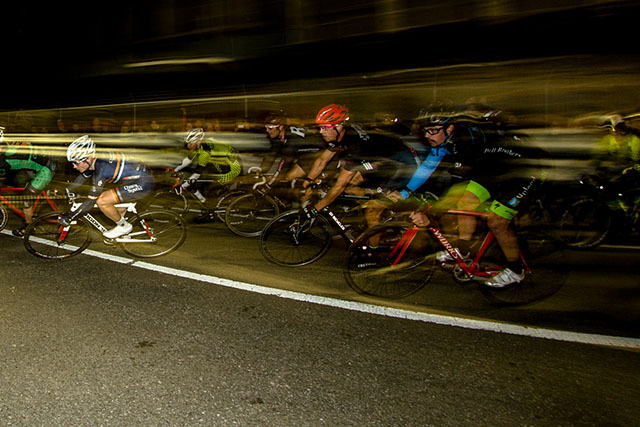 Riders taking a turn during Saturday's main event (Photo by
T
homas Colla
).
Shout outs are also in order to our Rockstar team riders Stephan Hoffman and Kacey Manderfield Lloyd. Hoffman - one of five Brooklyn hometown contenders – won one of two primes for finishing in first place at the halfway point in the race on the 12th lap. Overcoming a crash on the last corner of the race, Hoffman fought through the final stretch and still managed to claim 25th overall at 42:04.31. Lloyd, the sole female finisher of the day, also had an impressive showing at 46:50.96. Both Hoffman and Lloyd were represented on the winner's podium after the race for their performances.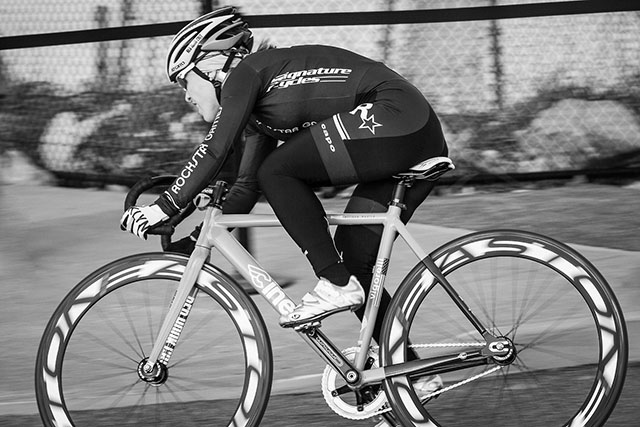 Rockstar team rider Kacey Manderfield Lloyd in action (Photo by
Eloy Anzola
).
Prior to the main cycling event came a pair of intense men's and women's 5K foot races in which Ethiopian talent ruled the day. The men's winning field saw competition as tight as the cycling portion as Tesfaye Dube, with a time of 14:18.77, came in just behind winner Ketema Nigusse's 14:17.00 champion finish and runner Mikael Kahsay came in third at 14:30.26. For the women's race, Tsehay Gebre won comfortably at 16:24.80, followed by Tigist Tufa at 16:52.79. Panama's Rolanda Bell won a highly contested and close first lap prime, recovering to get third overall at 17:09.03.
A huge thanks to all who made Saturday such a great event and we hope to see you out at the next leg of the 2013 series which will be held June 8th at the Brooklyn Navy Yard. Information on this and other remaining rounds can be found at the Red Hook Crit official website.
Check out RHC's Tumblr, Facebook and Twitter for more visuals from the event or download the free Red Hook Crit App by HatchMAP for iOS - and watch the sweet video recap below courtesy of animalnewyork.com where one fearless racer sums up the night's action perhaps most fittingly: "Fast... f***ing fast"...
UPDATE: Read ESPN's coverage of the Red Hook Crit: "The Red Hook Criterium may be the greatest bicycle race in America. Or the hippest. Or the strangest. Or the strangest, hippest, greatest bicycle race in America."
Also, check out an awesome fan video from the race below:
Previously: