This Saturday in Brooklyn NYC: First Stage of the 2013 Red Hook Criterium Cycling Series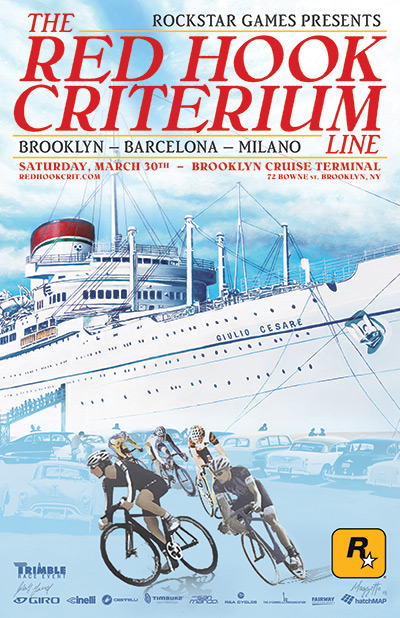 As avid fans of cycling, we're proud to sponsor this year's Red Hook Criterium - a race series consisting of world class road racers, track specialists, bike messengers and urban athletes, which kicks off this Saturday at Red Hook's Brooklyn Cruise Terminal.
The Red Hook Crit, as it's known, is a fixed gear bike race through the night streets of Red Hook, Brooklyn. Previously held twice a year, with Rockstar's help the RHC is now expanding into a four-part championship series with races in select urban locations across the world. After the first round this Saturday, riders will again take to the BK streets for a new event at the Brooklyn Navy Yard this June. The series then moves to mainland Europe for the next stop in Barcelona in August before crowning its first ever World Champion in Milan in October.
Saturday night's race kicks off at 7:30 PM with men's and women's 5K runs before the main event at 9:00 PM. For all of our fans here in the NYC area, we hope to see you there. For everyone else, you can follow the action with real-time leaderboards and updates with the free
official Red Hook Crit iOS app
, available now on the App Store.
For a bit of background on the history of the race, check out the video below. Narrated by RHC organizer David Trimble, this clip sheds light on the history of the race and what's in store for this year's event - along with background on Brooklyn's historic Red Hook neighborhood and its efforts to rebuild in the wake of Hurricane Sandy.
UPDATE: Check out a bonus warm up video about the Red Hook Crit below...