Win Custom Crew Controllers, Unlock Skull Masks & Earn Triple XP in the Max Payne 3 Social Club Multiplayer Event (January 11th, 4-7pm EST)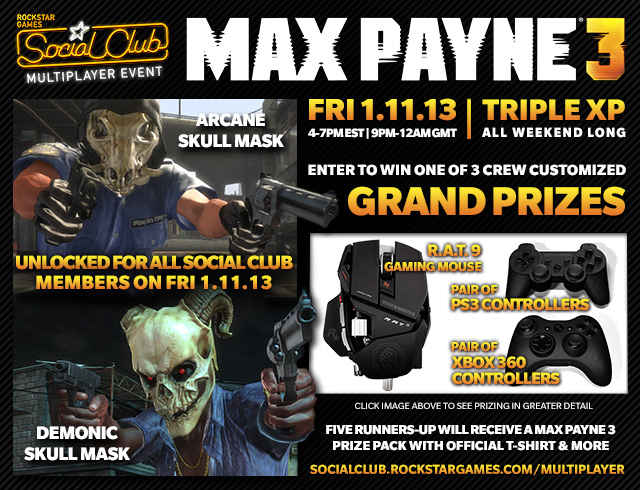 Click the image above to see prizing in greater detail.
Update: The multiplayer event and Triple XP have ended. Thanks to everyone that participated.
The first Social Club Multiplayer Event of 2013 starts the year off with a literal bang - with three hours of live-streaming Max Payne 3 Multiplayer action and the chance to win two custom controllers or a badass high-performance PC gaming mouse - all emblazoned with the lucky winner's Crew Emblem and Gamertag / PSN ID. We will also be awarding prize packages to five runners-up, each including a Max Payne 3 t-shirt, bullet keychain and stickers.

With Friday's event, we'll also be unlocking the coveted Arcane Skull Mask and Demonic Skull Mask as seen above for all Social Club members. Come n' get 'em. The Arcane and Demonic skull masks are in-game and all you need to do to receive them is make sure you're linked to Social Club. On top of that, after the event finishes we will be awarding the Wedding Skull Mask (debuted at our last Max Payne 3 event) to members of the top 10 user-made Crews on the Event Leaderboards in each platform. Sound the war cry and get your team together to compete for this exclusive head item.

Oh yeah - and Triple XP starting with the event and active all weekend long until early Monday morning the 14th.
It all goes down this Friday January 11th as we jump online to play Max Payne 3 on PC, PS3 and Xbox 360. Two of our devs will be streaming live at the Social Club Multiplayer Events page, with live Rockstar-hosted chat as well as Crew and Player Leaderboards to see who's showing and proving. You can also kick it with us and watch live video via a 3rd dev stream at our Twitch.tv page.
OFFICIAL MAX PAYNE 3 ROCKSTAR IDs
Participating official in-game Rockstar IDs will be:
MaxPayneDev1 (Xbox 360)
MaxPayneDev2 (PS3)
MaxPayneDev1 (Streaming PC Live on Twitch)
MaxPayneDev3 (PS3)
COUNTDOWN
Need some help figuring out when the event begins in your time zone? Have a look at the countdown on the Social Club Multiplayer Event page.

HOW TO FIND US IN THE GAME
Enter multiplayer and select the Social Club Multiplayer Event playlist. We'll play a mix of Soft Lock and Free Aim, primarily playing in the latest DLC, Painful Memories and Hostage Negotiation.

FUTURE PLAYSESSIONS
Follow us at our official Facebook, Twitter, Google+ and Steam pages so you can get the word when we're going online for some impromptu multiplayer action. We don't schedule this gameplay time or announce it way ahead of time, so the only way you'll be able to find out that we're playing is by following.