Rockstar Fan Poll: File Your Report with the Vice City "Better" Business Bureau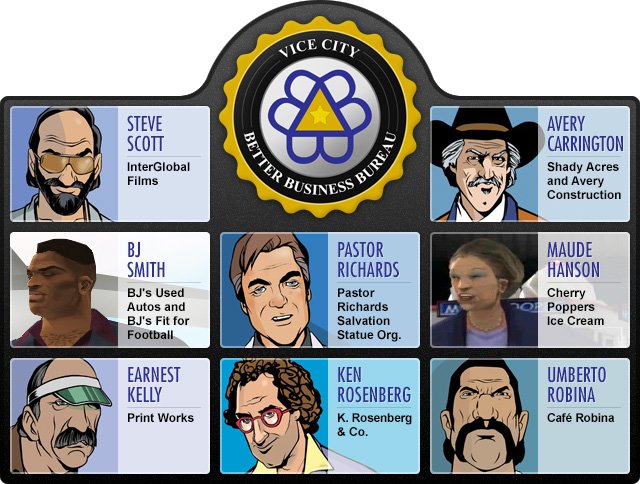 Over the years, Vice City's Better Business Bureau has received complaints of a wide range of violations from embezzlement and rioting to bribery and intimidation. Oh, and murder and arson as well. Let's just say that there are quite a few members of the local VC business community with less than stellar reputations for ethical practices.
With Vice City tourism in high season, we need you to be a good whistle blower and file a report to the VCBBB on which of these allegedly crooked operations stands out to you as the worst offender.
InterGlobal Films
While this local movie studio run by director Steve Scott has consistently run afoul of obscenity laws and been a bane of our upstanding family values congressmen, ever since they came under new management, matters may have gotten worse as their business interests have reportedly branched out into blackmail and felony littering...
Shady Acres and Avery Construction
Originally from Texas, Avery Carrington is a successful Vice City based businessman with interests in real estate development and construction. Going big at all costs, word on the street is that his fortune was built less on hard work and elbow grease, and more on juking property values, bribery, intimidation - and perhaps worse...
BJ's Used Autos / BJ's Fit for Football
Heavily in debt to loan sharks, former Vice City Mambas tight end BJ Smith opened BJ's Used Autos with a promise to customers that he would deliver them the car of their dreams - even if it's not on the lot. Following his own inspiring story of weight loss all the way down to 300 pounds, BJ expanded his empire to include the BJ's Fit for Football fitness video series on Beta and VHS.
Pastor Richards Salvation Statue Organization
Pastor Richards is a respected man of the cloth who has led his faithful Vice City congregation for years, uplifting and inspiring them with his fiery sermons whilst shining a light on all degenerates, philanderers, liberals and other evil-doers. Most recently, Pastor Richards has started the Pastor Richards Salvation Statue Organization, a tax-exempt fund to help followers rid themselves of corrupting material wealth and instead invest in building a structure in his likeness to inspire and save generations to come. We've received complaints alleging misappropriation of funds but this one seems on the up and up?
The Cherry Popper Ice Cream Company
There are accusations that Maude Hanson's Cherry Popper Ice Cream Company with its landmark whipped-cream-and-cherry-topped factory in the heart of Little Havana is heavier on the ice than the cream. We have reports of people lining up around the block for a snow cone or some extra sprinkles at Cherry Popper Ice Cream trucks across Vice City...
Print Works
An elder statesman in the Vice City business community with a checkered past, old man Earnest Kelly is said to have the experience, knowledge and printing skills to handle any job large or small at his Print Works shop. Flyers, leaflets, or even novelty play-money replicated to look exactly like the real thing...
K. Rosenberg & Co.
This long-standing law firm founded by attorney Ken Rosenberg is located right on the Washington Beach beachfront strip. With a client list that reads like a who's who of shady characters - from Liberty City's reputed don Sonny Forelli to magnate Avery Carrington and others - we've received tips that he's also been spotted of late in the company of Liberty City transplant and ex-con Tommy Vercetti...
Café Robina
Cuban immigrants Umberto Robina and his father Alberto founded the Café Robina back in the 60s and are known far and wide for their tasty red beans and rice and boisterous hospitality. Recently however their reputation has been pockmarked by a nasty ongoing feud with neighboring Haitian gangs and reports of escalating violence...