Recapping the November Social Club Multiplayer Events with Fan Videos & More

Social Club stalwart and Video Editor all-star FugetSudo created this pretty awesome video of Niko Bellic himself getting in on the November 29th GTAIV PC event fun live from Tw@ cafe.
Thanks to Social Club members worldwide for joining us last month for a stacked set of Multiplayer Events battles across Max Payne 3, Red Dead Redemption and GTAIV - and those we've seen continuing to fight the fight in the current Winter events calendar with action unfolding well into the New Year. We'll have a December recap soon looking at all of the most recent action including the skulls holiday unlock Max Payne 3 extravaganza that happened this past weekend.
The final month of the Fall Calendar kicked off with November 16th's intense 6-hour doubleheader of Red Dead Redemption and Max Payne 3. Our two live-streaming players, RedDeadDev3 and RedDeadDev4, started with a Gang Shootout in which Dev4 took out 3 opponents in the opening duel and then raced to 13 kills for only 6 deaths. However, the opposition clung on thanks to solid work from KALD_KSA_F-15 (PSN ID) and mad2oo8m (PSN ID), leaving only $50 in it with three minutes to go. Dev4's teammate justaway56 (PSN ID) came to life here with a series of quick fire kills to claim the win for Dutch's Gang and come away as top player with 19 kills notched.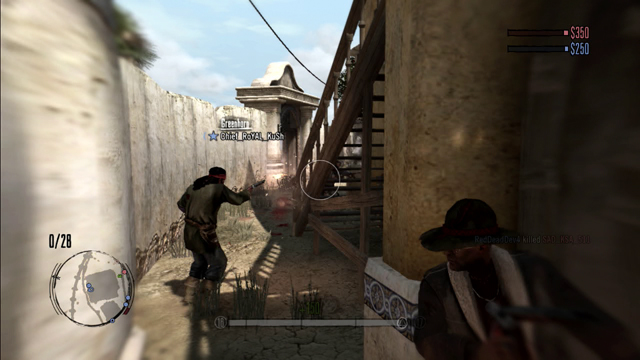 RedDeadDev4 waits for the perfect moment to take out Chief_RoYAL_KuSh
Following a spontaneous mass brawl in Free Roam, Dev3 entered a Grand Prix in Carrera Del Diablo with DemonLord B7R, Mazzkulin, AkA x MaFiAzZ, ClaudeSpd, ListeKing, StrappedRuby303 and Samuel4000. Dev3 saw an early lead diminish as weapons went live and DemonLord BR7 immediately put his horse down. It was an uphill struggle from there but our dev almost pulled it back, clinching second going into Chuparosa but ultimately falling just behind the race winner, Mazzkulin. Dev3 fought valiantly in the next two races and was in prime position going into the final race, but wound up falling to a 5th place finish - credit to Mazzkulin. for the overall win.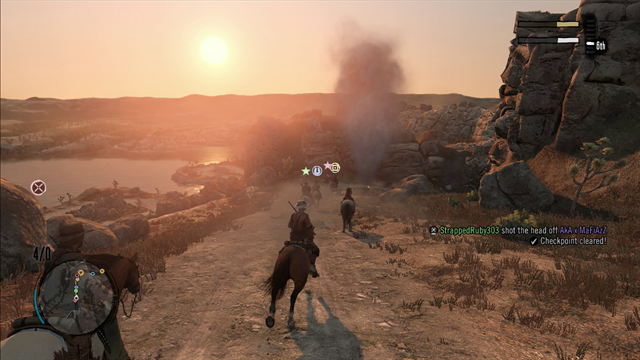 Our Dev player rides into the sunset during a race around Chuparosa
After two hours of Dead Eye shootouts and dusty horseback sprints, Dev4 retired to the seemingly more tranquil reaches of the card table for an alfresco poker game with The RogeR 1980, CrochingPanda, KDawg50, LegiosSuperOdin (XBL GT) and Too Slow 2 Know (XBL GT). Meanwhile, Dev3 was engaging in a round of Liar's Dice. With rest and recreation both done, Dev4 then braved the Undead Overrun with Karman1908, URAskumk (XBL GT) and MAXIMUN STRESS (XBL GT), while Dev3 was capturing bags in Armadillo. Cheers to everyone who joined us for that front nine on Red Dead, especially those hardcore souls who then stuck around for the Max Payne 3 session that followed straight after...
... MaxPayneDev1 headed into the 2nd half of the double-header in Max Payne 3 Multiplayer on XBL via a baptism of bullets, beginning the event with a Free Aim Gang War in the Docks. Dev1 immediately came face to face with members of some of our most fearsome Free Aim Crews around, including representatives from We Own The Night and the U Got Smacked Clan. Also good to see BrokenWhiskeyBottles rocking their Founder Crew Day Of The Dead Skulls earned at the Halloween event a few weeks prior. With support from Demize505 (XBL GT), Dev1 was able to win a game of assassination for the Comando Sombra, taking out Bl4zin Am4zin using a grenade to stun, before storming into the hideaway with the G6 Commando. Despite rushing a primed bomb site alongside Makaveli and WolfskinKiller, Dev1 was unable to defuse the bomb before Bl4zin Am4zin could get to him. Tropa Z took the round, and eventually the War.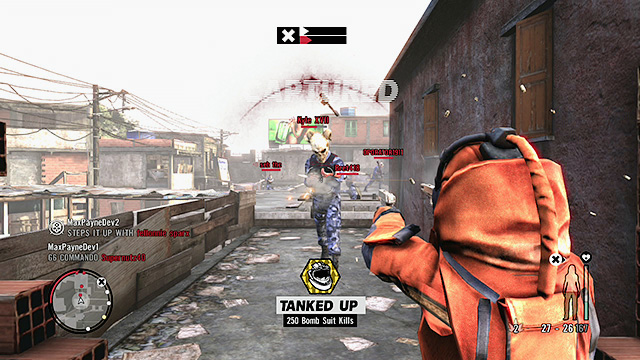 Dev1 comes face-to-skull with Kyle17 just after racking up his 250th Bomb Suit Kill
In the closing stages, our MaxPayneDev1 and Dev2 found themselves thrown together in a game of Gang Wars, playing as the Comando Sombra against the UFE. Fighting alongside them were members of xVx-The-Agency-xVx - a good opportunity to school up on their play styles before our Private Throwdown, which streamed on the Rockstar Games Twitch.tv page a couple weeks later on November 30th. The two Crews went at it in a quick opening round of Elimination but, spawning within a grenade's throw of each other, the round was over quickly - and messily. Dev1 lasted just a few seconds before being picked off by the IA2 AR of seb thc, who went on to score the final kill for his team. Dev1 quickly got revenge in the next round however, picking off seb thc with dual Auto 9mms beneath the bridge in the center of the Favela. The Dev's team took a comfortable lead but, as things turned bloody in the Warehouse where the sole checkpoint was positioned, the UFE clawed back into contention. With help from Dev1's impressive eight kill streak (the highest in the entire War), the Comando Sombra were able to recapture the checkpoint and take the round. From this point on, it was one-way traffic, with the Comando Sombra ending the final Elimination with 15 respawns to spare.

Check out the recording of Dev1's stream during our Social Club Event
On PSN, Dev3 was glad to get some game time in with longtime fan Transporter-K96 and saw a lot of unfamiliar PSN Crews getting down and dirty, including Kansas City Shufflers, Pain Crew and Dusky German Elite. Respect to Liquid_Snake518 and Zedd.. of Comando Do Elite Crew who finished 1 and 2 in a Deathmatch against Dev3. We also enjoyed the sarcastic commentary of hippybojangles and the Gallic enthusiasm of Corgijulien. Other notable players on the day included little_jacob, xo-_GaMeOveR_-xo, , brriiiiaan, Kauffmann, sayhitoyourmom, and drewhagan. Finally, a huge shout-out to Hot_kimera, go4live and jbxjurassic for topping the event leaderboards - don't miss the list of all our event participants at the bottom of the page.
The fall season of events deserved a thrilling finale and we weren't disappointed by the three hours spent in the company of the gun-toting residents of Liberty City on November 29th. First up, our dev player PlayRockstar joined SlayNasty and Ray27 for a game of Cops and Crooks on PSN. On the way to the getaway vehicle, PlayRockstar spotted an RPG and a SuperGT sports car sitting on opposite sides of the street. Sensing an opportunity, we took a quick exit from the car to pick up this manna from heaven. Shortly after, Brenosa (PSN ID) and Ak-41 (PSN ID), playing on the side of the cops, came screaming around the corner with sirens wailing, but Dev1 was ready to light a fire beneath them, and make a quick escape in the SuperGT. Once at the docks, our PlayRockstar hooked back up with SlayNasty to take to the skies of Liberty City in a Maverick helicopter and escape the clutches of the LCPD.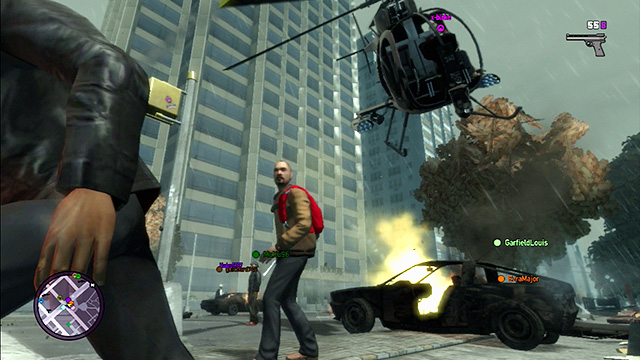 PlayRockstar looks desperately for cover as x-bloke rains death from above
Later, in a three-way Team Deathmatch with SMGs, FuLR3c0rS_GB (PSN ID) was able to take out PlayRockstar three times in quick succession to start off the game. This was the first of a series of awesome kill streaks that took FuLR3c0rS_GB straight to the top of the leaderboard. PlayRockstar rallied with a stoic performance, tracking FuLR3c0rS_GB at every turn with more than one face-off resulting in a double KO. Assistance from teammate KillaQuan82 (PSN ID) couldn't help PlayRockstar, and FuLR3c0rS_GB took the win with a superhuman 39 kills for just 9 deaths.
On Xbox LIVE, our GwRockstar3 went out hard against the bloodthirsty masses and a helicopter race around the islands had carnage written all over it. What could have been a serene flight around the bay to check out the sights of Liberty City turned into a dogfight of death as players struggled with the uncompromising controls and the whirling blades of their opponents' choppers. After flying too high over the very first checkpoint, we had to double back, immediately falling behind the pack (a position from which GwRockstar3 would never recover). Although Slackumm (XBL GT) was the first casualty, GeeLockOTA (XBL GT) later sideswiped us in the airspace above Funland and sent GwRockstar crashing to earth. While GwRockstar recovered, OvErDoSe661 and illyaillya jostled for the lead on the other side of the island. illyaillya finished first, while GwRockstar was still halfway through lap 2. Congratulations on the strong win.

Thanks to DerNetteMannLP aka MuXu96 for uploading their stream from the Nov 29th GTAIV event
In the second hour of the event, our GwRockstar3 began a nitro-powered joyride through the streets of Star Junction in supercars. Despite the performance vehicle's delicate handling requiring a masterful conductor, a confident GwRockstar3 opted for the Bullet GT. After a tire blowout within the first minute, GwRockstar3 was forced to take the slower and steadier Tampa, made slower still when its tires also blew out less than a minute later. Fried alive inside, our GwRockstar3 sensed the day was not his and stuck with the humbling Faggio scooter to take on the Banshees and Infernuses and see out the rest of the race. Our Dev stood no chance, crawling over the finish line in an uninspired 7th. Well done IITONYSOPRANOII for prevailing and taking the checkered flag.
Stay tuned for the December events recap and we hope to see you all in the 2013 Winter Calendar events beginning with a Max Payne 3 Triple XP session on Friday January 11th. Here's some more highlight images captured during the November events and scroll down for a roll call of attendees according to our records.
___Antoha___

_ANIMAL_

_Paw3l_

_Tommy_Vercetti

_VegaCore_

1Jarda1

22inkvizitor22

295JosePablo824

333Dimitri

453grw

98turbo

a30000rpm

abq1905

abrokian

ademR7

Adityarao786.

ah118119

ahetFIN

ak47cucic

Akan22

akaxmafiazz

alanico

Alex_n_Grand

AlexanderOwl

Algruffjon

alicejean

aliveguy5n1

AlkanTS61

almerefreak

amey23deoxys

Amplisa

Ana_Paz

anatolii25094

andrecorts

andrewjsus

Andrezinhu95

andudee15

Andy315x

Another13days

ANTEXY

AnthonySkunxxx

Apavorado

aputain

APVaisanen

Archangel0934

ArmoredTeeth

arsenisss

asamson23

AshHousewares

askagoti

Asturok

Austinsgrandpa

Auxois

Avenger9555fight

Averryy

awais2k12

ayo_35

Azueira_Gamer

b00ze1987

B4n1n4

badass6996

BadruM1

Bagimen

Bagnara1

BANNED_LEONE

BaptizdInBlood

bardelwout

Baryla071

bas1Les

Bato1234

Baztian

bbr1116

bclive

beelzerXIII

bEEvErEEtEr

BenGun821009

BenRichard

Berkay_58

beto0413

Big2hd

BiGClipS

Big-MJ23

BillyM

BirdmanForever

BlackDragon365

blackdx313

blackpearl112

BlondishMist748

BLooDy-GaMeR_-l-

Blutacz

bmatiasp

BoochArt

Bountykilers91

BreakNen

BremsBertDualShk

Bret418

Bri561

brodnik123

BrokenAtari

brriiiiaan

brt2009

Brunim1982

BrunoMaskBR

Buckinghamboy

buckybullet

B-uffalo-Soldier

BUFFALOW1LL

ButcherofSicily

Butta350

Buzzcat31X

C0MAND4NTE

Ca___Fe

Caio95_BR

calhao83

capcitykiller

Captain-Crazzi

Cauto_Pates

cdman17

ceko41

chachidou

ChalitoXico

chaoticxlegend

Chase178

chedder_XXVI

Cheezy-Duz-It

ChelseaGrinxD

ChezTommy

ChicagoEnigma

CH-mg1991

chopperjosh2010

chris2fly

ChrisakaPain

chrisli128

christylandon

chuka66

CircusRock

Citizen-88

cKy4life

ClaudeSpd

conorSuper

coole21

CoolLeon321

coolman199

cor_sleep

CorgiJulien

coyotedesert

crazyexpress

Crimsonpaws37th

CROMATIK-CRMNYS

Crooklyn

Crossop

cruise1055

Cubedo

D34DM4ND4N

d3mb0w

dabeatz1969

DahonLV

Dandado1312

Daniele94BB

DanielUzina

dannybo80

DanSoukup

danthemanlawyer

dany14lovegta

danymtrix3

Darkshniff

DarkWolf300

DarthCrossfader

dastanley

davysfx

Deadly_Scotsman

DedPihto_639149

Delta_squad

DemonLordB7R

demonteds

DenisonRJ

Der-Schuft

dervis1991

DETWASTELAND

dhill07

Digdgo

digdude

DiluZion

dingus76

DINGYDEXTER24

Dino_jaram

diogoreis

diogo-rocha

DjFooX13

DjinnDjimon

djmiks

dogtired

Dom998

DonLevano

DonnieJames

Doritos4life

dracko78

dragon1989PL

DravinClaw

DropDeadOmix

Drum97

Ducky7000

duskyshark80

DutchStoner

EdqEli4S

electrickizaruco

electro_alien

ELI_BR

ElkasWeevil

elnimio

ElvisMarques

emaesinate

EmeraldMaster07

emre5k

endy_noah

LiL-A-King1

viceguy97

XXBro0klynJAYXX
GTAIV_King

EnergeticEros

enricky559

epi5000

ERIKYAN

ErnestoRock

espfan78

EternalEvilBunny

Ethanh59

eViL_Bredenbek

evil-ash

eXpErT-aKa

F281108

FadingFate

Fahd535

fahrettinniko5

faisal-alkahtane

farisco88

faryeselrey

Fatality447

FATMAN

FauxGland

fayssal01

FEDERICOwatch

fingerfinger

FIRESPIRITRIDER

FisFis

FM.Haivala

foks2191

Fooser

foter83

FoxSouls

frafik

francoenchile

franmolamazo

Freebandz252

Frenzy88

frintrix

FRUS_DavidKim

FugetSudo_Jr

FurryPixel

G.VeryNicePerson

Gage_Widowmaker

GalaxynextOne

gambito00

GangstaRapper99

gangstergeroni

gapaia

garciaprod

Gary_Boy

garybuseykilla

GatorPride

Geethika

Genesicity

GeorgeOscarBluth

GermanAccents

GermanScientist

Ghost_x92

GHOSTMAKER_1

gio7181

giovannigl

Givenstorm

Gkusher

Gloriousbk105

gman33

GM-Shenmue

GniewnyWarsaw

go4live

gockelsmuehle

GodOwnon

Gonzalves

GoOfyPUNK

GR_stavrosss

GrandComet

grandpa-of-pain

GravitySandwich

Grimm339

GRIMMER_DREDD

grosbosch

Grrrtt

Gta_V_Forever

gtaiv1977

GTALAD4EVA

GTAVSupportWW

GuidoTKP

guigrilol

GurraGKallesson

GUSSI111

G-WizZ

Haffen7

HappySensei

hard8times

hardbluedemon

hayyyan

Henrique109

Henry_110

heskobarh

Hewllak

HeyPaulie

HeySumbode

HighFlyerPL185

hillbilly305

Hippocrud

HIppybojangles

HIT_MAN_EDGE

HORUS_PL1990

HOT_KIMERA

Hozaak

hulkingwire85424

Husaria

Huwy84

i_Zombie666

iansabee

icoryyx

IDismiss

IgorV_

IHawaiiI

IILEXAII

iM_GeNoCiDaL

Instant_LARRY

IrishBoy_Pa

IRISHJOE13

ITALlAN

itsgonnarain

ivanovicsinclair

IWIQuest

ixsone

j1m.panse.

jackmartson

JackWho

Jake_Stone_Blues

jalvesl

James-Cei

JamesTheBrony

jamesy1528

jamiejames69

JAOCBKILLER96

Jarda1

Jarsston

jayjuttz

JayUK91

jb17011

JBAGAH

JBxJurassic

JCFredead

jediboy1

jedrusPMI

jerzymook

jessup720

jhgn10

jhonny007auditor

jibberjabbar

joa_nyc

JoeWhitt24

joeytheproblanke

johnnoox

jonhyosbourne

Jonsku1

joonakolari12

JoshTilton

josmar99

jryder21

JukiiBzuki

jung_cavalier

Junito81

junky_of_pain

justaboygoncrazy

JZ3Racing

k4m3l3om

Kapparol

Kargols

Karman1908

kashkid45

kata-grunge

kate-mcd

Kauffmann

KDawg50

KeenPhoenix

keithmii2

kenny_fromLV

kenny2236

ketaia

kevinchalen

kibblz

kidd55

Kiethy4

Kifadaya

kikoznb

killdreamers

king_themaster
King_Koshan

KINGOF94

kinho-3000face

Kinotsu

Kisdave

Klaabu_Kosmoses

KLETU.

kmacAK

komar16051995

Kosmaca1996

Krunicus

kudesnik11

Kuya_Ed

kwstasvilas

kykasan

Kyle17

Kywon_

LACHIE-COD

LAgamer4life

lalev22

LarsDK

lDenchik161

legiz97

LeGrandRetour28

leoxx_336

leroserouge

Lex_90s

LexLuthorisrich

bigboss2050tm

southparkmayor

lignacioq

Lil_Jay05

LiLC366

Liliwhite

LIMP_BIZKIT

L-Incarvillais

Lindsaylove

liquidflame1337

little-jacobb

locosbarbasOG

Lootin_Lennny

lopezthekid23

lordcambion

LordLeaderLN7

LOST2033

louis1993

Lovewhale

LRCN911

LuccasGM

Luciqno777

lucyfurr

luii2012

luislopez167

m.hill

M_ECLiP_SE

Macan5

Madaroptx

MADDAWG.357

MadMax_33_MG

Madness2920

MadrugaJR23

Magic_Al

MAKAVELl

Maksim

maksim12906

malik.geek

ManHunt07420

maodii123

marco_antonio17

Marcodv93

MarcoLouro

Martchus

marypoppinpills

MaskedMad

MasterOFMusic

Matchboo

matheusslg

Matt_Von_Grimm

MattJSensation

MaxiSim

max-payne-3--

Mazzkulin

McRockstar

megaamine

member69934

mental36

mersis86

mesaboogiefan

methalhead

mexican_pride199

Meyus-007

MGFBGF
michaelantj

michaelm21

Miiika057

mikaeichhoff1990

mikidb91

milehighkoala

militaryvitea924

Misandope

MisterCarver

Mnem0nic

Mojaro88

Monsterview

MoodyMeh

Mow_mi_Antoni

MP3killerWOODY

MP3SHN

Mr_Torque

MRcodnameNEO

MrDanlol

mrdapperdan

MrDontStopGaming

MrEnergized

MrMister81

MrPacux

MuhammadAli76

murphiz

Music_Mike

Mx_ALEX_xM

myky123

N0_BrA1NC3LSeVL1

N9ne0sBaby

Napathanes

napolicaffe

Natural-killer

neild33

Nejc_Fiser

Neon_72

nfp911

Nikibaby219

nikitavorobyev

Niko-Bellic86

Nikolai_Porter

Ninjanuity

nka2011

Noahdinho1

nobushiro

NoClassHero

Nocturnal_Fear

noob_ciber

Nooky18

Nosferatu3211

nosgoth01

NourishedGravy0

NuMa9564

number332

Nutter101

NYLON_COM

ocwarrior7

ofrisch

OG_Murk

oKILLERJESUSo

oldrobertmoon

OldSnake59

omegaTM

OnbekendeGTA

ONEAD7

oneblack10315

onizukalan

oO_HeKuT_Oo

OriginalHuman

ostrogodus

OverTheUnder93

P_Meth

pablim77

pabloleon904

PaceBoy_

paddymcg

Pain2324

Panayiotis9

pancur693

Pantsman1964

PaperToy

Pasci071

Patrick-28

patricksmith

paulo158

PEEJON

perez.eric23

petrus_1121

phuckface

PI_Samurai

Pike187

PlanetLunt

pnutters

POCHIO

porosenok85

PortlandBoy92

Portreem

powerline_merc

Prisoner42

pritster1

ProBroGamer

prowler69

ps2ptt_redders

Ptaszkers

punistark

punksDK

Pvtoman

Qcfrank89

Qtr.Main

QuAd205

Quetzal7

qwmeer

rabzouz-dz

RACovan

Rakiedemolay

ralford007

RamzKilla

randrews

RapiT7

RatedRmixdorf

RatedRonn13

RavenCreed

rawmanrocks

rayan345

Rayden02

RaZZo13

redrum

REDX16385

regeman

Reidbynature

Reinekke

Renato91

Rezurrectionzs

rheathewolf

rhuan0906

ricashay559

richard_hung-lo

Rimos211

RIPFOES

Risitascongafas

R-max.

rmbetinho

rnodam

rockjust95

ROCKSTAR_THEBEST

rodrigog21

Roland4747

Rollaw

Romulo_BR

RoyEarleAdVice

rudwls2s

ryenrogers91

Ryryan6

-Kevn-

TheSmileCannon
DutchStoner

Samantha239

sami123frogs

samuel4000

sancho_86

saukoon

saynotoschool

SBeyor

scareface1970

scooby15539

Se7en9ne

SeaGull_56

seb_thc

SebaStrongo

Sebkuh

semajacab

Sentrinx

sephcron

sergioasd

seriousbrandenkk

servietsky_

seventhdawg

ShaGreen_

ShaharZ

shatla

shelly7

shepper89

ShrkHammer

SilverRathalos93

Simo111

SiMoNe94RM

SiqDawg

SirkHCG

SJSKBus

SkeliFish

SkilledVision

skink11

skitzoskism

Skyline34

SlawNo

SnusaDanne

Snuser

Soldierval

SoNooB-TH

SottedLayabout

SOULLESSGING3R

spartan90rail

SpBloodRed

SpeIIbound

Spike_BH

Sprunk95

sqwatjewel4991

Stacks_Calhoun

StanDaMan630

stanfordavid

stavros97

ste573

stevanowskis007

Stewie040

stnickbond

Street_Assassin

sublime90

SUKHOYAN

suleymanonur

superninnins

SuperSoviet

swaggy_71

sweeeet55

sylmag

T0MTHED0N

tadou650r

tahirm81663

Takashini1

TanMan1977

tao00007

TASK-FORCE-141

TazKarma

technoloqist

Tecumthe

teddobear

TeeBobiJoe

tehLito

Tema8790

tenderapril75092

TeodoraAlexandra

Testfriend

tge101

TGGF-Binda

Thanossapiens

the_dead_awake

The_Godfather9k

The_Infection

the_sniper_25

TheScriptKinG

TheVillainWins

TheViper11

TheWereodile

thiagosantos777

ThisHeresDougie

ThopBR

THSwanJon

Thunder_Passion

TiaGoLoPes92

TigerJackT

tilo_wolff

TimmiBln

titaniumbavas

TJLindicy

TKHIR123

TMStanley27

TobiasDShade

TollboothSonny

tomasgta1995

tommytommass

toneyanthony

Tony_dize

Tony_gramo

TonyMontana166

toroek

towtruck09

Toxco93

Transporter-K96

Travis247

TRAVIS67

TroLLzOor

trueluigi7

Tshee23

tuty100

TVJunkie2342

tzadik2rro

Ultra_Gizmo_64

Unde4d_Voodum

Unemployable

unknownparadox

UPTGhost11111

USAPtBrGamesHD1

V_A_I_L

V8ford

vaggelis_90

VALERAcompany

Vampibear

vanya_47

VasMarston

Vegas2013

VeggetoX

Vengeance914

Verumant

VforVendetta9

Victor_3rd

vietpunchkick

viforban

ViiniciuS_157

vince_42069

VinE_Trigger

viniciusaiala

VoodooManu

VortexFilth

vTakeover

VxxWillyxxV

Waggie

watcherVG

weatherracer

wellington519

welverin

WesDELFT1908

wheatlyguy

whitepeak

whitestone01

whydoyouread

winbigbossbig

Wisper1985

WodahsEvil

wohsterk

WolfRogers

WolfskinKiller

wuii.2289

Wumboo

x_Dnopy_x

XanBunny

xARMExMANIACx32

xDon_Provaccix

xDutchNLx

Xebas1993

xen0freak

xGODxACEVAMP

xJoHN_MaRsToNx

xo-_GaMeOveR_-xo

xOnyx187x

xOpiate30x

XoRToNmitten9363

xSonny

xVxDarkjedixVx

xX_PiNKPANDAxX

XxcamptechxX

xXClarKentXx

XxEARthisELLxX

xXITzEPICXx

Y3RAYROCIO

yasuku-hataki

Yehyaa898

Yimlet

Young_Ced

YungLive201

YuriChimelli

zaharin.bogdan

zanarkandruinsx2

Zedd..

zedster

Zelvenskiy_m

Zer0Cast

ZeroFoxFK

zigeclolek

ziphon

zombiemarstonkey

zVeteran

zzTOXAzz

Rafioso

SARDYNA16

lunkdawarrior