Bully, Midnight Club 3 and Red Dead Revolver Now Available on PSN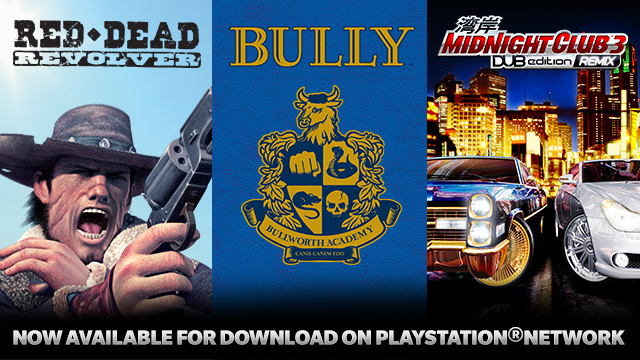 In addition to last week's release of San Andreas in the PlayStation Network's PS2 Classics Collection, a trio of Rockstar titles from the PS2 era have now been made available to download from the PlayStation Store for $9.99 each.
Rule the halls of Bullworth Academy as Jimmy Hopkins - a teenager who's been bounced from every previous school he's ever attended who now must navigate the obstacles of the worst school around, working his way up the social ladder of this demented institution of supposed learning, standing up for what he thinks is right and taking on the liars, cheats and snobs who are the most popular members of the student body and faculty.
For those wondering about the release of Vice City on PlayStation Network - stay tuned as we're working to bring that and a few other PS2 classics to PSN soon...