Crew Cut: Rep Your Squad with Newly Unlocked Crew Outfit Avatars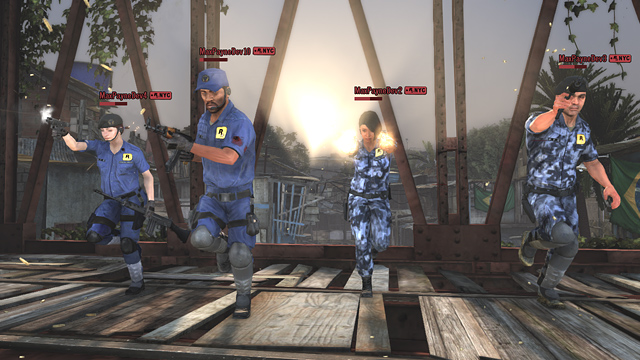 New Crew outfits rock your squad's emblem boldly and proudly - here as modeled by our own Rockstar Dev Crew. Click click.
NEW SOCIAL CLUB CREW OUTFITS UNLOCKED

Any ragtag group of mercenaries can take up arms and face a common enemy, but no truly great army is complete without a uniform that binds them together. The fiercest street gangs and warriors of the world have always been careful to unite under a visual identity, both for practical purposes of avoiding friendly fire and for the pride of knowing that you fight for a cause.

Now, you and your Crewmates can look united on the battlefield - and strike fear in your opponents when they see you coming ("Oh no, not THEM!") - with these new Crew outfits for members of Social Club that will display your Crew's emblem loud and proud right on your chestpiece. You may have already noticed the Crew Jacket available to male avatars in the De Marcos faction; now we are releasing an outfit for every faction, including all the DLC groups and two unique Crew outfits for the UFE.
In the picture above, members of our own Rockstar Games Dev Crew stalk through the favelas rocking the Rockstar Emblem with pride. To access your new Crew gear, head into the Avatars section of the in-game Multiplayer Arsenal menus and explore the Torso options for your avatars, both male and female.

This past Saturday's Max Payne 3 Social Club Multiplayer Crew Event was a virtual - and bloody - fashion show of Emblem gear on parade, featuring 3XP as well as the skull mask unlocks. Good to see everyone in the matches and in the chatroom.
SAY HELLO TO OUR LITTLE FRIENDS
In honor of the launch of Grand Theft Auto: Vice City for iOs and Android devices, this week on the Crew Cut we take a look at the Crews who themselves pay thematic homage to the glitz, glamor, gangsters and guns of eighties Vice City - disciples of Tommy Vercetti, Love Fist groupies and more.

The Vercettis Crew's ("Remember the name") awesome portrait of Tommy and his signature tropical shirt was originally featured in one of the very first Crew Cuts, but below left is a pretty sweet pattern version that seems apt for Crew Emblem use and should look particularly stylish on the new Crew outfits unlocked. A very nice abstraction with some of Vercetti's favorite tools of the trade mixed in with the flora and fauna. The best Rockstar character resort wear piece we've seen since this Max Payne emblem back in the second ever edition of the Crew Cut. Another Crew returning to the Cut this week, Sons Of GTA, have a plethora of impressive emblems dedicated to Vice City among other games in the GTA series. We particularly like the attention to detail in their recreation of the Vice City logo, which is nigh-on perfect - no easy feat. This esteemed 231-member Crew have Accomplishments including Membership IV, Feuds I (73 feud wins) Solidarity III (over 1,000 Crew assists), and more - so we can only imagine how hard they're going to go once it comes time for the first Grand Theft Auto title supporting Crews. One to watch - or align yourself with if you're a currently Crew-unaffiliated GTA fan.
Rewind Crew certainly get in the spirit with their claim to be "droppin' bodies like an 80's drug addiction" and they seem to be able to back up that braggadocio. With 674 wins, the Crew sports a 65% Feud win percentage and are ranked no.1 on the Xbox LIVE leaderboards for Crews with 6-20 members. This Crew have had this awesome rendition of the Vice City Martini girl seen below left as their emblem ever since their foundation in late May of this year - it ain't broke, why fix it? The Vice Crew, in name, emblem and notable member LanceVance225, are clearly devotees of VC. This tight-knit group of four has a 71% win percentage and Accomplishments such as Legend I, having finished as the top Crew 20 times in online multiplayer game modes. We love their emblem, with an economic and powerful use of color depicting some essential elements of Vice City - palm trees, brass knuckles, and a trusty pistol. The Vercetti Estate Crew might need to improve their win percentage (26%) but we like the use of the Vercetti Family insignia in their regal looking emblem, and credit these guys for having a loyal gang of 224 members. Accomplishments include but are not limited to Solidarity IV (over 2500 Crew assists) and XP V (over 25,000,000 accumulated as a Crew).
There are also a few smaller Crews devoted to Vice City - here's hoping that the mobile launch of their favorite iteration of the GTA series will spur some recruitment. For starters, we have a Crew named after Vice City's beloved hair metal band, Love Fist. It's clear from some of our recent GTAV artwork that the Love Fist fandom still runs strong all over the world to this day. Time to give Dick, Willy, Percy and Jezz the love they deserve and sign up to represent this powerful logo. Vice City Resident's crest is another great example of emblem editors being inspired by the themes of Vice City to create a simple but memorable brand for their Crew. They have fought a meager three Feuds between the 15 of them, but with an emblem like this it's time to get back out on the battlefield and get better known. The Vice Hotline Crew threw everything at their emblem to create a psychedelic splash of color. The Crew's motto claims they represent for "Strength in Numbers", which is only slightly awkward in that that they only have one member - a clear Vice fan who is also a card-carrying member of the aforementioned Vercetti Estate. Hey ZCRAZE, we hope this helps get some new recruits on the roster!
We'll be back soon with some updated recaps of all our recent Rockstar Crew versus private Crew throwdowns as well as more of the awesome emblems that you guys have been creating and publishing around Social Club.
Previous Editions of the Crew Cut: