Rockstar Fansites Roundup: GTAV Art in Motion, Post-Trailer Fun, Vice City Pin-Up Girls and More
Since last month's release of the second Grand Theft Auto V trailer, we've seen all sorts of fun original creations, analysis and other GTA-inspired madness popping up on the web and reliably featured by the faithful ring of dedicated fansites out there. Here's a roundup of just a few goodies worth checking out...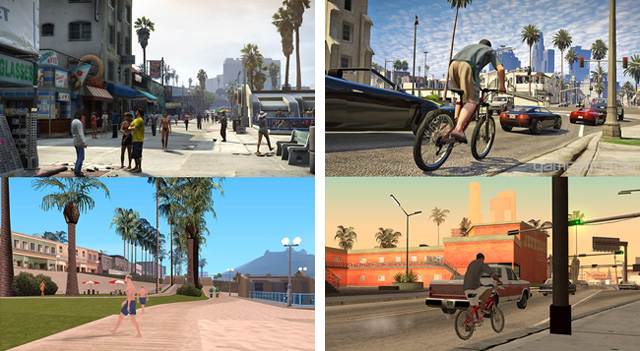 Via Rockstar24.eu, Grand Theft Auto V at the top, and 2004's GTA: San Andreas at the bottom.
Polish fansite Rockstar24.eu recently showcased a fairly comprehensive comparison gallery of Los Santos pitting the city as it appeared in 2004's Grand Theft Auto: San Andreas against screenshots from Grand Theft Auto V that originally appeared on GTAForums. Strong work rounding up such spot on compositions in San Andreas. Have a look at the entire gallery at http://rockstar24.eu/portal/?p=255.

Your reactions, commentary, analysis and speculation in the wake of Trailer 2 kicked off within moments of its release and are still ongoing whether on YouTube, here at the Newswire, or at fan forums around the web. Massive, massive thanks to GTA fans everywhere for the love you've shown for the trailer and for the awesome excitement and anticipation you've shown for the game this spring - believe that we're just as excited to get GTAV in your hands. Stay tuned for lots more to see and hear about the game in the new year, but of course also expect that as always we'll be keeping a good bit of info back as things for you to discover for yourself by experiencing them firsthand when GTAV comes out. In the meantime, here's some speculative fan recaps and analysis posts you can dive into at Rockstar Network, GTA Warehouse, the ongoing 'Mapping Los Santos' project at GTAForums and in polish at Rockstar24.eu. Feel free to share other cool ones in comments below.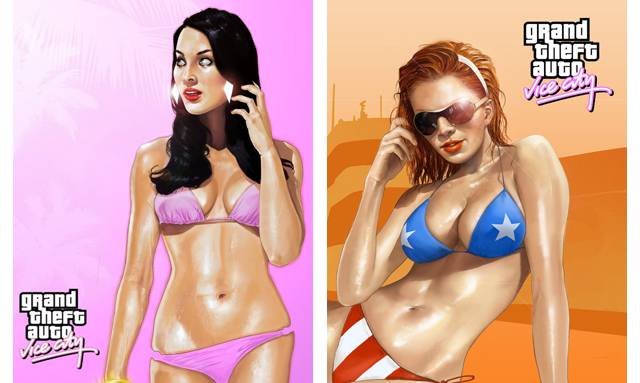 Toronto's Brandon Arseneault recreated two of Vice City's most iconic ladies with a provocative pin-up girl twist.
This one caught our eye a couple weeks back on YouTube. An impressively made live-action GTA fan film from director Gevorg Karensky.
"Grand Theft Auto: RISE is about the birth of an underground hero. He is not the hero that we are used to seeing. He is submerged in his own internal darkness. He is a protagonist. People will fall, things will break, he will be left standing alone in a tunnel with no light at the end.
This is a different take on the live action version of the world famous Grand Theft Auto IV."
There's also a short 'making of' video showing some behind the scenes footage of how it all came together, and another clip posted showing a glimpse of the visual effects trickery used in post-production. Cheers once again to GTAGaming for being amongst the first to send it our way.
Thanks once again to the entire GTA fan community for your amazing support and excitement. Stay tuned for more and of course if you've seen something great at the fansites or around the community worth sharing, or if you've created something you'd like to let us know about, we'd love to check it out - just drop us a line at mouthoff@rockstargames.com.