Crew Cut: Playing the Field
In the over six months since the launch of Social Club multiplayer Crews, we've seen that the way players handle their relationships with their Crews definitely does vary. While there's certainly players who have committed themselves to a loyal relationship with one particular Crew (and a lot of Crews who also demand full exclusivity from their members), there's plenty others with more of a polygamous attitude towards the entire endeavor. And hey - with the ability to be a member of up to five Crews concurrently (although only one active at a time), that's entirely your prerogative - not everyone is cut out for a long-term Crew commitment. So whether it's a case of pulling double-duty and two-timing between a couple beloved Crews you just can't choose between, or really spreading the XP love around - today's edition of the Crew Cut has a little fun blowing up spots in a new column highlighting those who we've seen playing the Crew field.
BFAMREALISM came to our attention with his second place Overall ranking in Max Payne 3 Multiplayer on Xbox 360. BFAMREALISM loves getting up close and personal with the short range weapons: his top 3 are the M10, the Auto 9mm and the trusty Sawn-Off. With these tools of the trade, he's been quite busy as a strong contributor to the Lawless Gangstas (7,441,521 XP) and Unfair Advantage (6,368,241 XP) Crews, and the predominant force in his own two man crew, aptly named bfam realism Crew. That's plenty of action, but just last week BFAMREALISM decided to step out with the famous OneEightSeven Crew, showing an insatiable appetite to benefit from Crew assists and Feuds.
Our second open-relationship Crewmember today is a longtime fan we've seen many times on the Max Payne 3 battlefield. Scarlettnscott is clearly playing her reputation to an advantage as she stepped out against our own Rockstar Dev Crew alongside The VII7 Crew in a recent private throwdown. We also saw scarlettnscott's Gamertag amongst the roster when ProKillersUnleashed got in touch with us about setting up a game. Then, when scarlettnscott also threatened to turn up and fight us as part of the BrokenWhiskeyBottles, we were truly impressed at her ability to play the field to consistently devastating effect, but had to politely decline in order to let other players get involved. However if we are ever to rematch the BWB, we hope to see her out there. A special shout as well to her other Crews, the popular OneEightSeven and the Girls with guns.
Finally, artists have long held a reputation as being a romantic bunch and it appears some of our Emblem Artists are no different in terms of having a free-spirited and polyamorous approach to Crew relationships. Whether it's for practical reasons to help spread the visibility of their fine talent in more than one domain in order to further their renown, or just an insatiable desire to be prolific and practice their love widely - some renowned Emblem Artist studs are known to join multiple Crews and publish original creations for each of them. Today's spotlight shines on ErnestoRock, who has two accounts set up to manage all of his Crew Emblem-request suitors and the time he spends fulfilling them. Below is a small gallery of Ernesto's creations we particularly admire including Rockst4r Los Santos' Grove Street party, One Bullet At A Time's rendition of Misty and The Hardcore A Team's homage to divine intervention. We'll keep a keen look out for more.
PRIVATE THROWDOWNS
Here's a roundup of action in our private grudge match throwdowns pitting our own Rockstar Dev Crew against various Crews who've challenged us to an online rumble for bragging rights.

Saturday November 17th saw the Fear The Wrath Crew come to take on our Rockstar Devs in a tight series of 4-on-4 games. Fear The Wrath nominated the Branco HQ map as their first choice to play a Team Deathmatch bout. With almost every player opting for dual-weld Sawn-offs, it was a fast, furious and messy battle, with no mistake or false step left unpunished. In one of the closest TDMs we've seen yet, the Devs held a three kill lead until the final two minutes when Fear The Wrath rallied to nose in front and hold on - Crew leader WrathOfJenati taking three kills in the final 10 seconds as insurance. Our Xbox party then headed to Club Moderno for a dance of death. This time, the victory was much more convincing as Fear The Wrath took the game handily 76 - 42. After two losses, the Rockstar Dev Crew sought redemption in a Gang War in the Bus Depot. Turf Grab proved an easy victory for us, as our Devs held on to all three checkpoints for the majority of the round. It was a similar story in Passage, and while Fear The Wrath were successful at Grab, when Dev 2 took down RosiGolan in Takedown, the writing was on the wall. Our Devs held out to win the battle, but respect to Fear The Wrath Crew for a fantastic performance in Club Moderno.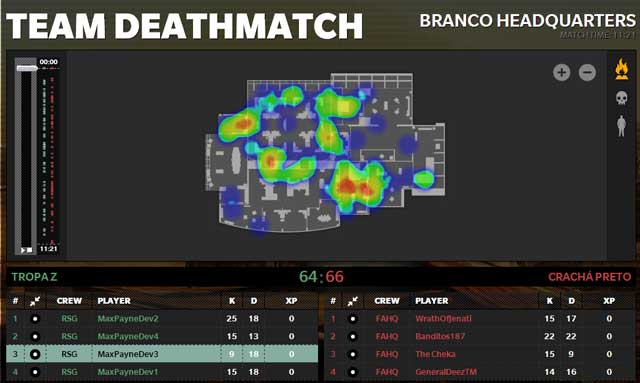 The heatmap from our first game against Fear The Wrath Crew.
On November 20th, the Rockstar Dev Crew came up against the cream of the crop: The Ganja Outlaws Crew who have reigned supreme at the top of the PSN leaderboards for several months running. Now it was time to prove their worth against our Devs on PSN. Entering a Bus Depot Gang War, a game of Grab turned out to be a war of attrition, as neither side managed any drop-offs - they were too busy filling each other with lead. Max Payne Dev3 got close, but was picked off by DNutz90 just meters from the drop-off point. Final score: 25 kills to 21 in favor of the Ganja Outlaws. Devs took the next two rounds narrowly, with Feuds being chalked up for both sides in Takedown, where CammySutra was the marked man. The Devs swept in and Dev1 executed the target with no mercy. A six point advantage entering the final Showdown proved too much for the Ganja Outlaws to overturn. By the end, the Devs had stretched their lead to 13 and taken the Gang War with style. Stick that in your pipe and smoke it, fellas.
Sticking with Gang Wars, the Ganja Outlaws sought revenge in the Docks and were vindicated by a stellar performance, where they took four of the five rounds, including the final Elimination. With scores tied at 1-1, it was for all the marbles with one more Gang War in the North Favelas. After Ganja Outlaws took the first two rounds, Dev3 equipped the Spray Can to salvage some pride and checkpoints in Passage. Only a victory in a game of Turf Grab would give the Devs any kind of hope in the final round. DutchStoner took up a high sniping point, but it wasn't enough to distract the Devs from their mission and they finished on top. This left it all square heading into the final round. Top player Peawicko's RPG proved his own undoing with an immediate suicide, and the Dev Crew held on their lead for much of the game. However, as the clock ticked down, so did the teams' respawns until there were just three Devs and two Ganja Outlaws left. With both sides opting to camp down and play it safe, Dev4 went on a maverick run through the central channel to outflank the remaining players. In a nail-biting finale, Dev4 popped up from cover with the Sawn-off and cut down CammySutra to secure a famous victory. Thanks for the game guys, one of our most exhilarating yet. You can all watch the first half of this illustrious session below.

Check out the video from the first half of our private throwdown with Ganja Outlaws
The next challenge for our Rockstar Dev Crew was the fearsome
Legends of Red Dead
Crew in Free Aim on November 24th. And the LORD quartet - with
Infamous_RayG
of
MARV3L
Crew guesting alongiside them - proved they're just as adept with a pair of PT92's as they are with a Cattleman Revolver. We started with Gang Wars in the Favelas and got burned in the first three rounds as our Bomb Suited opponents displayed surgical dual-wielding accuracy. In fear of a clean sweep, our Rockstar Devs1 and 2 used lighter Loadouts to their advantage and took all three checkpoints in 'Siege' to get a fighting chance going into the final round. Alas, the headstart proved too much and the
Legends of Red Dead
picked up the win when
DJRico666
decimated Dev2 with the rocket launcher.
The next round of Gang Wars in Docks went much the same way, with LORD taking a three-round lead and then foiling us right at the death in a round of 'Short Fuse', defusing the bomb seconds before explosion. That lead to a clean sweep with
Lord_Fredinho
taking the most kills - an impressive 44. With the overall win out of contention, we headed into Team Deathmatch armed with bruised pride and dual sawn-offs, but the Legends of Red Dead stayed true to form and claimed another win.
Bloody but not deterred, we rallied to take the fight to the
LXG Crew
on the 27th November.
LXG
have sat comfortably
at the very top of the pile of Xbox Crews
for some time now having racked up over 217 million in XP, so we were hyped for the chance to take down the biggest and baddest of them all. We began the day with a Team Deathmatch in the Bus Depot. While there was no quarter given or asked in the opening exchanges, the Rockstar Devs went on an unprecedented run: 14 kills with no reply to take the game 36 - 19.
LXG
were never able to recover the deficit and with Dev1 patrolling the upper balconies of the Depot warehouse, the game finished in favor of our Devs. Next up, a ding-dong battle in the snow-covered Hoboken Alleys began with a tense game of Last Man. It came down to 1-on-1, as Dev10 stalked
IcedOutCook
, eventually finishing him off with dual SMGs in the carpark - execution: gangland style. Later, Dev1 was picked off easily after going on a kamikaze run down the central alley in Takedown, but it wasn't enough to stop our Rockstar Dev Crew from taking another victory. In the second Gang War of the day, it was again level pegging heading into the final round, but the
LXG Crew
couldn't match their tactical Gang Wars skills with the demands of all-out warfare, and the Devs finished the day with a 100% record. Cheers to LXG for the games; we look forward to our next encounter against
xVx-The-Agency-xVx
planned for later today Friday 30th November at 5pm. We'll let you know here in comments (and
via Twitter
) if they dare to show...
Previous Editions of the Crew Cut: