New at Social Club: Multiplayer Match Reports
Newly introduced as an addition to the Max Payne 3 Multiplayer features at Social Club, you can now relive every bullet of your multiplayer experience and learn from your specific history to improve your game with the new Social Club Match Reports feature. Just like a football coach studying last week's game film to plot and plan out and adjust upcoming game plans, Match Reports provide you with in-depth analysis of your past forays into the battleground to allow you to better understand what tactics are working for you and which tactics are causing your downfall. Logged in users with Max Payne 3 linked can access Match Reports directly at http://socialclub.rockstargames.com/games/maxpayne3/mp/matchreports. Read on for a breakdown of each element of the feature, and helpful tips on how to use Match Reports to take your gameplay to the next level.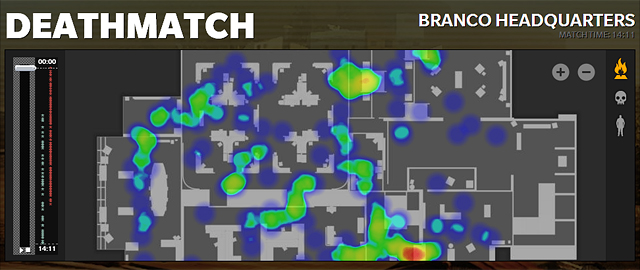 At the top of the
Match Reports
page, you'll see a timeline of your most recent matches, sortable by multiplayer game mode. The feature records the gory details of your previous ten matches, so check back in regularly to keep up to date with the info.
Once you've selected a game, the Heatmap (as seen above) will indicate the flashpoints and bottlenecks where your opponents are zeroing their sights, so you can use this information to out-think and then out-flank them the next time you roll out on to that map. Scroll through a complete timeline of all the kills from that match using the play-by-play navigation on the left-hand side - with ability to see which weapons were used, who was using them and where they stood to finish off their opponent.
Selecting the skull to the right of the Heatmap will bring up
Weapon Usage
information, which lets you see which weapons work best for you, your team and your opponents. In combination with the
Social Club Arsenals
feature, this will give you everything you need to know about which weapons are best for you on which maps, so there's no excuse not to up your KDR. Trying to figure out whether it's more efficient and effective to aim for the head or the gut when targeting enemies? Selecting the body icon will pull up the
Damage Breakdown,
which will tell you where and how damage was dealt by individual players and by entire teams who won or lost that specific match.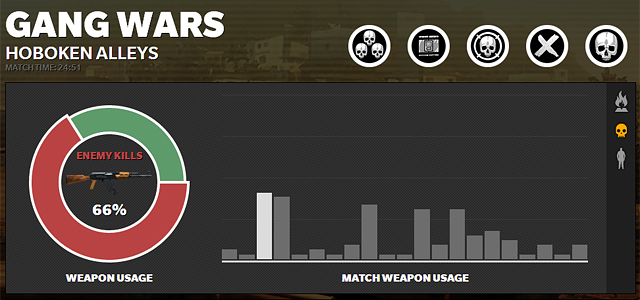 The Match Reports page also displays your stats for all weapons used in a given match. Keep tabs on your arch-enemy Nemeses and find out which players you should be targeting for easy kills.

Let us know what you think of the new feature in comments and stay tuned for continuing Social Club feature updates and enhancements soon.