Doubleheader Social Club Multiplayer Event with Triple XP in Red Dead Redemption and Max Payne 3 (November 16, 11am-5pm ET)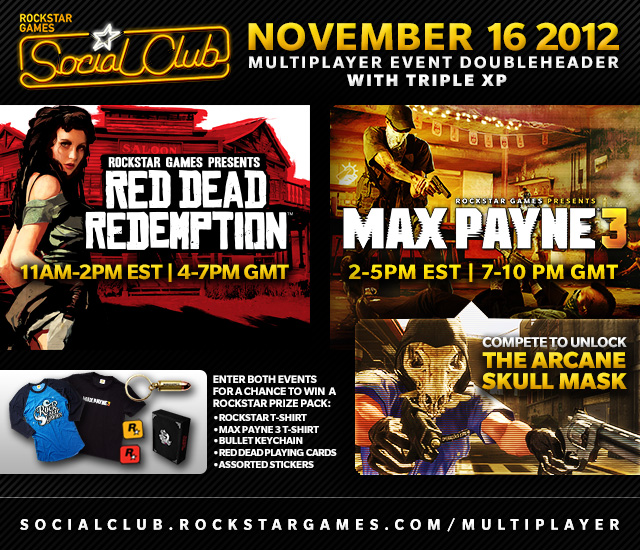 Update: The Red Dead Redemption and Max Payne 3 multiplayer events have ended, but Triple XP is live all weekend. Keep in mind that the top 100 players per platform in the Max Payne 3 event will each receive the new skull mask, and it will become available 24 hours from the time the event ended Friday. More opportunities to get the skull masks are coming in the future!
All day Friday, we're serving up a double helping bounty of Social Club multiplayer events, including a Max Payne 3 finale added on to our originally scheduled Red Dead session as a make up for the event we postponed due to Hurricane Sandy a couple weeks back. It all begins Friday November 16th when we activate Triple XP for both Red Dead Redemption and Max Payne 3. We'll be kicking off with Red Dead on PS3 and Xbox 360 from 11am-2pm EST / 4-7pm GMT, and then continue on with Max Payne 3 on PC, PS3 and Xbox 360 from 2-5pm EST / 7-10pm GMT.
Land Grab, Stronghold, Gang Matches, Undead Overrun and other matches can be expected in Red Dead, and for Max Payne 3 we'll be throwing down in the new maps from the recently released Hostage Negotiation Pack as well as other DLC and of course maps and modes from the original game release as well.
Following the recent Max Payne 3 Halloween themed multiplayer event when we featured special skull avatar unlocks, Friday we'll be unveiling another one, this time with the Arcane skull mask (pictured above). The top 100 players per platform during Friday's Max Payne 3 multiplayer event will each receive the new skull mask, as determined by the leaderboards on the Social Club Multiplayer Events Page. If you wind up one of those top 100 players, the skull will become available to you as an unlock 24 hours after the multiplayer event finishes. And if you aren't successful - don't worry, there'll be more opportunities to unlock this and other skull masks coming soon.
Join in the community chat on the Social Club Multiplayer Events Page while watching two live streams showing all the action, plus you can enter to win a one of ten total Rockstar prize packs during the event. Each includes a Rockstar t-shirt, Red Dead playing cards or Max Payne 3 bullet keychain and a package of Rockstar logo stickers.
TWITCH
A third video stream will be live on our Twitch page, including a second chatroom in which you can discuss all the event happenings.
OFFICIAL RED DEAD REDEMPTION ROCKSTAR IDs
Participating official in-game Rockstar IDs will be:
RedDeadDev3 (Xbox 360)
RedDeadDev4 (PS3)
RedDeadDev5 (Xbox 360)
RedDeadDev6 (PS3)
OFFICIAL MAX PAYNE 3 ROCKSTAR IDs
Participating official in-game Rockstar IDs will be:
MaxPayneDev1 (Xbox 360)
MaxPayneDev2 (Xbox 360)
MaxPayneDev1 (PS3)
MaxPayneDev1 (PC)
COUNTDOWN
If you're unsure of when the events will begin in your time zone, have a look at the countdown on the Social Club multiplayer events page.

HOW TO FIND US IN RED DEAD
When the first event starts up Friday, enter Normal difficulty multiplayer. This places you into a public Free Roam lobby. You should be able to run into a Rockstar player this way, but if you want you can send a friend request to one of the above IDs. Their lists might be full as most services only allow a max of 100 friend requests. We recommend partying up and playing with other Social Club members until the point when you're able to join us.
HOW TO FIND US IN MAX PAYNE 3
Enter multiplayer and select the Social Club Multiplayer Event playlist. We'll play a mix of Soft Lock and Free Aim so look for the names listed above.

FUTURE PLAYSESSIONS
If you want more time to play our games with us, your best bet is to follow us at our official Facebook, Twitter, Google+ and Steam pages so you can get the word when we're going online for some impromptu multiplayer...