Crew Cut: Stiff Competition
CREW VS DEVS CHALLENGES
Since we challenged Social Club's top Crews to face off against a team of our Devs in Max Payne 3 Multiplayer, we've received a torrent of propositions - ranging from the polite to the... well, let's just call them 'fighting words'. On Monday October 29th we held a private throwdown with the Dutch Stoners in a 4v4 Soft Lock battle on Xbox 360. With the Devs rocking their fearsome Demonic skull masks, we took a clean sweep winning all five game modes in a Gang War at the bus depot. A Team Deathmatch went the way of the Dev Crew as well; they racked up an impressive 200 kills in the process. A Gang War at the docks was a slightly closer call, but ultimately our Devs ran out 3-0 winners over the course of the match.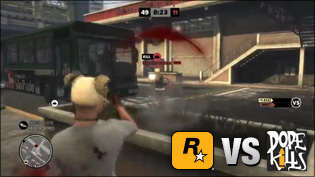 We tip our hat to Slaughterhouse Crew who showed us a few weeks ago why they're one of the most feared Free Aim squads out there. After being given a lesson on Free Aim, we fear for the the Legends Of Red Dead Crew who seem to have their own private war with Slaughterhouse. If you two Crews ever organize a face-off, make sure you invite us so we can stream it on our Twitch page.
On Thursday October 18th, we clocked up a glorious win in a nail-bitingly competitive matchup with The VII7 Crew. GGretski and company came out strong, winning the first Team Deathmatch in Bus Depot by a handsome margin. Switching over to Gang Wars, our Devs proved their worth in Max Payne 3's signature multiplayer mode, opting for tight-knit tactics that paid off brilliantly. After losing an opening round of Deathmatch in the Favelas, our team was able to take a round of Short Fuse after the timer ran out with 3 seconds to go on a bomb planted on the bridge. Using this springboard to win the next two rounds comfortably, our Devs held on to take the match. GGretski admitted the loss was "embarrassing" in the Twitch chat but declined to comment on how he felt after we won another Gang Wars in the Hoboken Alleyways; if it's any consolation, GGretski, we've seen that end of the stick all too well ourselves, as you can read about below. You can also check out recordings of the full stream of this bout, and our other games and events, in the videos section of our Twitch.tv page.
Prior to that, we took a convincing victory over our friends from the BrokenWhiskyBottles, who count amongst their ranks some of our most dedicated and hardcore fans. Ever gracious, even in defeat, ChicagoEnigma has come out said "This was so much fun, and entirely insane for us to do.. But I would not change a thing about it. It was a definitely a privilege to get to play against the Devs." Thanks Chicago! It was an honor to play against you lot as well. While we were streaming the game on our Twitch page, GermanScientist recorded his own gameplay perspective during the match and kindly uploaded it to YouTube. As the man says, "See 0:55:15 for a cool view when MaxPayneDev6 shot a RPG right in my face!" Sorry bout that!
We were less successful in our earlier Free Aim fixtures, losing decisively to elite Free Aim Crews Shinobi, Murders Death Kill and Ice Cold Assasins. Our Devs were humbled by the talent on offer - these squads put on a clinic in our two battles and showed the value in a Crew working together to hone razor sharp strategy, skill and coordination. Shinobi were featured all the way back in the third edition of the Crew Cut for their formidable Feud win percentage, and recently gave MLG Pro player Crream a sound beating on his own Twitch channel - something that Crew member Kenshiro360 proudly displays alongside their waxing of Rockstar in his profile Status. Congratulations to Kenshiro360 for taking Top Player in two of the games, and we have grudging respect of dRCrYSIS' strafe tactics with the PT92.
Back on Saturday October 10th, Ice Cold Assassins came out to represent PlayStation Crews against the Rockstar Dev Crew. They did their platform brethren proud, winning conclusively in all three Team Death Matches that we played. We were intrigued to see Crew member hkl_100's tribute to his friend The M3rcad0's unusual tactic dubbed "No-Scope Sniping" in action. However, since being at the wrong end of an ass-whupping, the less we see of them in the future the better. Against Murders Death Kill Crew, our Devs cited FAARNSWORTH as a particularly fearsome shot with the sniper rifle. With the open ground covered, the rest of the team were able to outmaneuver our Devs and take a convincing victory in all three games.
And in our earliest of these bouts, the Rockstar Dev Crew faced off in an 8 vs 8 Team Deathmatch against the Elite Gamer Crew, who proudly boast the top 3 Team Deathmatch players on Xbox, IRAQDE3IL, LOSTBOY FOUND and MIShka Madness. While the Rockstar Dev Crew were able to claim their fair share of Feuds and lost by only seven kills in the Bus Depot, we again took an L in three straight sets to our worthy opponents - now a well-earned boast at the EGC Crew page ("WE BEAT THE DEVS 3-0 ... WELL DONE BOYS BIG UP"). However, during team practice the following day, the Rockstar Devs invited the Elite Gamer Crew for a behind-closed-doors off-camera rematch. With no one around to witness the game, both sides have controversially claimed victory, which can only mean that one final rematch is on the cards! Elite Gamer Crew, we'll be in touch.
We'll be announcing our next set of Private Throwdowns very soon. Make sure you check out our Twitch page to watch recordings of past games, and follow us at either Twitter or Facebook to get the word when we're kicking off our next matches (we'll also drop a heads up in comments here). To everyone else from a Crew who has challenged us so far, you should have received a reply to your email by now (if you've only very recently contacted us, then watch your inbox in the coming days); while we can't play everyone immediately, we're trying to get to as many, if not all, of you bit by bit you so please be patient. If you're a Crew with some cred at the top of one of the new tiered leaderboards by platform who'd like the chance to take us on, keep your Challenges coming in to crewchallenges@rockstargames.com.
SOCIAL CLUB FOUNDER CREWS
When Rockstar Games Social Club was relaunched back in May of this year, we gave out special tags to those Crews who were with us from Day One. (For those not in the know, two stripes on a Crew tag denotes a Founder Crew, which is a special designation granted to any Crew created before May 15). With the recent announcement of exclusive Day Of The Dead Skulls for our Founder Crews, we thought we'd take a Where-Are-They-Now look at which Founder Crews have stood the test of time, and made the most of their head start, as well as some who haven't quite lived up to their early hype.
Of the Founder Crews who currently boast full membership rosters, most have already earned at least one mention on the Crew Cut. SFO-Wolf however are one Founder Crew with a full headcount who have thus far been overlooked, despite being around since May 9th. In their time, they've put out some pretty serious emblems, but we particularly like the regal crest shown above. Crew leader pencil_dude splits his time with another Founder Crew PCC, who still rep hard across all three platforms after being featured in the very first edition of the Crew Cut.
While they may no longer be in the top ten private PS3 Crews, the Rising Angels are still putting in work in Max Payne 3 Multiplayer and maintaining an impressive 75% Feud win PCT, counting prominent Founder Crew Ganja Outlaws amongst their recent scalps. Having just tipped over in to the 101-300 tier of Xbox Crews, Tennent's Special Crew maintain a dedicated Twitter account to boast of their status as the "Top Scottish" squad. Just behind them is another Founder Crew, The Sevens, this one with several color variations on an awesome 50s gun-totin' rockabilly chick. The Sevens also lay out a Communist manifesto in their status claiming that "there is no Crew leader, and that all members are the Crew." Marx Payne?
Previous Editions of the Crew Cut: