Cast Your Ballot: Rockstar's Sleaziest Politicians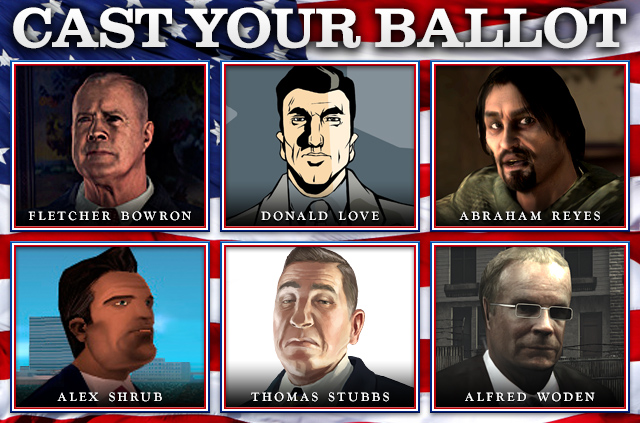 With eyes around the world tuned to today's U.S. Presidential Election, we thought it might be a good time to take a nostalgic look back at some of the public servants of questionable honor in the annals of Rockstar history and give you the opportunity to let your voice be heard. Without further ado:
Mayor Fletcher Bowron (L.A. Noire)
History remembers the
real-life Fletcher Bowron
as a more honorable and reputable mayor - tackling the rampant corruption of his predecessor and championing many progressive projects for the city of Los Angeles. In
L.A. Noire
however, Bowron is heavily involved in the Suburban Redevelopment Fund conspiracy and a driving force in getting Cole Phelps kicked off the Vice desk.
Mayoral Candidate Donald Love (Grand Theft Auto: Liberty City Stories)
Like any good businessman, Donald Love knows a good opportunity when he sees it, and following the death of Liberty City Mayor R.C. Hole, Love decides to dip his toe in the political waters with a mayoral run that turns sour once his ties to organized crime in Liberty City are revealed.
Revolutionary Leader Abraham Reyes (Red Dead Redemption)
Congressman Alex Shrub (Grand Theft Auto: Vice City)
This
Vice City
congressman is a sanctimonious moral crusader by day and a crossdressing adulterer by night. Like many lustful power-hungry politicians, Shrub is ultimately done in by his philandering ways.
Congressman Thomas Stubbs (Grand Theft Auto: The Lost and Damned)
Senator Alfred Woden (Max Payne Series)
One of the leaders of the duplicitous Inner Circle, Alfred Woden isn't above playing people against each other to get what we wants. A United States Senator AND part of an elite secret society - Woden's a political conspiracy theorist's dream come true!
{poll:81}