Max Payne 3 Hostage Negotiation DLC Now Available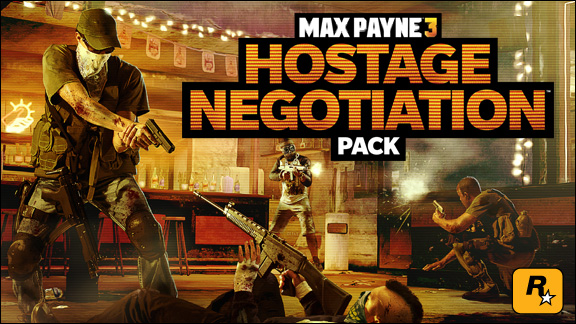 CLUB MODERNO - ESTÁDIO DO GALATIANS - FAVELA HEIGHTS - O PALÁCIO STRIP CLUB
Battle it out in Deathmatch, Team Deathmatch and Payne Killer across these four new maps - two with all-new highly detailed favela territories and two more featuring areas reminiscent of the intense nightclub and stadium shootouts early on in Max Payne 3's epic single player story.
NEW WEAPONS & ITEMS
The IA2 Assault Rifle and M24 Sniper Rifle bring two more powerful weapons to the multiplayer arena plus the new Bomb Suit, Heavy Helmet and Intimidation Mask Items provide even more flexibility for your arsenal.
NEW FACTION: FILHOS DE OGUM
One of the São Paulo's favelas more distinctive looking gangs, the Filhos De Ogum feature unique accessories and ragged mismatching footwear.
NEW BURST, ACHIEVEMENTS/TROPHIES AND MORE
The devastating new Explosive Burst, plus a range of new Achievements and Trophies, Multiplayer Grinds and more...
The Hostage Negotiation Pack is available for 800 Microsoft Points on Xbox LIVE or $9.99 on PlayStation Network and PC. Rockstar Pass owners of course receive it, along with all other
Max Payne 3 downloadable content
, free of charge.