Unlock New Skull Masks at the Halloween Special Max Payne 3 Social Club Multiplayer Event - Plus Triple XP All Weekend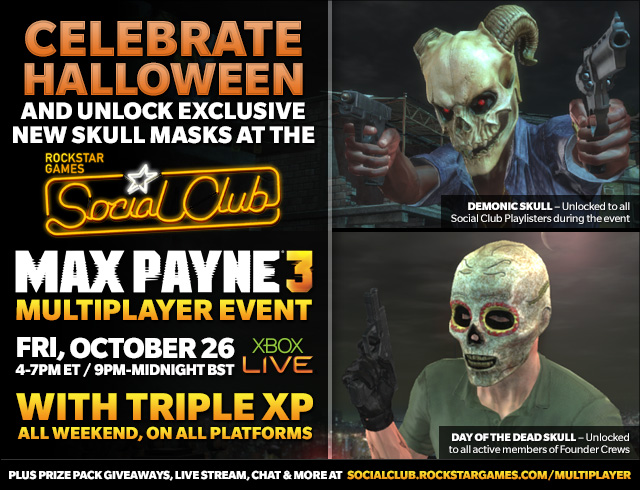 Update: The event has ended, but Triple XP is live all weekend long for all platforms worldwide. The Day of the Dead Skull should be unlocked for all members of Founder Crews right now. If you are a member of a Founder Crew and do not see this in your Loadouts please email us at mouthoff@rockstargames.com with the link to your Crew's profile. We're still working on getting everyone who joined the Social Club Event Playlist the Demonic Skull. You should all receive them by tomorrow morning. Look for more skull mask unlock opportunities in the future.
Join us Friday October 26th from 4-7pm ET / 9pm-midnight BST, for a special Halloween edition of the Social Club Multiplayer Events series where you can unlock a freaky all-new Demonic Skull head item for Max Payne 3 Multiplayer in keeping with the spirit of the season. We'll be playing on Xbox LIVE; however, players across all three platforms will be able to join their respective Social Club Multiplayer Event Playlists in-game to unlock the Demonic Skull as seen above. TRIPLE XP will also be live on all three platforms, right through the weekend.
In addition to the Demonic Skull, we're also unlocking the Day of the Dead Skull as a special bonus exclusive to all members of our veterano Founder Crews. If you have a Founder Crew as your Active Crew, or you have played at least one full game in the 26th October Social Club Playlist, check out the Head Items section of your Multiplayer Loadouts after 4pm to access the Skulls (you may need to exit to the main menu of Max Payne 3 and then return to Multiplayer in order to see them). Skulls do not award any bonus abilities, but they do look awesome!

We'll have four of our most lethal dev players tearing it up with you across various game modes, double live stream, Rockstar-hosted chat and a sweepstakes to win Max Payne 3 Prize Packs over at the Social Club Multiplayer Events page, plus a bonus stream over on the Rockstar Twitch channel. At some point during the event, our four Rockstar devs will Crew up to take on challengers - so look out for that in the chat and ready your Crew to try and take them on, just like Broken Whiskey Bottles, Shinobi, Elite Gamer Crew, Ice Cold Assassins and The VII7s have done recently. Be sure to check back in to the Multiplayer Events Page to see if you made the top 200 on the Event Leaderboards.
The full event details, including who to look for and how to participate are laid out below...
OFFICIAL ROCKSTAR IDs
Participating official in-game Rockstar names will be:
MaxPayneDev1
MaxPayneDev2
MaxPayneDev3
MaxPayneDev4
SWEEPSTAKES
Enter to win a Max Payne 3 prize pack on the events page, including a Max Payne 3 t-shirt, bullet keychain and stickers. Five winners will be randomly selected. Official rules are available in several languages.
COUNTDOWN
If you're unsure of when the event will begin in your time zone, have a look at the countdown on the Social Club multiplayer events page.
HOW TO FIND US
When the event starts up on Friday, enter Max Payne 3 multiplayer and select the Social Club Multiplayer Event playlist. We'll play a mix of Soft Lock and Free Aim, so look for the names listed above. Please note that the playlist will be visible on all platforms, but on this occasion our devs will only be playing on Xbox LIVE.
FUTURE PLAYSESSIONS
If you want more time to play our games with us, your best bet is to follow us at our official Facebook, Twitter, Google+ and Steam pages so you can get the word when we're going online for some impromptu multiplayer...