Max Payne 3 Social Club Event (Friday 10.12 at 4-7PM ET) and Triple XP All Weekend Long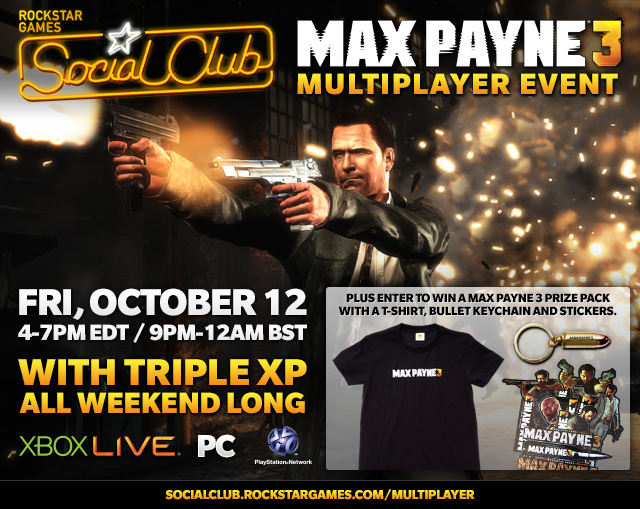 This Friday's Social Club multiplayer event kicks off an explosive Max Payne 3 TRIPLE XP Weekend. Join us from 4-7pm EDT / 9pm-12am BST across all three platforms (PC, PS3 and Xbox 360) and earn three times the multiplayer XP across all game modes straight on through until Monday morning.
Gang Wars battles return to the Social Club Multiplayer Event Playlist for this Friday's event, so expect lots of objective-based action in the Hoboken Alleys, Tietê River Docks, 55th Battalion HQ and São Paulo Bus Depot. The event playlist will also feature Deathmatch and Team Deathmatch competition, with maps and modes rotating all throughout the afternoon.
On the
Social Club Multiplayer Events Page
you'll be able to chat with us and other community members while watching two live streams of all the action, plus you can enter to win a prize pack featuring a
Max Payne 3 logo t-shirt
, bullet keychain and Rockstar stickers while tracking everybody's performance on the event leaderboard.
Our channel at TwitchTV
also features a third bonus live video stream and chatroom.
The full event details, including who to look for and how to participate are laid out below...
OFFICIAL ROCKSTAR IDs
Participating official in-game Rockstar names will be:
MaxPayneDev1 (PC)
MaxPayneDev2 (Xbox 360)
MaxPayneDev4 (PSN)
MaxPayneDev3 (PC on Twitch)
COUNTDOWN
If you're unsure of when the event will begin in your time zone, have a look at the countdown on the Social Club multiplayer events page.
HOW TO FIND US
When the event starts up on Friday, enter Max Payne 3 multiplayer and select the Social Club Multiplayer Event playlist. We'll play Free Aim 100% of the time on PC, and a mix of Soft Lock and Free Aim on PSN and Xbox LIVE, so look for the names listed above.
FUTURE PLAYSESSIONS
If you want more time to play our games with us, your best bet is to follow us at our official Facebook, Twitter, Google+ and Steam pages so you can get the word when we're going online for some impromptu multiplayer...