Rockstar Fansites Roundup: Homebrewed Social Club ID Cards, A Deep Max Soundtrack Analysis & The Liberty Tree en Français?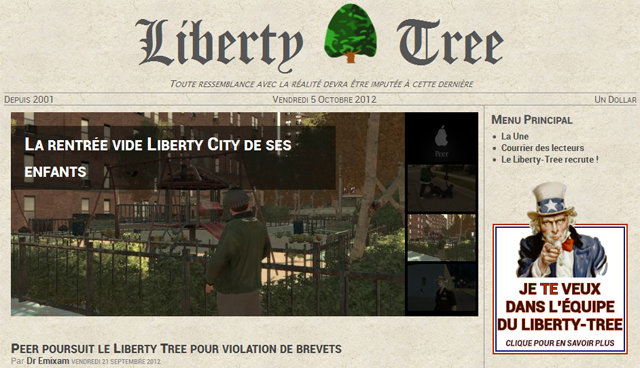 Some French GTA fans have been having fun carrying the torch of the Liberty Tree with the publication of an unofficial fan-fiction version at liberty-tree.net.
In our latest look around the world of Rockstar game fansites at large, here's a round up a few quite cool recent bits we've found out there - including a deep analysis of HEALTH's Max Payne 3 original score and soundtrack, some nifty homebrewed Social Club ID cards, and more...
While we imagine the real Liberty Tree continues to publish Yesterday's News Today dutifully in Liberty City to this day, the last time readers in our own universe could peruse this News Organ was about 11 years ago this month. Thanks to some French GTA fans however, publication has resumed in an unofficial fan-fiction capacity and in the French language over at liberty-tree.net. With stories that date all the way back to 2001, and a newly emboldened editorial staff picking up the pace here in 2012, our kudos to writers Dr Emixam, MisterRed, QTquentin, NelsoN and civic666 who've been reporting on everything from fatal shootings at Maisonette 9 to national interest stories happening across the coast such as the gang troubles plaguing Los Santos and a bloody murder shaking up the small town of Angel Pine.

Longtime Max Payne fansite, PayneReactor.com goes deep, deep, deep into a study of HEALTH's Max Payne 3 original score and soundtrack with some very interesting analysis of how it was created and speculation behind the inspiration and methodology behind some particular pieces. To the author (Cypress) and all others that loved the Max soundtrack, we may release a special Behind the Scenes video to shed some official light on the process that went into the making-of. Also keep an eye out for HEALTH's official music video for "TEARS" coming soon, as the boys continue touring throughout the fall.

On the heels of our recent official Social Club Friend Compare feature update for Max Payne 3, AJ over at RockstarNexus.com (aka Gamerzworld here at Social Club) has put together an impressive homebrewed Social Club card generator that can display an image of your stats for either Red Dead Redemption or Max Payne 3. As long as you have your profile set to public, you can render out one of these little png images that will show your current stats at that time. The image will even update the stats shown every few hours - pretty cool to be able to proudly display game stats as a message board avatar or on your own website or blog. You can create your own at http://rockstarnexus.com/cards/ - let us know if you guys would be interested in a dynamic version of this and perhaps it's something we'll look to create as an upcoming Social Club feature.

Thanks as always to all the Grand Theft Auto, Max Payne and other Rockstar-centric fansites that have shown us so much support over the years. If you've published something interesting or have seen something that you think we should let fans know about in a future roundup, give us a shout at mouthoff@rockstargames.com.
Previously:
Rockstar Fansites Roundup: NightFall Video, Sticker Bombing, GTAIV Machinima, Red Dead in Liberty City Mod & GTA Fan Art