Rockstar Game Tips: Learn from the Max Payne 3 Leaderboard Legends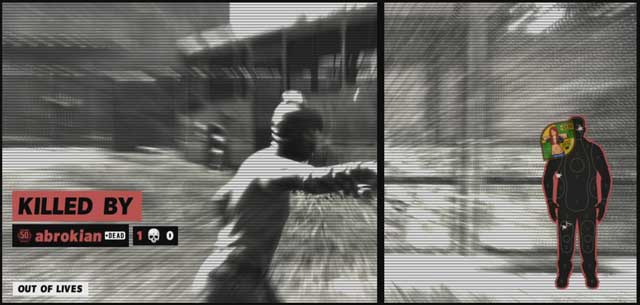 Since the launch of Max Payne 3 we've been sharing multiplayer strategies and Loadouts favored by some of the best players in our development studios as part of the game tips series here on the Newswire. For this week's edition, we've reached out to another set of elite soldiers: the players residing near the top of the individual leaderboards at Rockstar Social Club. Here's a look at what a few of these leaderboard legends had to share with us...
abrokian, member of Pro and Deadly Crew, 3rd on overall PC leaderboards

This prolific Crew teamed together and sent over a rather large document filled with game tips, our favorite of which is this breakdown of Bursts detailing when to use them for maximum effectiveness.
Slippery Character is best used when you're using a medium or heavy Loadout and need the extra endurance to move quickly and get out of the line of fire.

Deadly Force increases the damage of whichever weapon you are carrying, and is great in one-on-one situations where you want to take out an enemy before they kill you. It can be the deciding factor in settling Feuds

Big Dog is extremely useful in crisis situations, where you and your teammates are in need of emergency treatment, and it can also act as a layer of armor if you activate it just before entering hostile territory.

Intuition is best used when the enemy is smaller in numbers, like towards the end of a round of 'Last Man Standing' or 'Survivor'. Try to resist using it at the beginning of the round, and save it for when knowledge of the enemies' positions is invaluable.

Paranoia should be deployed mid-round when the enemies have dispersed. In 'Takedown', it can disorientate the opposition and make them reluctant to open fire for fear of betraying the friendly target.

Sneaky makes you appear friendly to an enemy, so therefore you should act like one and only open fire if you are sure of completing the kill. Try circumventing objective locations and cut-off enemy defenses from where they least expect.

Fresh Blood can be a game changer – use it to turn a difficult situation to your team's favor, powering your respawns and spending more time on the battlefield.

Weapon Dealer is for those times when you're attacking from the front and can make the best use of unlimited ammo; just bear in mind the effect doesn't apply to missile-based weapons.

Burst Bubble can hamper the other team's progress when they're trying to complete a Gang Wars objective by reducing their ability to use Bursts of their own.

Weapon Double Dealer has two important uses: limit the opposition to one clip of ammunition when they are attacking from long range and, when they are gathered together in a confined space, unleash level three and pick up multiple kills from dropped grenades.
KLC_DUKES, Leader of Underworld Mob Kings Crew, 3rd on Overall PS3 Leaderboards

"My favorite Loadout is called 'The Quickrun' and I use it for 'Delivery' in Gang Wars as well as planting and defusing bombs in 'Short Fuse'. It looks like this:"

Single Handed Weapon Slot: 1911 (with Compensator/Extended Mag/Gas Block)
Single Handed Weapon Slot: .38 Revolver (with barrel upgrade/Gas Block)
Projectile Slot: Tin Can
Burst Slot: Big Dog
Item Gear Slot: Sutures
Item Gear Slot: Field Bandages
Item Gear Slot: Vampire Fangs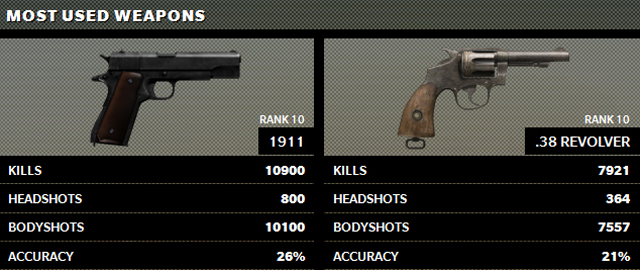 "My second favorite is my heavy Loadout for 'Survivor' and Deathmatches. It looks like this, although for capturing and defending checkpoints in Gang Wars modes like 'Siege', I'll bring in a Grenade Launcher and Tear Gas:"

Single Handed Weapon Slot: Dual-Wield M10s (with Barrel Upgrade/Extended Mag/Gas Systems Kit)
Two Handed Weapon Slot: M82A1 Sniper Rifle
Projectile Slot: Grenades
Head Armor Slot: Military Goggles
Body Armor Slot: Heavy Body Armor
Burst Slot: Bullet Time
Item Gear Slot: Ammunition Pouch
Item Gear Slot: Tracking Device
Item Gear Slot: Vampire Fangs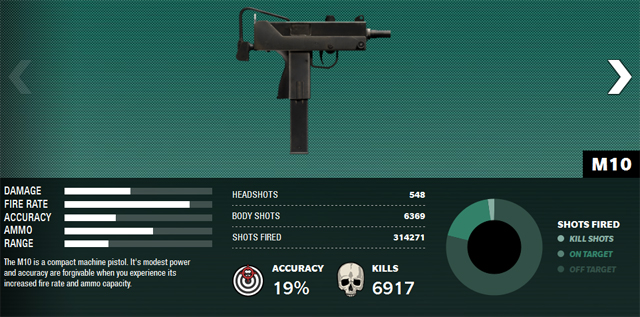 "The best strategy is to avoid rushing in and it always helps to link up with a good Crew and talk constantly via a headset. Me and my crew are currently #5 in the 100-300 crew members roster Gang Wars and I am #1 in Gang Wars, and have put a bounty on my head - a $50 PSN card - for any crew member that can take my rank on PSN. If anyone is interested in joining my crew they can message me."
As always, we'd love to hear your Max Payne game tips in the comments, and ask us if there's an area of your game you're looking to improve and we'll consider covering it in a future post. Finally, massive thanks to abrokian and KLC_DUKES for sharing their game tips.