Compare Max Payne 3 Stats Across Single Player and Multiplayer with the New Social Club Friend Compare Feature
It's time to tell your loudmouthed friends and crew mates to quit their wild braggadocio, because this week we've got a great new tool on Social Club to ensure a quick and indisputable end to any and all Max Payne 3 verbal one-upmanship from those who can't back it up. The Friend Compare system is available now at the Max Payne 3 section of the Social Club so you can investigate how you size up against your nearest and dearest, in a wide range of stats across both Single Player and Multiplayer.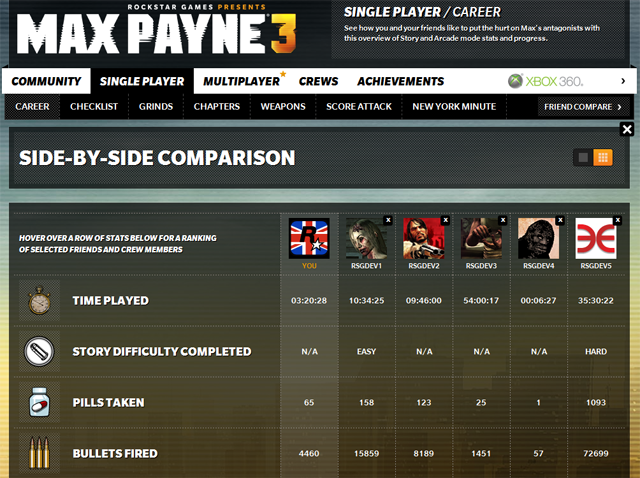 Convinced that you rep the G6 Commando the hardest or always Bring The Payne when playing as Max or Passos in Payne Killer? Want to know for sure that you have the best Consecutive Hit Streak on Chapter IV of Story mode? Now prove it by lining up against up to five of your friends and Crewmates at a time and really finding out who's the boss (it is worth mentioning that you can only see the stats of those friends who have the appropriate privacy settings).
To access this useful tool just head over to the Max Payne 3 area of the Social Club and hit the Friend Compare button on the right hand side of the navigation bar in either Single Player or in Multiplayer. From here, you can scroll through your friends list, and any of your Crews' rosters to select those players you want to check your stats against, and find out where you need to pick up the pace.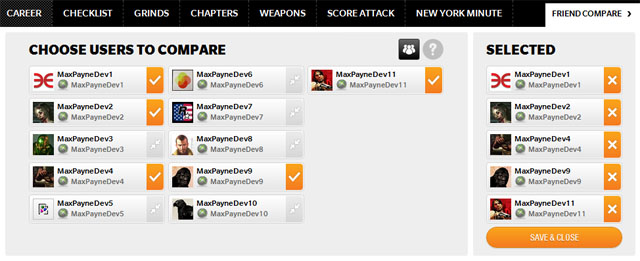 Keep an eye out on Social Club for more new features in the coming weeks.