Grand Theft Auto IV: Complete Edition Social Club Multiplayer Event on PSN & XBL this Thursday September 27, 11AM-2PM Eastern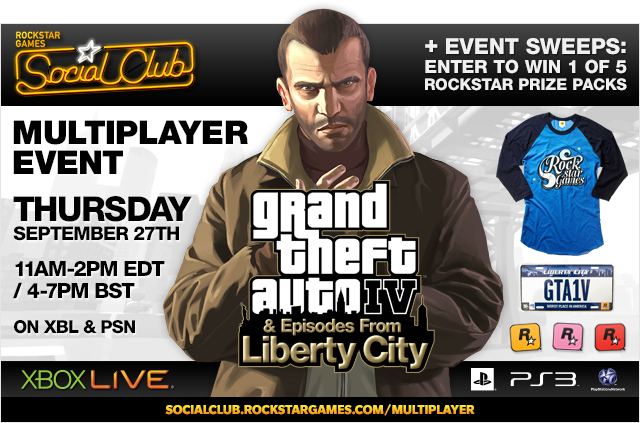 Less than one week after duking it out in the São Paulo favelas and Hoboken rooftops of Max Payne 3, our live-streaming Social Club Multiplayer Events series is heading back to Liberty City for a Grand Theft Auto IV: Complete Edition session on both PlayStation Network and Xbox LIVE.
We'll kick it off on Thursday, September 27 at 11am EST/4pm BST in GTAIV and will move on to both Episodes from Liberty City, giving everyone a chance to take part regardless of which copy of the game they own. To keep updated on which game modes our squad of Rockstar Games staff players are in, simply follow the live chat over at the Social Club Multiplayer Events page, where we'll also have the customary double live-stream of all the action along with a sweepstakes to win one of five GTAIV prize packs that include the Liberty City license plate, t-shirt and stickers.
Here are the dev accounts that will be taking part:
PlayRockstar (PSN)
PlayRockstar11 (PSN)
GwRockstar2 (Xbox LIVE)
GwRockstar3 (Xbox LIVE & streamed on our Twitch TV channel)
Only add one PlayStation Network ID/Gamertag to your friends list to play. We will clear each account's friend list at the start of the event and accept as many invites as we can. Please bear in mind that spamming the chat room asking for a game invite is a good way to not receive one.
FINDING US IN-GAME
Where's Rockstar? Pay attention to the live chat on the Social Club Multiplayer Events page. We'll announce where we're at in there. We'll begin in Grand Theft Auto IV in GTA Race, and later progress to the two episodes. Use the in-game cellphone to select the mode we're playing during the event.

NEED A PARTNER?
For team-based modes such as Team Deathmatch, gather your friends using Party Mode. You can also hit up the chat during the event or just post your PSN ID/Gamertag in the Comments section below.
ABOUT PARTY MODE
Party Mode is an easy way to get your group together and find matches. Here are the three quick and easy steps to get you up and running:
Save your current game. To get started, fire up the in-game mobile phone by pressing "Up" on the d-pad. Select Multiplayer > Party Mode > Yes.
Next, open up your phone again and select the Friends option to invite at least one person into your Party Mode game.
Once your team is ready to roll, open up the in-game phone again and select Games > GTA Race.