This Week's Payne Thresholds: It Came from Behind, Pyromaniac and Urban Ninja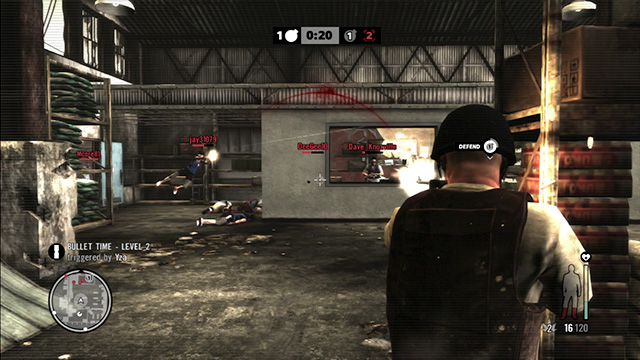 Take on all comers and successfully plant bombs in Gang Wars to earn this week's Pyromaniac Payne Threshold.
There's no need to go into XP withdrawal just because our Triple XP weekend has come to an end. This week's all-new set of Payne Thresholds are the key to racking up large amounts of Max Payne 3 experience while having a good ol' time seeing if you have what it takes to rise to these three new challenges. This particular set will reward those who are masters of stealth as well as anybody with a healthy appetite for destruction.
As in previous weeks, the XP rewards come at Bronze, Silver and Gold ranks, with a custom title for anyone who attains the Platinum score. You can keep track of your best scores and compare them against Friends, Crew members and the rest of the world at the
Rockstar Social Club
. Here's a quick rundown of this week's challenges, which expire at midnight on September 30th:
It Came From Behind
Number of enemies killed from behind in a game
Pyromaniac
Number of bombs successfully planted over the course of the week
Urban Ninja
Amount of damage dealt without taking damage yourself
* PS3 players, we're currently working to address an XP exploit issue we found with Payne Thresholds on the PS3 and we want to ensure you that once the situation is rectified you'll be able to earn these along with all the other upcoming Payne Thresholds.
Previously: