Recap, Video & Screens from the Red Dead Redemption Social Club Multiplayer Event on September 13
As our fall calendar continues touring treacherous destinations from Blackwater to Bohan to Brazil, we thank all of those who joined us for our recent wild western stop in the Red Dead Redemption Social Club Multiplayer Event held on Friday September 13th across both PSN and Xbox LIVE. With our resident RedDeadDevs 3 to 6 playing across all modes in the Game of the Year Edition (that is all the original modes plus all DLC modes as well), along with a double live-stream on the Rockstar Social Club and a third live stream on our Twitch TV channel, there was frontier bloodshed near and far.
Starting in Free Roam, after inviting Social Club members who had posted their PSN IDs in the live chat, RedDeadDev6 wasted no time in claiming The Armadillo Saloon and lay in wait with the Cattleman Revolver. However, IstanbuLTurk (PSN) burst in to beat our dev player down and claim the land, kick-starting an intense contest which saw the saloon changing hands multiple times before brieffrogs34283 staked the final claim. Dev6's entire session was recorded by Social Club Multiplayer Event stalwart ShenmueSaga and can be viewed below so you can re-live the action.
Meanwhile, RedDeadDev4 and a posse of PS3 players took on a chilling round of Undead Overrun in Blackwater. Good teamwork was on show throughout, as fivemarket36797, sami-PORRN, knowingcork81635 and our Dev4 stayed closed together and came to each other's aid on a few occasions, until it all got too much and they fell after 10:45.15 and seven vicious waves of the undead.
RedDeadDev3 - representing on Xbox LIVE - took part in a Grand Prix with Haimerej87 (GT), niks132, RDR Mihal72RUS (GT), LIMP_BIZKIT, xBadman187x, BeliZean PsYch0 (GT) and the_dead_awake, quickly discovering that galloping into the lead with a dev tag above their head is not a great place to be when weapons go live. Our player fell to a sudden and unmerciful hail of lead - with niks132 landing the decisive shot - that set them back to 8th place with much ground to make up.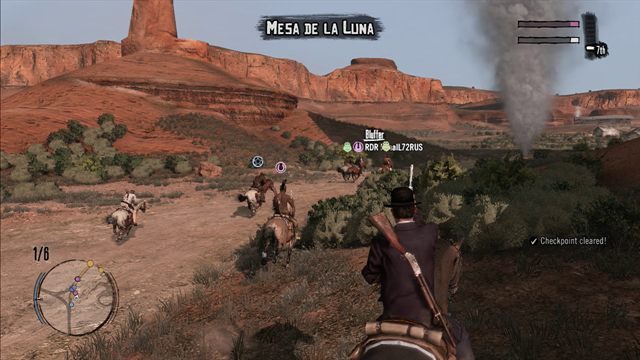 RedDeadDev3 tries to catch the fleeing pack after being dismounted by a volley of gunfire.
Dev6 was enjoying the quieter and, usually, safer vibes of the Liar's Dice table with soredegree2373, zellraiden, leoneldoherty, DoE-BLaCK-413 and KiNG-D-tha-BOSS (PSN). After DoE-BLaCK-413 called zellraiden's bluff for the win, our dev player and their posse had rested their legs sufficiently for a Gang Shootout, which was dominated by Dev6's marshals. Newswire regular Scareface1970 of the Broken Whiskey Bottles Crew finished top player with 18 kills and a haul of $900.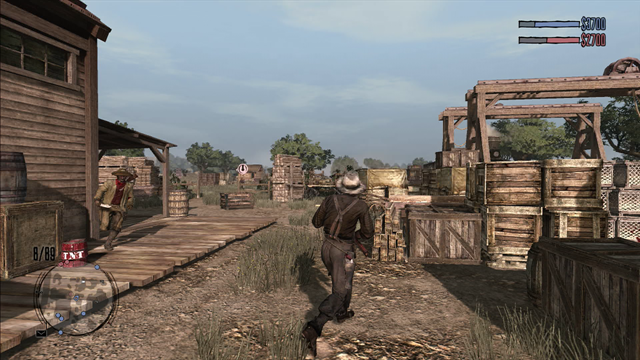 If only RedDeavDev4 had spotted the TNT to the left, the approaching knife-wielder could have been foiled. A bit of Monday morning QB'ing.
Cheers as well to all who entered in the event sweepstakes for a chance to win deluxe prize packs including a shirt from the new Rockstar tee collection, Red Dead playing cards, Red Dead stickers and some of the new Rockstar stickers. As we speak, we're contacting and vetting potential prize winners, so make sure you're checking your email to see if you're one of the lucky five.
Here are a few more screens from the event:
Congrats to prize winners GTAIV_King, DoE-BLaCK-413, Thunder_Passion, Greatn3ss87 and RestNP1eces86, each receiving a t-shirt, deck of Red Dead playing cards and stickers.
Stay tuned for a recap of last week's action from the Max Payne 3 September 21st session - and join us this coming Thursday the 27th for GTAIV & Episodes from Liberty City on both PSN & Xbox LIVE. As always, you should also keep an eye on our Twitter, Facebook, Google+ and Steam pages to know whenever we're jumping on for a spontaneous session.
Here's the list of participants from the 9/13 event according to our records:
8-Balls
42nabilkhan
1337Pilot
1067938005
Aaron_Vigrass
AgentMcQueen
Agent_BALLS
ahetFIN
AJ_Malloy
Akan22
AlexanderOwl
Alexf2011
alexmilchev
AlphaHawkZero
amey23deoxys
amr1976
anamlet
AnbecomVerted
Angry_Ajax
Ariel_Massacre
arslan2033
atak024
Averryy
Aviral66
B-uffalo-Soldier
badbrains420
Badman187
Ballisticmatter
bamiehim
bashinskulls17
Beabers
Beast-man
beeeeeeep
beguito
Bflame7
BirdmanForever
Bizerker21
blakmagix89
BleedingShock
BLUNDERBAWS
BornToPlay93
BoZo_88
Braveone138
Brodingo
Brownstarfish
BudgetCross
C.M.X.4
campanilla28
Carefoot
ccemre41
cdman17
Chanterboy
charlie2k10
Chazzmataz
cheaslaqon
Cheezy-Duz-It
cheif_choc
Chestnut896
ChestnutGore1317
ChezTommy
ChicagoEnigma
churique
clone77
CMoneyDaDon
Co2-UK
cody215
CompIexSynthesis
Comrade_max
cona123
conorSuper
coochy
CornishOliver
coyotezeyes
CronicWidow
cruzer21
cryochamber
CSIXTY
cuervomonkey
DamianLB-97
dan01027
DangerousMold05
Darkedson
DazVago
DC6100355
Deezzr23
diabeticjeff
Dino_jaram
DionysusTX
Disco-Lee
Djeb-Du-57
DjMindfreakUA
DJRico666
DmitriyUA
Dnutz90
DOCTOR_appie_NL
DodgyCrook
DoE-BLaCK-413
Dogbone7
Doryyan
DravinClaw
Dreadfire_RD
DutchStoner
DutchStonerElden21
dvfaa123
Elden21
elgee1
El_Kruso
emkae22
emmi18176860
emre1999
Epic_Show
eric_214
ErnestoRock
esornad
EvilHomer1
excutedgear99
Fash30
FatChanceDance
FATMAN
FauxGland
FecalMatter1987
FeelThePayne
FIight666
FisFis
flasco
FRA1Z3R
FugetSudo_Jr
Furko6z
G-WizZ
G.VeryNicePerson
GASDEM
Gaunty07
Genesicity
GermanScientist
ghostwolf772
GimletGreendog
GimpWithaYoyo
Gloriousbk105
GM-Shenmue
graefocs
GrandComet
Greatn3ss87
GreenRogue22598
Grrrtt
GTA5Videos
gtagamer86
GTAIV_King
GTALAD4EVA
gtalover12
Hadukinz
HeatherShow
Herbertmooon
HIBMFL
hoodie232
HoppyHippo
Hozztrozz
Husaria
iAgent98
IcemanEvans
iiConTr0v3rSYx
Infamous20
infolady
Insanepyromaniac
inssomniak1138
IpekBellic
israel-lucas
IVIoSt_HaTeD
IWIQuest
Jeff_McRae
jimmythekidd02
jlove31
joe_2007
JonasREJCS
JRock39
Jun211
Juste69
k-pow2301
kbash16
KelticKennedy
killlinyou78
KiLO_420
KingDaddy1
kingdex14
KLC_BROKER
Kluzzel
kratus1986
krissharpen
krounchette
LarsDK
laZardo
La_espada
lBurial
LewisMiller
Liimon
LiL-A-King1
LiLC366
LIMP_BIZKIT
Linkboy77
Lorenzo23_ITALY
louis1993
Machette88
madman21
MafiaKiller101
Marney-1
marypoppinpills
MasterOfdaniil
MatsvanStam
MattJSensation
matty256
MerryJane
Meyus-007
MightyBooshz
Misandope
MissLuckyy
ModPhil
MooSully
mouver
MrDFlipside
mrmagic125
MrMister81
MrRatatat
MrsDeadRedMau5
Mr_Kevin01
MuDvAyNe10
Munkyx30
murphiz
M_I_L_e
NewGames2011
Neye123
NICKTHEGAME
Nova_Jeevas
ONE_EYED_EEL
oO_HeKuT_Oo
OrIGInalPyRO
OverTheUnder93
oVolDRAMAloVo
Ozzmo2
P48Thunder
PaynePillPopper
PerfidiousSinn
pergamentkamama
PeterParker90
Phends
phgreat1
Pike187
PKozyra64
plonkticus
PolarBearCA
ProudMode
psychojoker420
Pvtoman
PyratRum
QasimRehman
RafaelCDalonso
Rafioso
RamzKilla
rapidshot20
RdR_Killer4Life
RedDwarfPosse
redscorpion92
REDX16385
RestNP1eces86
RhysDel
richard_hung-lo
RichurdCheese
riri9yg
Rockjgame
RockstarInformer
ROCKSTAR_THEBEST
Rockstar_Vienna
rockunroll
ROCKnROLLINGROCK
Rollaw
Roofy010
ROOPDAWG
Route126
ryeowookKara
saraharmas
SARDYNA108
SARDYNA1082
SARDYNA1083
SatanX2112
SAV-UK
Savas_Marston
scareface1970
Schattengesang
scotsgeoff
SDRedden
Sergeant.Idol
sergiogs1904
Seven_Ten_OhNine
shaunresistance
shelece
shelly7
sicey90
silversun111
silversun_111
SimonC24
SixtyBubble4655
skaterjthebest
SkeliFish
Skyline34
slappypyne
sonhaze
SOULLESSGING3R
Sprunk95
Spyder_Bait
sterliling
stnickbond
StoleYoNick
SUBLIMEtimothy
SubZeroo55
SuperBlueOwl
Tappsmear
tcrv2009
tema-gta4
The-Dark-Night
thephilbert
THEREALMANIC
therealtreefitty
thevehiclepimp
TheViper11
The_Infection
Thunder_Passion
Tiffanys_1837
titaniumbavas
tlove5571
TMichael21
tmw214
tomhal
torpedo36
Transporter-K96
tremoler29
Trioptical
Tropizm
Tshee23
TSO_808
UniqueFreakz
UnknownWebUser
UsuallyTheBest
vdek01
VinewoodTits
VIP_Gamer
vjgangode9
VMDiaz
voodoohitman
WackyTabaaky
WhatNow49
willyj05
wilskracht
WOLFENBANE13
WolfRogers
xDutchNLx
XxAssasinNinjaxX
xXBrackbillXx
xxNaTHaNii
XxSpirit36xX
xxxkingXD
yamatsuka
zanarkandruinsx2
ZEN-CQ
ziphon
zykologen
Previously:
Recap from the GTAIV & Max Payne 3 Doubleheader Multiplayer Event (August 30)
Recap with Leaderboard & Video: August 1st's Max Payne 3 PSN Social Club Multiplayer Event
Red Dead Redemption Social Club Multiplayer Event Recap (7/27)
Max Payne 3 Social Club Multiplayer Recap: July Events