Crew Cut: Champs of the New Tiered Leaderboards, from Featherweights to Heavyweights
Recently, we released new tiered Crew leaderboards over at the Social Club - providing a whole new insight into which Crews are truly tearing it up based on their member weight class. Bracketing Crews by member count enables you to separate more clearly than ever the pretenders from the contenders - and see where your private Crew falls in the grand scheme. Whether you're a quartet of killers, a dirty dozen, or are rolling deep, there's a bracket for you. This also means that Crew leaders may now want to be extra scrutinizing about retaining, recruiting or being exclusive about their ranks to maintain bragging rights in their size class. While we've previously featured prominent Crews from the 1-5 membership bracket such as the crybaby killers1 (#1 on the PS3 boards) and the Turkish Police (#4 on the PC boards), credit is also due to the Ice-Cold Assassins Crew, a committed quintet of PS3 free-aim players. Ice-Cold Assassins are currently looking to bolster their ranks with "active and skilled players with mics" - these boys clearly use communication and tactics good effect in maintaining their impressive 85% Feud win PCT. Props also to Crew member Evo7ution1 for a top 10 finish in our August 30th Social Club Event.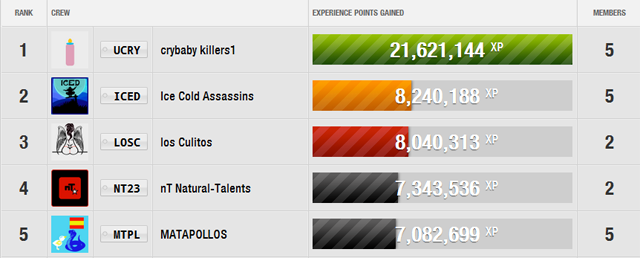 The top 5 Playstation3 Crews with 5 members or less
In the 6-20 tier on PC, the emblem of Number 1 Clan stands out clear from the rest, although this Crew is somewhat ironically placed in fourh. In the past few weeks, Number 1 Clan were ballsy enough to take on the might of Pro And Deadly Crew and came out of their altercation on level ground, with a very respectable 3 Feuds won. Not too shabby. Prominent Crew member N1Anoobis posted this impressive montage of kill streaks and Feud wins on Number 1 Clan's own Crew website. Check it out below:
Elsewhere in the 6-20 tier, Fear The Wrath Crew place 4th in the Xbox 360 leaderboards. Their eye-catching emblem is a tribute to the efforts of their top player ChuckMP3 who recently broke the 5 million personal XP threshold. With such support like this from their Crew mates, it's no wonder that Fear The Wrath have a Solidarity V achievement and 4K #1 Finishes. Finally, a shout out to the Nice II Crew, ranked 9th in the 6-20 bracket on Xbox 360, who have a great range of emblems in their Gallery parodying everything from Nike to Alien to Domino's Pizza. All designed by Crew Leader Endymion72, to whom we neglected to give full credit for last weeks' Contract Killers and Lawless Gangsters emblems. NICE work, Endymion.
On PSN, there are some familiar faces from the Crew Cut in the 21-50 Crew stratum including HOT Clan, Zombie Zuckerz, The Italian Job and the incredible Death Bringers. We must also pay homage to third place MP3 Killers in honor of achieving 1000 Feuds won a few weeks back, and for having an awesome emblem. MP3 Killers have stayed true to their name: Almost a third of their Feud wins have come against the MP3 Crew and they've racked up around three and a half thousand Kills in the process. It would be remiss of us to move on from the PSN 21-50 Crew tier without acknowledging the spectacularly evil emblem of 11th ranked Skeleton Crew. Props to designer TxGlock.


The top 5 Crews in the 51-100 range of Xbox 360 Crews
In the 51-100 range of Xbox 360 Crews, the underrated Dew Dirt Crew nose into third, although they have 10M XP to catch up on second-placed Rewind. Delving into their Feud stats, Dew Dirt recently lost 5 out of 5 Feuds to yet another high achieving Spanish team, Company of Killers Crew. Company Of Killers have also beaten top placed Crew, Killer Smoking Aces in Feuds by 26-8 recently, and must feel suitably aggrieved at their current placing in fourth. Keep up the fight. Finally, respect to Double Trouble for topping out the 51-100 threshold for PC players with room to spare on their roster. Not only that, but we have good reason to believe that they rock the best facial hair on Social Club.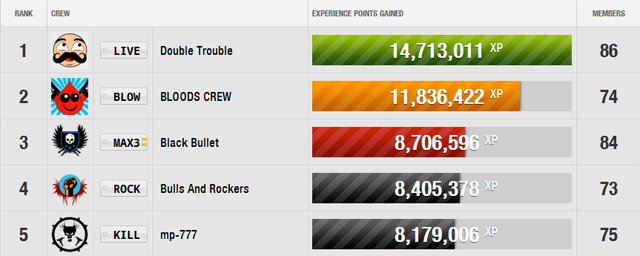 Double Trouble reign supreme over all of the PC crews with membership between 51 and 100
Previous Editions of the Crew Cut: