Max Payne 3 Social Club Multiplayer Event this Friday Featuring Video Card Giveaways and TRIPLE XP All Weekend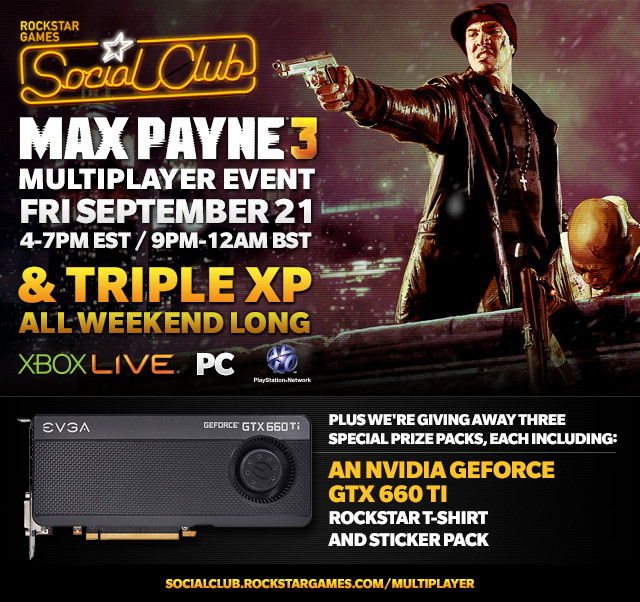 Update: The multiplayer event and Triple XP have ended. Thanks to everyone that joined in on Friday and played over the weekend.
The debut weekend of TRIPLE XP for Max Payne 3 Multiplayer will begin with three hours of live-stream action across PC, PS3 and Xbox 360 in the latest event from the Social Club Multiplayer Events series calendar Friday September 21st from 4-7pm EST / 9pm-12am BST. This event will include three deluxe prize pack giveaways, each featuring a high-powered EVGA NVIDIA® GeForce GTX 660 Ti video card, plus one of the newest Rockstar t-shirts and more...
Join us for an assortment of action on the recently released Hoboken Rooftops map from the FREE Disorganized Crime Pack, as well as plenty of Deathmatch, Team Deathmatch and variations of the Event Playlist exclusive Last Man Standing. Additionally, we'll have some Gang Wars outside of the playlist sometime during the afternoon. You'll also be able to track you performance with our event specific leaderboard as the event unfolds on the Social Club multiplayer events page and chat with other Max Payne 3 fans and players around the world as well. Details on how to participate (and who to look for) can be found below:
OFFICIAL ROCKSTAR IDs
Participating official in-game Rockstar names will be:
MaxPayneDev1 (PC)
MaxPayneDev2 (Xbox 360)
MaxPayneDev4 (PSN)
MaxPayneDev2 (PC on Twitch)
HOW TO FIND US
Enter Max Payne 3 multiplayer and select the Social Club Multiplayer Event playlist. We'll play Free Aim 100% of the time on PC, and a mix of Soft Lock and Free Aim on PSN and Xbox LIVE.
PRIZING DETAILS
Here are some more details on the EVGA NVIDIA GeForce GTX 660 Ti video cards we're giving away. Enter on the multiplayer events page, and good luck!
2GB GDDR5 Memory
PCI Express 3.0
Microsoft® DirectX® 11
OpenGL 4.2
NVIDIA GPU Boost
NVIDIA Adaptive Vertical Sync
NVIDIA Surround™ Technology
NVIDIA PhysX® Technology
NVIDIA 3D Vision®- Ready
NVIDIA SLI®-Ready
NVIDIA CUDA® Technology
Supports Two dual-link DVI connectors, HDMI and Displayport 1.2
Includes card, driver/software disc, one DVI to VGA adapter, two 6 pin PCI-E power adapters, a user guide and an EVGA Accessory Pack
If you can't join us Friday or want more chances to play with Rockstar (or both!), make sure you follow us at our official Facebook, Twitter, Google+ and Steam pages to get the word whenever we're starting up an impromptu multiplayer session...