Rockstar Game Tips: Working Together to Drop Bags in "Delivery"
Perhaps the most fast-paced of the Gang Wars' objectives in Max Payne 3 multiplayer, Delivery tasks both teams with transporting bags to drop off locations, earning points for each successful drop. As the location of both bags and drop off locations change throughout the round, and the carrier is only able to use a single one-handed weapon whenever the bag is in their possession, this round requires teamwork, good environmental awareness and of course a solid Loadout strategy.
As in our recent tips article where we demonstrated sound strategy for planting the bomb in "Short Fuse", we've laid out three roles that can be shared around your Crew to ensure that all bases are covered. Again, one of the keys to this strategy - employed by some of the deadliest players on the multiplayer development team - is the idea of complementary Bursts. In the Loadouts we've listed below, try and resist the urge to use Big Dog and Grounded until you've built your adrenaline to at least Level 2. It will be worth the wait, as the benefit will be shared throughout your team.
Bag Lady
The Crew member responsible for carrying bags is obviously the prime target for the opposition, so they need to be well protected but still light enough to get around the map quickly. Whenever you're in possession of the bag you'll only have one hand free, so the DE .50 packs enough punch to take out individual pursuers. What many don't realize is that at Levels 2 and 3, Sneaky Burst makes you appear as a friendly bag-carrier on your opponents' minimap, which can help you slip by unnoticed, providing you don't enter their line of vision. With a little Loadout weight left to play with, we've also equipped the Gorilla Mask, purely because our dev players like the idea of a bag transporting primate double act (more on that in a little bit).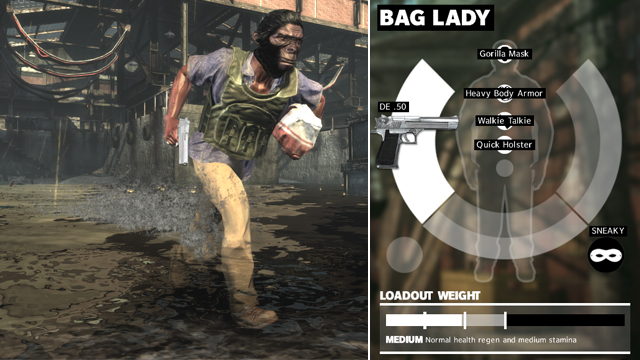 Single Handed Weapon Slot: DE .50
Burst Slot: Sneaky
Item Head Slot: Gorilla Mask
Item Chest Slot: Heavy Body Armor
Item Gear Slot: Walkie Talkie
Item Gear Slot: Quick Holster
Baggyguard
The Bag Lady is a prime target whenever in possession of the contraband, so it's a good idea to employ some muscle to protect them from the other team. The key is to stay close to the carrier throughout, watching their back, and where needed, telling them via voice chat to take cover so that you and the other escort can attract and neutralize the heat. As stated above, we recommend saving your Big Dog Burst until Level 2, and then using it whenever your carrier is under fire and needs a health kick to make it to the drop off - just remember that you will need to have them in sight to share the health benefits at level 2.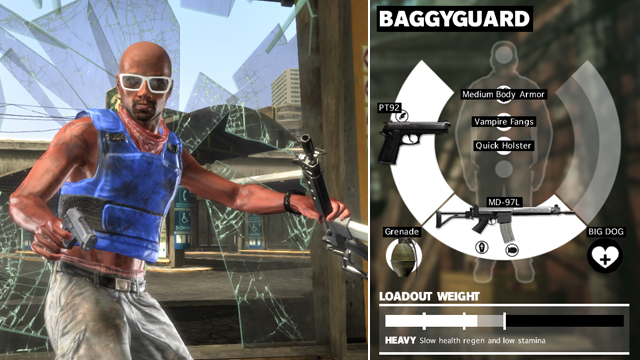 Single Handed Weapon Slot: PT92 (with Gas Block)
Two Handed Weapon Slot: MD-97L (With Barrel Upgrade/Extended Mag)
Projectile Slot: Grenade
Burst Slot: Big Dog
Item Chest Slot: Medium Body Armor
Item Gear Slot: Vampire Fangs
Item Gear Slot: Quick Holster
Bag Thief
Like the evil alter-ego of our Bag Lady, the Bag Thief is there to sabotage the opposing team's efforts by intercepting their bags and, whenever possible, activating Grounded Burst at Level 2 or 3 to disrupt their intel. The Booby Trap item ensures that even their fallen corpse has a trick up its sleeve.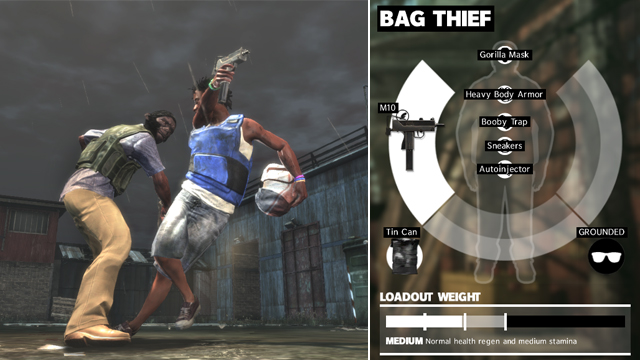 Single Handed Weapon Slot: M10
Projectile Slot: Tin Can
Burst Slot: Grounded
Item Head Slot: Gorilla Mask
Item Chest Slot: Heavy Body Armor
Item Gear Slot: Booby Trap
Item Gear Slot: Sneakers
Item Gear Slot: Autoinjector
If you've got any other tactics or techniques you've used to get the upper hand in Delivery, share them with us in the comments.
More Max Payne 3 Game Tips: