Presenting the Fall 2012 Social Club Multiplayer Events Calendar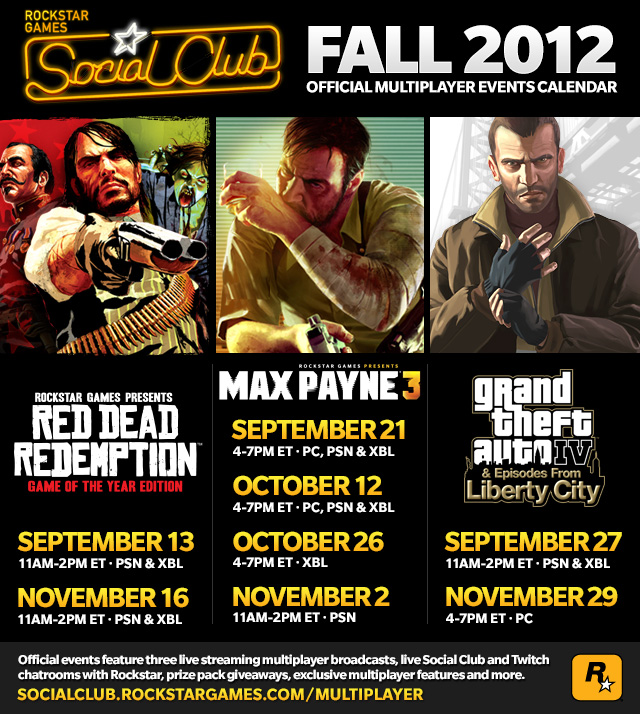 Update: Because of Hurricane Sandy, the November 2nd Max Payne 3 multiplayer event has been moved to November 16th from 2-5pm EST. See here for details.
Get ready for a season teeming with Bullet Time®, Old West posse throwdowns and epic Liberty City car chases as we present the calendar of Social Club multiplayer events for the fall months. Lots of multiplayer action from September through November, including representing your Crews in Max Payne 3 with all the latest downloadable content, as well as solid time on the frontier in Red Dead Redemption: Game of the Year Edition and in Liberty City with Grand Theft Auto IV: Complete Edition.
For the uninitiated, our Max Payne 3 multiplayer events feature some cutthroat Crew battles including the chance to have your Crew take us on. Start practicing, and look for more details coming up before each of the dates. Additionally, bonus XP will run for all Max Payne 3 and Red Dead events, plus you'll have the opportunity to get in and play with us no matter which version of our titles you own and all events feature two live video streams plus an additional one on our TwitchTV page. Multiplayer events also include a chatroom with us on hand, along with limited edition prizing giveaways.
On top of these scheduled playsessions, we regularly log on for impromptu multiplayer rounds, letting you guys know via our Twitter, Facebook, Google+ and Steam pages. As an added bonus, all of these are broadcast live on TwitchTV. Be sure you're following us to always get the word when we're heading online...
CALENDAR OF MULTIPLAYER EVENTS
Thursday, September 13 (11am-2pm ET / 4-7pm BST)
Red Dead Redemption: Game of the Year Edition
PlayStation 3 on PSN and Xbox 360 on XBL


Friday, September 21 (4-7pm ET / 9pm-midnight BST)
Max Payne 3
PC, PlayStation 3 on PSN and Xbox 360 on XBL


Thursday, September 27 (11am-2pm ET / 4-7pm BST)
Grand Theft Auto IV: Complete Edition
PlayStation 3 on PSN and Xbox 360 on XBL


Friday, October 12 (4-7pm ET / 9pm-midnight BST)
Max Payne 3
PC, PlayStation 3 on PSN and Xbox 360 on XBL


Friday, October 26 (4-7PM ET / 9pm-midnight BST)
Max Payne 3
Xbox 360 on XBL


Friday, November 16 (11am-2pm ET / 4-7pm GMT)
Red Dead Redemption: Game of the Year Edition
PlayStation 3 on PSN and Xbox 360 on XBL


Thursday, November 29 (4-7PM ET / 9pm-midnight GMT)
Grand Theft Auto IV: Complete Edition
PC on Games for Windows - Live