Week 2 of Payne Thresholds in Max Payne 3 Multiplayer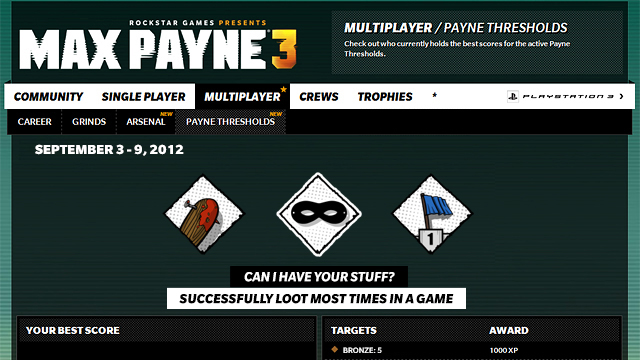 The second set of Multiplayer Payne Thresholds are now live in
Max Payne 3 Multiplayer
on all platforms. Each of these challenges runs until September 9th and awards you a substantial XP bonus for crossing the Bronze, Silver, and Gold thresholds - plus a special multiplayer title if you can hit the Platinum rank.
Brutal Justice
Most melee kills in a single match
Can I Have Your Stuff?
Most looting done in a single match
He Who Hesitates
Most points captured while being the first in (over the course of the entire week)
These multiplayer challenges can all be accomplished during the course of any compatible multiplayer match (i.e. He Who Hesitates would need to be completed during a Gang Wars match since it involves capturing points) and you can track your progress globally and against your Friends list and Crew-mates
at the Rockstar Social Club
.