John Marston Tattoo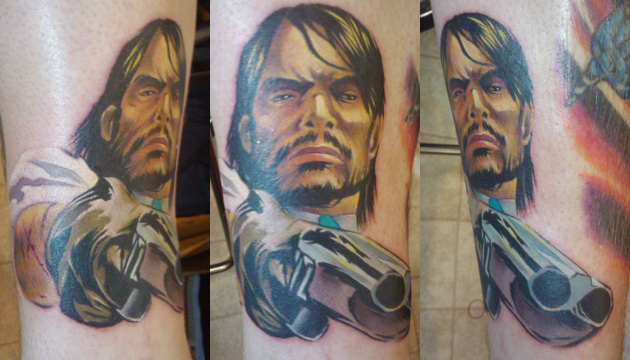 When we unveiled the official cover art for Red Dead Redemption last week, we never expected it to end up etched on somebody's hide.

But Jeff Gross ("JeffThreat" on the igrandtheftauto.com fan site community) did exactly that. Here is Jeff's account in his own words of how it came to be...
"Here is the story on how I came to the tattoo.

I heard about the game late 2008, i was interested... but mostly put it on the back shelf. When they released the first trailer.. that's when it caught my real attention. Then it became a snowball effect.. all the videos they have released, gain my attention and love for the game.. all I could do is talk to my friends about it. The more I talked, the more excited I got. Last week I was talking with some friends about my next tattoo on XBL, I said " I am considering getting the cover of RDR tattooed on me".

Everyone thought I was joking around, in my mind.. I was dead set. This past Saturday, I called my tattoo artist (Josh Hazle of State of Mind Tattoos on Madeira Beach) to see when we could do this. By chance he was at a tattoo convention and I rushed up there and 6 hours & $400 later... I got this amazing art work tattooed on my leg. Well worth it.

There you go :). I really hope you guys like it, please let me know what everyone thinks of it."
You can see the finished creation above, which was done by Jeff's tattoo artist Josh Hazle of State of Mind Tattoos in Madeira Beach, Florida.

It goes without saying that we are very impressed with Jeff's commitment to the cause! Truly awesome...