Recap, Prize Winners, Fan Video and Screens from the Max Payne 3 PC Multiplayer Event (August 17th)
Our most recent official Social Club multiplayer event was a Max Payne 3 PC special, with high-def Gang Wars and Deathmatch on the dual live-stream, hosted chat, prize pack giveaways and more at the Social Club multiplayer events page and with a bonus stream over at our Twitch.
Congratulations go out to cryochamber, Ethanh59, TheWatcher501, Scoonie and ska00l - each scored a GeForce GTX 670 video card in our event sweepstakes. We'll have more of these to give away in upcoming PC events, so be sure to check back for the brand new fall calendar schedule of events to be announced soon.
Make sure not to miss the last date in the summer calendar which is a double-header this Thursday August 30th playing Grand Theft Auto IV from 12-3pm ET / 5-8pm BT followed by Max Payne 3 from 4-7pm ET / 9pm-12am BT - we'll be playing both games on all 3 platforms, PC, Xbox 360 and PlayStation 3 during those scheduled times. Look for prize pack giveaways, special guest players, and of course streams on Social Club and Twitch.
The August 17th PC event kicked off with all four MaxPayneDevs livestreaming from the maps of the Local Justice Pack in the Social Club Playlist. In the Police Precinct, MaxPayneDev1 and MaxPayneDev3 met a worthy opponent in Andersonhcp. Repping the Payne Killers massive, Andersonhcp ranked in 2nd place in the event's Leaderboards, earning 95,904 XP and winning 9 games. Meanwhile, you might say that MaxPayneDev2 came upon some Hard8Times. Leader of The Social Rejects Crew, Hard8Times held his own against Dev2, with an impressive KDR of 3.06. A beast of a PC gamer, you may also recognize Hard 8 as a regular here in the Social Club comments, or from his awesome YouTube commentary channel which we've been fond of for awhile now - look for Philly's own Hard 8 to join us as a special guest player live from the Rockstar Rooftop in this Thursday's Social Club event.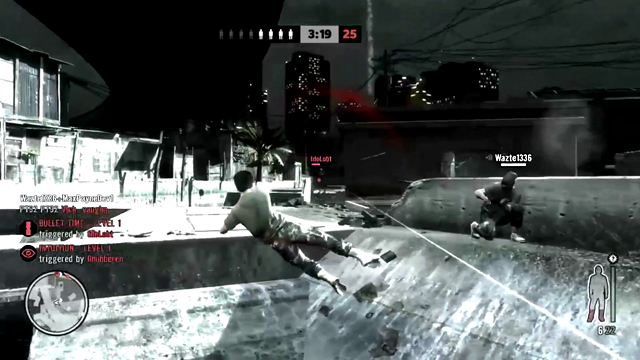 MaxPayneDev1 takes his final shot in Survivor...
Despite MadTick and Evilinoff's greatest efforts, Dev1 along with 0o-_-o0 and elocho managed to win a heated game of Gang Wars in the Favela. Though it was close with the expert gunwork of HARDROCK007, who was always quick to jump out when you least expected it, the UFE came through in the Survival round. Dev2 wasn't having such luck. Unfortunately for our man, the Biertrinker Crew's AlkiMax attributed many of his 224 kills during the event at the expense of MaxPayneDev2.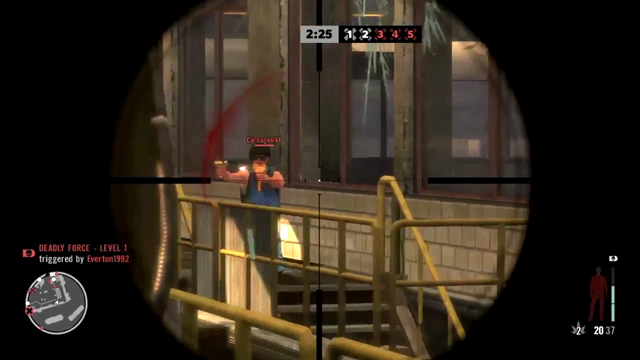 Carnage694 has no idea he's being watched...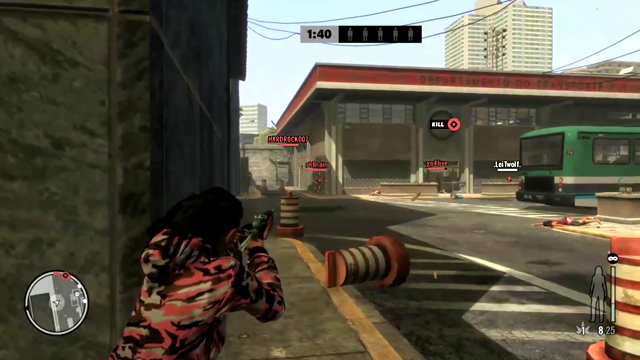 HARDROCK007, rKBrain, and go4live protect the target.
Thanks once again to Social Club regular, ShenmueSaga who was kind enough to record MaxPayneDev1's stream that you can watch below.
Be sure to follow us on our Twitter, Facebook, Google+ and Steam pages to get word when we're heading online for impromptu playsessions.
And have a look below for a roll call of participants according to our records. If you don't see your name on the list and you were there, just let us know in the comments and we'll be glad to add you...
-matt-
-Meldon63-
.Seb84.
4aiNeG
8-Balls
12ERASER
573W1E
1337Pilot
AaronIsLoadng
AdrianProX1
agent333322
AgentMcQueen
agent_TAC0
ahetFIN
Ahkren
Airhendrix
Alangasar
alo1992
alvarado6411
andersonhcp
Anticitizen011
Ares_the_devil
assasin19
Austin007
azprimeminister
Badgett6021133
BadruM1
BaptizdInBlood
BaronSamedi911
Baztian
beltring94
BIGTIME213
bikinisntchmnstr
BillKill1980x
BirdmanForever
Bizerker21
Blade899809889
BlitZxSiN
blizlolk123456
BoochArt
Boogalicious
BooYaaKaa
Brentley_11
Bri561
BudgetCross
Bullfishes
C.M.X.4
Calluhain
Cann1bal_Corps3
Carlos_pires
Carnage694
cdman17
cerj96b
ChicagoEnigma
chrisli128
christopher1472
ChristopherBoom
CircusRock
cKy4life
closedmouth
CMB08TX
cody215
ColIider
Cometin7
Comrade_max
CoolLeon321
crazycat690
CrazyNiko187
cryochamber
Cuddlebunch
curtis206
D.E.L.B
daeda1u5
dan01027
DanielxDD13
Darigon
darkshadow248
DeadlyTarget
Deadmen777
demon5864
Demonofheaven
di0nislaw
DiamonD_126
digitalbread
Disco-Lee
DixieGunThug
djsnekrussian
DJW89.
Dnutz90
Doctor_Syava
Dogbone7
DrMacabre68
DruGun
Drunkonselfpity
Dr_Bob
Dukeofibanez
duk_leon
DutchStoner
dvfaa123
DynamicPandora
ed0906
elocho
emaesinate
Endymion72
Enterprise-E
erdavs05
ErnestoRock
Ethan.millsgrass
Ethanh59
EvenLease
Everton1992
Evilinkoff
FamousGuy234
FCortez
FeelThePayne
ferguson99
fistfullofacid
FjrWizard
FONKLOVE
FootballFCA2
FransDK
FugetSudo_Jr
gabe2121
Gaianna
GameDude79
Genesicity
Geveeso
GM-Shenmue
gman33
Gnubberen
Gobehz
godzilla875
GrandTheftAuto55
gtaiv1977
GTAIV_King
GTALAD4EVA
Guille_Ga2Z
GypsyCrazyBoy
haikelm
Haplue
HARDROCK007
herman909
HermanCain
hoodie232
HyperSpider
Hyproz
iiConTr0v3rSYx
imsoory
Inquisitive_Wolf
IrisxD
iRotten_13
Iruns0bad
iSoLaTeD1
IWIQuest
jacenel
JackChai
JamesE.Nigma
JaskaJii
JasonxDw
Jassal2008
Jaycob619
jaysturm
Jbauer1978
Jeff_McRae
JerryKapowitz
JesseTheFinn
JihadJohnson
joa_nyc
joe1606
joewhitt45
Johacami
johhnyboy2429
Johnny_343
JonnyK44
jorsam
Jur1zz
Justiceguitar
Kaiger
Kapparol
Kev_Stinx
khan_tbolt
kidaisinyou
killlinyou78
KindLemonader
KingTolga
Kosmolson
KP_akaKPizzle
KroganEnigma
Kuya_Ed
LacrimeSD
Lanaki
LAUCHA3775
laxman10100
laZardo
La_espada
LEAD_ZEBRA
lembaczuk
lewis74
LewisJamesMiller
life-of-music
Liimon
LiL-A-King1
LiLC366
Looyk.

louis1993




ll1877


Lsmmcdc
LukashenkOO7
MadTick
mahunoy
makdady12
MakRouch
Maksik42
manhoos
MarmanLive
MasterOfdaniil
Mattx0x
MaxCarver
maxim2boobles
MayorOfViceCity
melih354
Merces_Letifer
MicBlaze
michaelantj
MidnightRiderBro
mieeq424
miGma06
MikeManboob
Misandope
MisguidedChase
miylmall617
mohsin017
moimieoonti
monosocratic
mouver
mrdapperdan
MrNomad
Mr_Kevin01
MuguetAD
mukabomae7
Munkyx30
Mustalaa
Mx_ALEX_xM
n4naveen
naruto223169
nathan_f


Necksus


NerdNerdy
newsense2004
nightelph
Night_Slasher
Nikibaby219
nikobelic250000
nin288
nironz13
NittyGambino
noclue_42
NOG_Lewis
Nomercy1994
nosgoth01
novohoodonoser
NYPDMAXPAYNE
oBareLo
ObscureOllie
oliver19731
OneAngryMalachai
Oo-_-oO
Osedax_
Paalie
passos460
patrickm13
paynefulkiller
PaynePillPopper
PenthosInfinitum
Pepacid
Phizzle
Pike187
PilotasUK
PIMPAX
pizzacat69
PlaneNutter
Prodigy_83
PROTOTYPE_93
pulpo281170
PURE_KILLA7
Purplekilla97
QWERTY--Q
Racecarlock
rafael470
Rafioso
Rajo_Jenkinz
ranger_cuatro
RaZZo13
reddeadmardinho
REDX16385
Reef3487
richard_hung-lo
Ritchiie
Roarshackx
Robin-FreAkii
ROCKSTAR_THEBEST
Rockstar_Vienna
Rod266
Rollaw
ronnienas
Roofy010
rostei
Rover010
Rustinat0R
R__P__G
SALOHCIN1
SARDYNA108
sasuke78200
SAV-UK
scareface1970
Scoonie
ScorpyCP
Scottendo
shadowdude53
shaggysito6
sheem973
shelece
ska00l
SkeliFish
Sleepy-slim
Sneik34
SouthParkMex24
SpareBricks
splatout76
Spookyz
Sprunk95
SrDanny
Streamphotog
Stretch_Hardy
StuckOnARock
SuAsUmNeX
SukhoiPAK-FA
Supernimzo
supernutz
SuperSoviet
swallick
swansea1992
tdoLobt
TechnoDik
teh_real_weasel
TequilaFire
ThatMa5u
THEBLACKTIGER007
TheCloven
thecrakken
thedoctor44
TheDynamitez
TheEliteBrit
theeother
Thelare
theNoss
thephilbert
TheSmileCannon
thespeedtapper5
thevehiclepimp
TheWatcher501
ThomasZane
ThwNYCgangstarr
Tom543
TomerA077x
tommygear007
Topidrasla
TrustNot
TWO_Valjean
Ub3rMesa
UltimateWatson
unshadow97
USED_FOR_GLUE
Vad_Teller
Vandelizm187
VasMarston
viceguy97
Vick_vaughn
victormendoza81
vlad-wwe
W3BB13
Walnutty
Wardoxx
Wazte1336
who-raa273
wildcat121
WolfRogers
Wormwalker
Wormwood_GC
WuTangTyrant
Xenuria
xjohndoex86
xPANZRAMx
XpertJunior
XXCrimsonXX
XxEliTeSnipeRxX
xxxboyplay
yamatsuka
yiannis2000
Yoann0304PS3
Z4CH4RY98
zanarkandruinsx2
zand3ri
ZCF911
zeeshannasir
zellraiden
ZEN-CQ
ZeroFoxFK
Zm_Faka
ZORCON
Previously:
Recap with Leaderboard & Video: August 1st's Max Payne 3 PSN Social Club Multiplayer Event
Red Dead Redemption Social Club Multiplayer Event Recap (7/27)
Max Payne 3 Social Club Multiplayer Recap: July Events