GTAIV & Max Payne 3 Social Club Multiplayer Event Double Header Today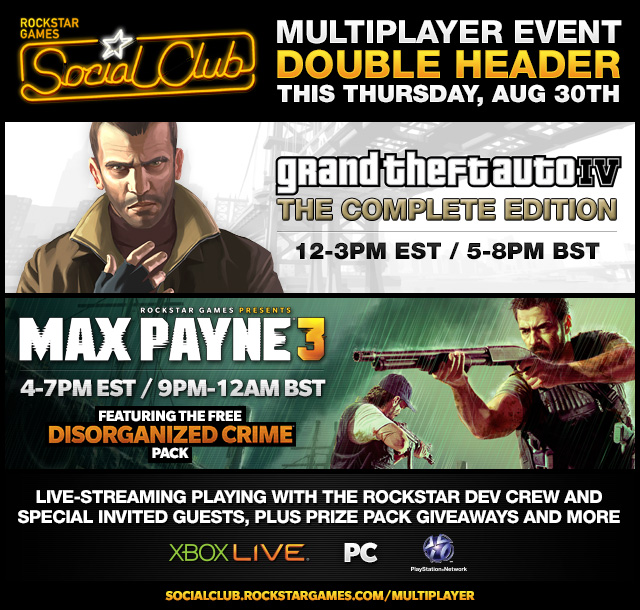 Update: The events have ended. Thanks to everyone that joined us.
This Thursday, August 30th, we're turning the last Social Club Multiplayer Event of the summer calendar (fall calendar to be announced very soon) into an epic double-header with a twin bill of events across all three platforms (Xbox 360, PS3 and PC) - with Rockstar Games developers, special invited guest players and you all shooting it out on the live-stream across Liberty City, Hoboken and the favelas of São Paulo.
Our first stop is Grand Theft Auto IV: Complete Edition (playing multiplayer modes from the original GTAIV release and the Episodes, so you don't need to own the Complete Edition specifically to play) between 12-3pm ET / 5-8pm BST and then, after a very short break, we'll be jumping into Max Payne 3 between 4-7pm ET / 9pm-midnight BST. Both events will include a double live-stream and Rockstar hosted chat. With Max Payne 3, this is your first chance to play in a multiplayer event in the Hoboken Rooftops map of the brand new FREE Disorganized Crime Pack, plus be sure to keep watch of the event leaderboards over at the Social Club Multiplayer Events page.
We'll also have some special invited guests joining us at the Rockstar Rooftop that day for some Max Payne 3 multiplayer, a few NYC-area notable players that we're friends with on Twitter and here at the Social Club - including the inimitable Hard8Times. You'll be able to catch the Rooftop action live-stream on our Twitch page. We'll also have a pair of Sweepstakes, with two opportunities to win one of ten total Rockstar Prize Packs with collectibles and gear.
GTAIV: COMPLETE EDITION
Participating Gamertags/Online IDs for the event will be:
PlayRockstar (PS3)
GwRockstar2 (Xbox 360)
GwRockstar3 (Xbox 360)
GwRockstar4 (PC)
HOW TO FIND US
We'll begin the event in original Grand Theft Auto IV multiplayer. To join, start the in-game Party Mode using the cellphone. Make sure that your in-game Party Mode team size is at least two people. Once ready, head to the chat to find out the mode we're beginning with, and type your Gamertag into the chat. Another way is just to send over a friend request to the Gamertags/Online IDs above. We'll do our best to get you in for a few rounds. More info on using Party Mode is listed below.

NEED A PARTNER?
Hit up the chatbox during the event or just post your Gamertag/Online ID in the Comments section below.

ABOUT PARTY MODE
Grand Theft Auto IV's in-game Party Mode is an easy way to get your group together and find matches. Here are the three quick and easy steps to get you up and running:
Save your current game. To get started, fire up the in-game mobile phone by pressing "Up" on the D-pad. Select

Multiplayer > Party Mode > Yes.
From here, open up your phone again and select the Friends option to invite your friends (you need at least one friend to play with Rockstar).
Once your team is ready to roll, open up the in-game phone again and select a mode to find us in-game.
MAX PAYNE 3
Participating Gamertags/Online IDs for the event will be:
MaxPayneDev1 (PC)
MaxPayneDev2 (Xbox 360)
MaxPayneDev3 (PSN)
MaxPayneDev4 (Xbox 360)
HOW TO FIND US
Enter Max Payne 3 multiplayer and select the 'Social Club Multiplayer Event' playlist.
And if you want even more chances to play with us, follow us on our Facebook, Twitter, Google+ and Steam (for PC) pages to get the word when we're starting up an impromptu multiplayer session, just like these...