Crew Cut: Rising to the Top
This coming week marks the last event in our summer calendar of official Social Club Multiplayer Events, so before we announce the fall schedule, this week's Crew Cut takes a look specifically at which Crews have been represented well by their members on the Event Leaderboards throughout the season's heated Max Payne 3 online battles. While bragging rights over Feuds, KDR and Kills are always well and good, there's a special victory and prestige in representing your Crew at the peak of a viciously competitive blood-and-guts Social Club event with Rockstar. You can browse the leaderboards of each event dating back to June 3rd at http://socialclub.rockstargames.com/multiplayer and here's a summary by platform of a few notable Crews of late that have been showing and proving to make the most of the timed format by racking up the XP as high as their pile of dead enemies.
PC PLAYERS
Much respect is due again to Pro and Deadly, a Crew we featured just a few weeks back for their impressive KDR. It seems these steely assassins have not taken well to having the second-best KDR on PSN: their Feed is littered with signs that they are doing everything they can to raise that bar even higher by recruiting only players with a KDR above 2.0. Members abrokian and aimstylR finished 1st and 4th respectively on the Leaderboard for our most recent Social Club event (with aimstyleR racking up a 3.28 KDR). Of course the really scary part is that abrokian and aimstylR aren't even the best players in the Crew....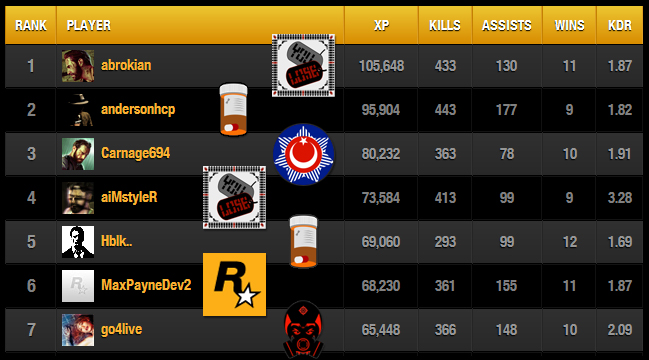 The Crews represented at the top of the leaderboard for the 8-17 PC Event
Not only did the Turkish Police Crew have the honor of placing second in our most recent Crew Cut Crewlympics, but one of their distinguished officers, Carnage694, placed third in our PC event just two days prior. As if to celebrate these achievements, Istanbul's finest have published an awesome new badge with which to stamp down their authority. Further down the leaderboard, placing just behind MaxPayneDev1 was go4live of CounterAlkisOntour - a Crew created just days prior to the event. Having already recruited 16 players in the past three weeks, it could be worth jumping on the CounterAlkis bandwagon now, so you can say you were there before they got big.
CONSOLE CREWS
After our most recent Xbox LIVE event in July,
Legends Of Red Dead
Crew scored an unprecedented coup, recruiting the first and second place players on the event leaderboard,
Kenshirio360
and
Xstormer1
(unsurprisingly, these were also the only players to hit over 400 kills on the day). Careful though, you have to send a naked picture of yourself to one of their members if you really want to join. Seriously.
Prominent member of super-Crew
Pick Your Poison
Jessup20
came in a very respectable third in our last PSN event at the start of August. With the
Pick Your Poison
roster bursting at the seams, Jessup20 recently took it upon himself to set up
PURP recruit
Crew, an open enrollment feeding ground "that allows dedicated PURPs to vet recruits". A neat idea, and an indication of the standards which this Crew can now maintain.
Similarly on Xbox,
LXG Crew
have not one, but two supporting Crews to pick new recruits from:
LXG 2
and
LXG 4
. (Of course, this only begs the question, what happened to LXG 3?!). During our
July Event round-ups
, we documented a nail-biting game of Gang Wars that took place between hordes of LXG Crew members and our Devs, as well as some excellent showings by
The Heavy Hitterz
Crew and
The Elite Gamer Crew
. Looking at the event leaderboard, it's interesting to note that despite the fierce gameplay of the
LXG Crew
players we faced, their highest player was only at 170th - strong proof that there is strength in numbers when it comes to Max Payne 3 Multiplayer.
You can expect a detailed round up of how our crack team of Devs fared in the most recent Social Club PC event in the coming days. Note that during our Fall events, we plan on giving out some Social Club unlocks to the top placed Crews and players in our Social Club events, so now's the time to get on board and start practicing. Keep an eye on the Rockstar Newswire for more information soon along with the announcement of the fall calendar.
CREW SESSIONS AT ROCKSTAR NYC
Our guest Crew series of multiplayer events here on the Rockstar Rooftop has being going strong of late with some of our game-enthusiast friends from the worlds of music, radio and more stopping by to jump online for some Max Multiplayer with fans. The Official Hot 97 Crew is now swollen up to 270 members, Feuding away with rival Crew Goal And Zeus Arena; special shout to the top-ranked players in that Crew by platform who are spartan117bryan (360), kwk… (PS3), and speedyfun7 (PC). To celebrate, Hot 97's DJ Enuff, Peter Rosenberg and Laura Stylez came through recently to throw down in Max Multiplayer on the Rockstar Twitch livestream with and against some of the biggest gamers from the rap world, our friends from The Lox, Sheek Louch and Styles P (who appeared on the official remix of Emicida's "9 Circulos" from the Max soundtrack) along with Young Chris. Watch the video highlights of all that action and props to Social Club members Backlo of the DemiGods Crew, thoughtfulcorn86 (aka Vault Master 101 on XBL) of the GameStop NY-NJ Crew, and DBHADSWAG (aka zombie boy 2369 on XBL) of his lone wolf Team Swagg Crew all of whom you can see in the recap vid getting much kills that day, mostly at the expense of an unfortunate Rosenberg. Also a shout to Chris Webby and his DJ Jay Cash both of whom beat Max Payne 3's single-player story earlier this summer and have been honing their chops in Multiplayer since; they came through this past Tuesday for a live-streaming play session opting to represent the almighty official Payne Killers Crew. Look for a few more special guest rooftop Crew sessions including one with some notable gamer friends from the NYC area this week…
Previously: