Recap and Screens: Grand Theft Auto IV PSN Social Club Multiplayer Event (March 12)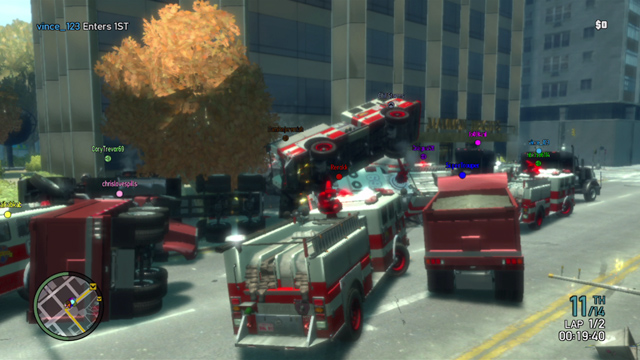 (Fire trucks and public works vehicles pile up on the mean streets of Liberty City during last Friday's PSN event...)
Thanks to everyone who turned up last Friday for more all-out Grand Theft Auto IV multiplayer mayhem in the latest in the official Social Club Multiplayer Events Series. T'was an awesome time matching wits and bullets with so many angsty faces and voices via Liberty City's online multiplayer modes.

If you missed out on this one, the next round will be an Episodes from Liberty City Xbox 360 multiplayer session happening next week on Xbox LIVE.
Read on for a recap along with screens of some of the most memorable moments from March 12th's Grand Theft Auto IV PSN event...
Heading into one of the first matches were 16 competitive racers itching to claim the top prize in GTA Race. Sports cars were the vehicle of choice through all four laps of the Star Junction race 'Stars in your Eyes.' During the first lap at the first turn, venter360 managed to take the lead and get ahead of the fray. But he only held it for a few seconds until TeC_Henning took over the top spot for good, finishing with a time of 03:36:12, three seconds ahead of anyone else.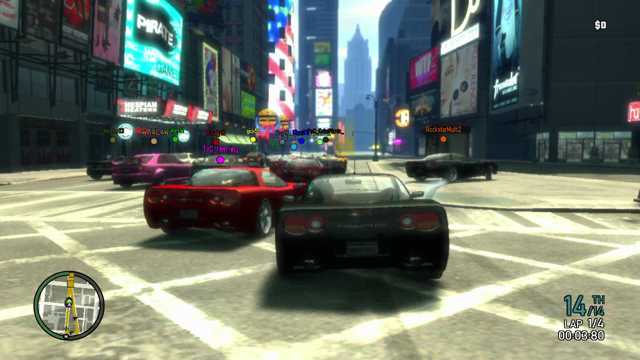 (The first race begins in Star Junction, leading to a win for TeC_Henning...)
Team Deathmatch was next - up in Bohan. Seven teams were ready to go at each other, but it was one team of two players that was determined to take down the Rockstars: ARIELRIOS and liljay5. Not only did they show off impeccable skills and constantly keep our own RockstarMulti1 and RockstarMulti2 in their crosshairs... they also got to $5,000 before any other team, winning the round...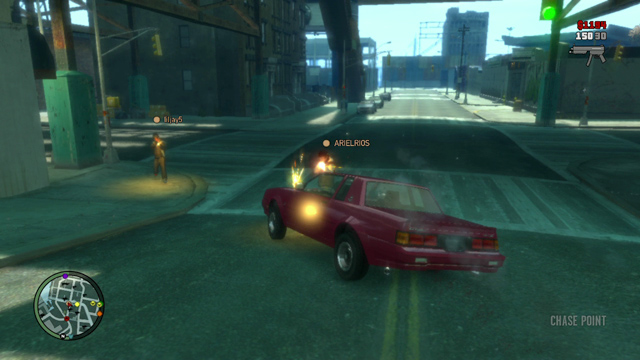 (Liljay5 fires on RockstarMulti1 as ARIELRIOS gets run down in Chase Point...)
Next up - some Turf War in Broker. On the Jamaican gang were RockstarMulti1, MCDrank, CReaperDorian, Diogo_Rockstar and gojeff99, and on the Russian gang were BAM_BAM19, DaFunnyMan69, RockstarMulti2, lo00kanl and Hayze. The action began with the first kill: BAM_BAM19 taking down RockstarMulti1. After a round of staking turf and exchanging gunfire with the opposition, the Jamaican gang came out on top with $3,000, beating the Russians who were only able to muster $2,236...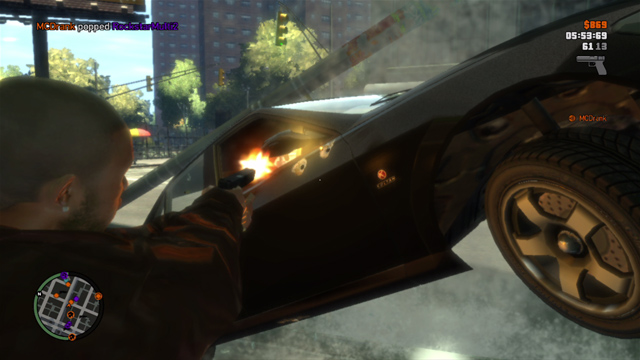 (The duo of RockstarMulti1 and MCDrank gang up on RockstarMulti2 as his car smashes into a pole and a hydrant...)
From there, we mixed things up a bit, getting two teams together for a match of Cops 'n Crooks in 'All For One' mode. Team One were the cops: OpFoxdie, Damionjeremiah, WolfRogers, gassousti91, TeC_CakePicnic_, killerofgta, RockstarMulti1 and CoryTrevor69. Team Two were the crooks: RockstarMulti2, BAM_BAM19, dembele92410, ARKASIAN, N_Gates, GUNCLEMCLM and Diogo_Rockstar. The Crooks successfully rescued the boss in the first round. Sides switched and the second round began. The Cops swerved around the corner just as the boss, killerofgta, was escaping in a getaway car. The Crooks fired at and killed all four players from the Cops team inside the cruiser. Killerofgta fled but eventually fell to the bullets of another Cop, GUNCLEMCLM, giving Team Two the overall win.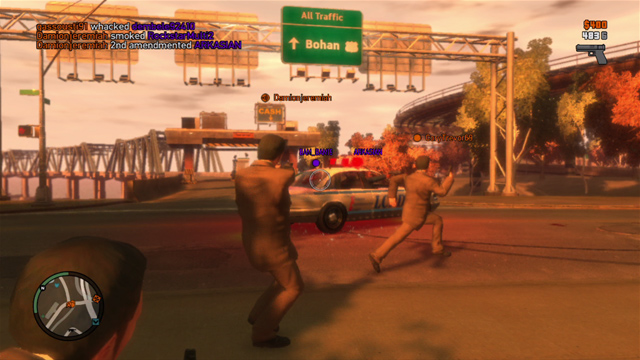 (RockstarMulti1, Damionjeremiah and CoryTrevor69 blasting at ARKASIAN, RockstarMulti2,
dembele92410 and BAM_BAM19 as they roll by in a cop car in search of the boss in Cops 'n Crooks...)

Next, we turned Middle Park into a warzone when 16 competitors entered GTA Race to take on two laps of 'Horse Punch' with trucks. The first turn was an absolutely beautiful disaster as Biffs, Fire Trucks and Phantoms collided, flipping, denting and tossing each other all over the place. Gamerzworld somehow found his way out of the mess, taking and holding the lead until the end with a total time of 04:02:53, an impressive 25 seconds before anyone else...

Rounding out the night were a bunch of vans in a GTA Race track appropriately named 'Driving While High.' Racers took off from the starting line in their Ponys, Burritos, Speedos and Moonbeams. Turning the first corner and temporarily into 1st place was shlomi52. But Lexus776 took over the top spot for good just a few seconds later when shlomi52 turned a corner at reckless speed, ramming into the low brick wall on the side of the road, and thwarting any chances to claim the throne. Tsk tsk.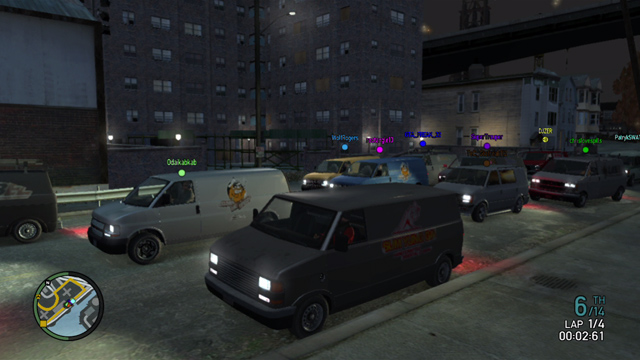 (Roll up your windows. 'Driving While High' is the name of the race we're doing...with vans...)
Big shout again to all of you that were able to show up for the event – here's a list of attendees by our accounts. Apologies to anyone omitted or that we didn't get a chance to play against:
agizinterPL
alleypuppy
and_off_line
AndyGanteks
ARKASIAN
ARIELRIOS
ati_kiraly
B7R511
babylove53
baday3947
BAM_BAM19
Battery-Acid
bgfknoppers
berna998
ChillStorms
chrislovespills
CoryTrevor69
Craigus126
CReaperDorian
DaFunnyMan69
Damionjeremiah
darikco
davidm04
Dean_Timisoara
dembele92410
Dieegon
Diogo_Rockstar
DJZER
DONKEY_KONG_90
EAAU-Der_Adler
ELiT3_Miik3
ericm22
fagiolino
fhoosedg
flor7nt
gamepride
Gamer3456
Gamerzworld

gangtos
gassousti91
gick55
gojeff99
GT_MODE_AD_ED
GTA_FREAK_22
GUNCLEMCLM
Hayze
hbk1986114
Illusion24
InfernoXDragon
Joester53
josh015
juanxytoh
Juust-Dance
killerofgta
Kimd41U
Lexus776
Lil53Ben
liljay5
lo00kanl
Luistow17
maca18mufc
MCDrank
M_Dziekonski
mihaimorar
mingo1924
N_Gates
naties51
Naujy12
oakley1470
Odaikabkab
oFelipeNFO
off4vRa
OGCFB
omar_sfc
OMG_ITS_KINGKONG
OpFoxdie


PatrykSWATA
PREMO1220
ray15all_day
Ray27
rectangle10
Renokk
ryder201
Ryewood
shlomi52
Silk722
slimmyjimmy6
Soufiane07
SpawnBlack
squamginer
starkeeper1993
Stevo_1991
SultanRS4
SuperTrouper
TeC_CakePicnic_
TeC_Gtafreak112
TeC_Henning
TheNsaneOne
titanimperratore
userff
VDark85
venter360
vince_123
VinceCarter30
W2345-667
wazza29
WolfRogers
Xtal_UNIX
Xx_TUNING_xX95
YungThugga08
zeeshan810_gta
As always, make sure to follow us closely on Twitter and on Facebook as you never really know when we'll feel like having a little impromptu game...
And mark your calendars for the next official multiplayer event is a bit of Episodes from Liberty City for Xbox 360 on Xbox LIVE happening next Tuesday, March 23rd.
Previously:
Recap & Screens: Grand Theft Auto IV PC Official Social Club Multiplayer Event from Feb 18th
Social Club PlayStation Network Multiplayer Event Feb 5 Recap (Grand Theft Auto IV for PS3)
Social Club Xbox LIVE Multiplayer Event Jan 21 Recap - GTAIV PlayStation 3 Event Coming this Friday