Crew Cut: Olympian Efforts from International Crews
In the wake of this week's closing ceremonies in London and in honor of the spirit of international competition, this week's edition of the Crew Cut pays honor especially to some of the nationalistic themed Crews out there - some of whom we'd previously featured earlier this summer along with many other new squads who've been letting the blood, sweat and tears flow on the multiplayer tracks and fields of Max Payne 3. We've pitted these Crews against one another by comparing standings across several statistical categories and with no further ado, we proudly hand out our own Social Club Crew-lympic medals to the top three international pride Crews across specially chosen disciplines:

PSN CREWS: XP
The Spaniards are not traditionally major players at the Olympics, but the SoldiersSpainKillers fly the flag for Spain at the top of the XP podium of PSN international Crews. Impressively, the Iberians are also the fifth ranked overall private Crew in terms of XP, and have some serious back-up in THIS IS SPAIN Crew, placed not far behind. Olé! The Italian Job shouldn't be too disheartened taking Silver on our Social Club Crewlympic podium given that they are currently neck and neck in Feuds with the SoldiersSpainKillers. We'll be keeping a close eye to see who takes the lead in the next round of fighting. Currently in line for the Bronze medal amongst international PSN Crews are Shine Thugz Crew, the "1st French team." Their YourTaxesAtWork designer Tupac emblem won a lot of praise from Social Club users when we featured it several weeks ago, and it's great to see the guys are getting it out there and stamping it on some corpses. The Gauls have some intimidating reinforcements in the francophone Crew x-Justice For All-x, who are also well inside the top 10 places on the international Crew XP leaderboard.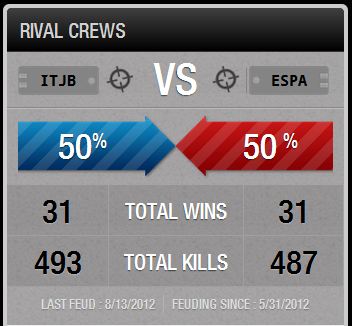 PC CREWS: KDR
While the Russian Crews dominate the Crew XP leaderboards on PC, their high-head-count ranks do them no favors when it comes to the Crew KDR. With just 7 members, ARGENTINA Crew take a Social Club Gold Medal for their impressive 1.65 KDR - the best out of all active international Crews on the PC platform. Like ARGENTINA, the Turkish Police Crew also keep their roster spartan, a tactic that pays off as their 6 members take the Silver medal with a 1.46 KDR. (Interestingly, the Turkish Police can also claim bragging rights for the best Game Win Percentage out of our top international PC Crews - their Crew members finish on the winning side in 62% of games they play.) Multi-platform French Crew jeuxvideocom XB have their full quota of 300 players, which makes it that much more impressive that they take the third tier on our Social Club Crew-lympic podium, with a combined KDR of 1.41.

XBL CREWS: WIN PCT
The 57-strong Crew of French Jokers claims the Xbox LIVE Social Club Gold Medal for France with a fantastique Win PCT of 60%. They've also shown "No Mercy" in the 900 feuds they've fought, and have clocked up over 2K first place finishes, cementing their position on the Xbox 360 Platinum leaderboards. RUSSIAN MOB take Silver with an impressive 58%, showing that their hearts are as cold as a Moscow winter. Although Payne Capitale proudly carry a 55% Win PCT in any given game, Social Club Crewlympic rules state that no nation (in this case, France) can win two medals in the same category. Therefore, third place goes across the Channel to multiplatform UK Crew representing the host nation of the London 2012 Olympics with a Game Win PCT of 53.5%. UK Crew have fallen away from the leading pack after a bright start on the overall Xbox 360 leaderboards; here's hoping their Bronze spurs them to restore their former glories.

EMBLEMS 2012
We've dug through the galleries of the best international Crews on Social Club to see who's been taking as much pride in spraying paint as they have in spraying bullets. Given their nation's rich artistic history, it is little surprise that Gold goes to the The Italian Job. With any number of emblems in their gallery being sufficiently impressive to feature, we've opted for this sexy, dangerous and, well, detailed effort from CyberMagik. It was only a matter of time before a rendition of Nyan Cat showed up as a Social Club emblem, but such is LaCrimeSD's painstaking attention to detail in copying every pixel, that we've decided to award Silver Medal to Russian EBCA Clan. The final medal in our Crew-lympic round-up goes to little known Taiwanese Crew Bahamut-Taiwan for their monochrome moon-riding dragon which shows an almost professional economy of line and a unique style that is thoroughly deserving of the Emblem Bronze medal.

Previous Crew Cut Editions: