Rockstar Research: Revisiting the Ghosts, Goons and Graveyards of NJ & NY in Max Payne 3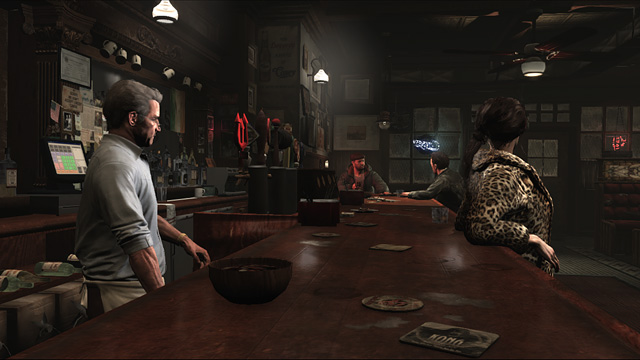 Walton's Bar in Hoboken where Max has a fateful and violent encounter - a fictional bar inspired by many such gritty real-life watering holes throught Northern New Jersey and New York.
Like Deja Vu All Over Again

Corporate greed, nightclub shootouts, helicopters, vertigo-inducing rooftops, pill-popping, even Captain Baseballbatboy — the more things change for Max in Max Payne 3, the more they stay the same. Our beleaguered NYC cop pursues the promise of a fresh start working in São Paulo, Brazil, but as a couple of turning point flashback sequence levels reveal in the game, this descent into the volatile South American city's chaos is sparked by a chance encounter that took place back in the snow and darkness of New Jersey — where the butchering of his family many years ago began Payne's downward spiral — and with death-dealing gangsters again in hot pursuit. In Max Payne 3, we find our protagonist planted on a barstool at Walton's Bar near his Hoboken hovel, busy drowning eight years of horrific memories in drink. A dispute with a young hothead from the local DeMarco crime family rapidly escalates to pistols drawn, then gunfire and a mob of angry Mafiosi out for Payne's blood.

But what else is new?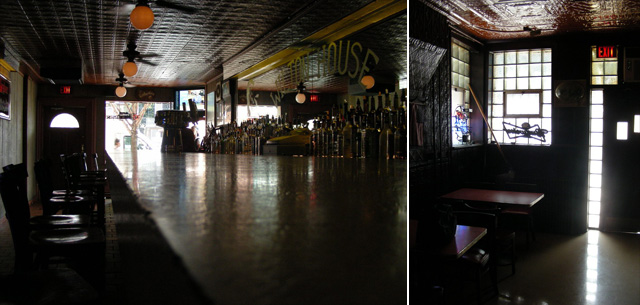 Fantastically moody and atmospheric, glimpses of a couple of Hoboken's bars from our original research scouting trips.
"From that moment, I was dead in that town..."
In between traveling thousands of miles to extensively research, document and collect assets to inspire the environment and level design of Max's new Brazilian home, Rockstar's Research and Development teams also invested invaluable time scouting a bit closer to home, gathering appropriate reference material from his old stomping grounds in New York and New Jersey. A dozen locales across Hoboken, Newark and New York City were visited for the vibe and inspiration of a gritty bar where trouble could start at any moment. Some of these charming points of interest had acquired a degree of infamy thanks to their histories as former Prohibition speakeasies, or for hosting notorious Irish gangsters and with them, instances of many fistfights and shootouts over the decades.
From our tour of East Coast dive bars, highlights included our Hell's Kitchen stops with venerable places like the landmark Rudy's Bar and Grill, the over 100-year old McCoy's, the now-shuttered Scruffy Duffy's and Smith's Bar — made famous in Scorsese's Bringing Out The Dead — that still teem with the dark, gritty ambiance, smart-mouth regulars and divey décor of classic East Coast watering holes. Further downtown, we canvassed Little Italy's Mulberry Bar, a historic 'old neighborhood' bar that was used for the opening mob lunch scene in "Donnie Brasco" - and the Ear Inn further west, drenched in underworld folklore since it's days as a Prohibition speakeasy and brothel. Across the Hudson River, we visited Newark's homey Ironbound neighborhood spots like the Portuguese pub Flor Do Minho, patronized by die-hard locals and tough truckers. And in Hoboken proper, a range of places were toured from stubbornly old-school, "classic old-man bars" (to borrow a term from Anthony Bourdain) like Mario's Bar and Wilton House, or newer symbols of gentrification like the Black Bear, packed with dozens of flat screen TVs and yuppies, to the chagrin of the BnR (or Born and Raised Hobokenites).

The home of mob-affiliated cantor Frank Sinatra, Old Hoboken once evoked images straight out of On the Waterfront — a gritty port and factory town with a strip called the Barbary Coast where Bethlehem Shipping's dockworkers, Maxwell House and Lipton Tea's workers, sailors, merchant marines and other assorted toughs could find a warm bed, a stiff drink, and any other vice that might need to be sated to take the edge off a long laborious work day. Much has changed over subsequent generations and the now-trendy area has seen median household incomes have risen above $100,000. But stray too far from the proverbial path (or the literal PATH) into the outskirts of town, and Hoboken can be just as seedy and dangerous as it ever was. The game depicts an illegal chop shop near Max's apartment, junior mobsters in training harassing him as he sips booze — and this too is the real Hoboken. Its violent crime and property crime rates are actually higher than New Jersey's overall averages, and in some places shiny new luxury condos lie just a stones throw from notorious public housing projects right across the street. That's no knock on Hoboken, a great town with many great spots and some not-so-great spots like any other city, especially one with Hoboken's population density, the third-highest in NJ. Besides, as we know, trouble tends to follow Max no matter where he goes…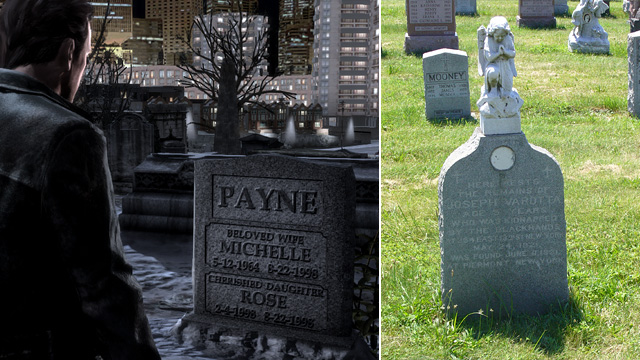 Left: Max visits the gravesite of his slain wife and baby daughter; Right: At the famous Calvary Cemetery in Queens, gravestone of a child murdered by NYC's infamous Black Hand mob in the 1920s.
Partnerships Start as They Mean to Go on
After Max and his friend Raul Passos manage to shoot or shake the various gangsters on their tail, they escape the Hoboken streets with their pistols still smoking. Passos assures him he has friends there that can help them dodge the heat for a few days until they can flee to South America. Max decides to bid one final farewell to his wife and daughter's graves at Golgotha Cemetery (named after the site of Jesus Christ's crucifixion) before his self-imposed exile. Max's bad luck is as reliable as ever, and he finds DeMarco muscle laying in wait for him there. A ballet of bullets is unleashed in a furious shootout, littering the snowy cemetery with shells and bloodstains.
Gothic and beautiful and eerily quiet, our Golgotha Cemetery map was inspired by many of the New York's massive and historic cemeteries - some of the largest in the United States. These sites included lower Manhattan's Trinity Cemetery; Trinity's original site near Ground Zero in NYC dates back to 1697, while its sister cemetery uptown in Washington Heights (established in the 1840s) has interred some of New York's historical elites. Among them are famed naturalist and painter John James Audubon, who formerly owned the land, various members of New York's regal Astor family, and Eliza Jumel, ex-wife of former US Vice-President Aaron Burr. (It is even rumored that Mrs. Jumel's ghost still haunts the nearby Jumel Mansion.)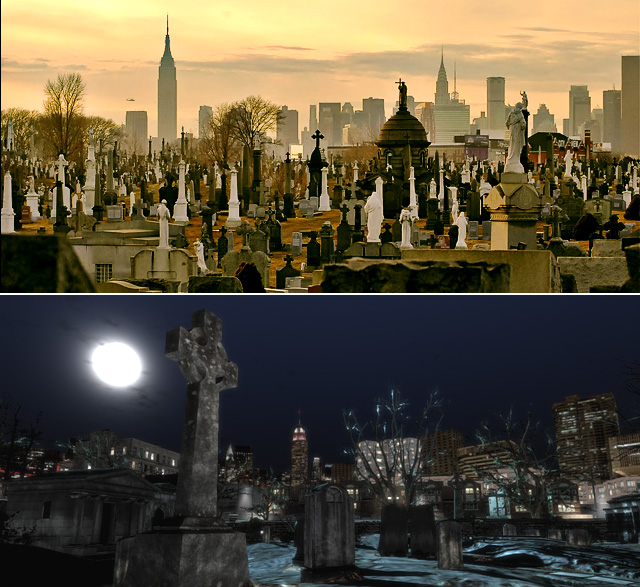 Top: A sprawling view of the real-life Calvary Cemetery, one of the largest in the United States. [Wikimedia Commons]; Bottom: Max Payne 3's fictional Golgotha Cemetery.
Across the East River in Queens, our developers took in the amazing sprawl of majestic Jewish burial grounds like Mt. Zion and Machpelah, the home of gifted magician Harry Houdini's ornate grave; and of course the area's largest of all - Calvary Cemetery, once the biggest in the U.S. and the burial site of over 3 million people. Stunning and awe-inspiring with views straight across of the Manhattan skyline, there are of course tons of notable burials scattered throughout the masses of graves - amongst them some of NYC's most legendary and infamous capos and dons from mobs like the Five Points Gang, the Genoveses, Bonnanos and the Luccheses; political bosses like Governor Alfred E. Smith and Carmine DeSapio; and even New York's first and most famous mob-busting cop (Joseph Petrosino). A tough old gang buster like Joe would understand: when push came to shove at Golgotha, Max and Raul had no choice but to wage war atop those hallowed grounds inspired in part by his own final resting place.

Previously:
Behind the Scenes of Max Payne 3's Voiceover, Mo-Cap & Scanning Sessions
The Rarefied High Life in Max Payne 3's São Paulo Metropolis
The Weapon-Wielding Gangsters and Special Police Commandos of Max Payne 3