Recap with Leaderboard & Video: August 1st's Max Payne 3 PSN Social Club Multiplayer Event
Wednesday, August 1st, our crack quartet of Rockstar devs took to PSN to exchange lead on PSN in Max Payne 3 multiplayer. We fought for three furious hours against some of the best players in the Social Club community many of whom stood toe to toe at the top of the event leaderboards with MaxPayneDev3 and MaxPayneDev2 finishing seventh and ninth respectively but bested by several elite players.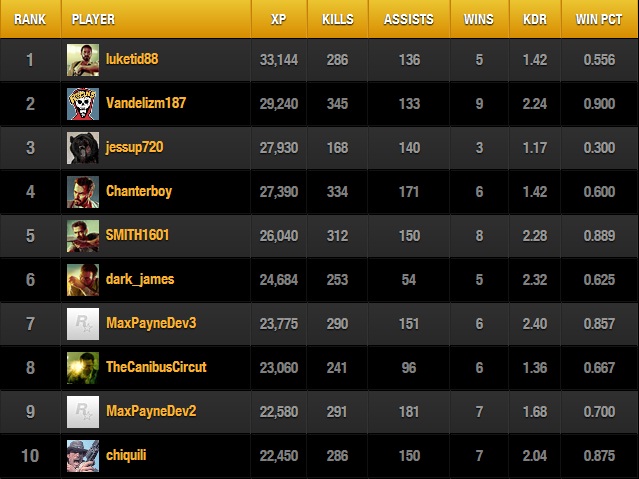 The event started with our two live-stream players, MaxPayneDev1 and MaxPayneDev2, paired together on the same team for a Gang Wars in the favelas of Nova Esparanҫa. Our devs got off to a difficult start, their team losing the first two rounds and coming up against another deadly duo in matthew700 and Kara-Kartal38. But they rallied their team and took the next round of 'Passage', with Dev2 activating a timely Level 3 Sneaky Burst to mop up all enemies surrounding the checkpoints while teammate smittie224 (of the Pyschopathic Rydaz Crew) worked tirelessly to capture them. It all came down to 'Survivor' and both teams fought a good match that came down to seven against one, with Dev1 playing the part of the mouse against seven hungry UFE cats. Our dev was picked off quickly by new nemesis, Kara-Kartal38 (PSN ID).
While MaxPayneDev4 was taking on all comers in Free Aim and Hardcore playlists, Dev1 and Dev2 headed into Docks, this time teaming up with with Kara-Kartal38, who finished with enviable stats of 36 kills and 14 deaths. As you might imagine, the trio lead their team to a comprehensive win.
As the event continued, our dev players separated to try and make their presence known in as many game modes as possible and Dev3 racked up the most impressive score with 69 kills for 28 deaths in Team Deathmatch, using a preferred Loadout of MD-97L, 608 Bull, Sawn-off and Sneaky Burst; and Items Quick Holster, Autoinjector and Sneakers.
For the final match, as has become customary in our Max Payne 3 Social Club Multiplayer Events, our four dev players Crewed up and equipped their game faces for a final Gang Wars in the Favelas. It began with a round of 'Last Man Standing' and Dev2 quickly fell to a headshot from dondormeo (PSN ID). It came down to Dev4 and Combe209 - with senses clearly sharpened from playing Hardcore mode earlier, Dev4 broke from cover to dispatch the opponent with a volley of shotgun shells. The next two rounds saw our devs comfortably win in 'Turf Grab' and 'Passage', and then it took Dev3 all of a minute to plant the bomb on the train tracks and send the team into 'Survivor' with a clean sweep of wins. They finished the match on top with Dev1 taking out bdkrevenge (PSN ID) for the final kill.
Extra special gratitude goes out to YouTube user and Social Club Multiplayer Event regular, ShenmueSaga, who once again captured the action and whose video you can see above. Cheers to everyone listed below who joined us and make sure you check back in on the multiplayer events page for several more action-packed dates this month - including sessions for Max Payne 3 and Grand Theft Auto IV (including the Episodes modes). Also expect the brand new fall calendar of events to be announced later this month.
Finally, the Grand Prize for this event included a Limited Edition Max Payne statue, Hawaiian shirt, bullet keychain and stickers - congrats to our lucky winner dingus76. Runners-up N9ne0sBaby, Mattx0x, sensationstation, Shockwave9 and treedee71 will receive a t-shirt, bullet keychain and stickers.
8-Balls
299paul
1337Pilot
ABAKIDD
ABO-3eN-W7DH
AcidAnger
AgentMcQueen
ahetFIN
aihuman
ajpaez90
Akan22
alexhollywood301
alexiesim
almerefreak
AmosJAMcLovin
Angry_Ajax
Apparo89
arianht
armand1118
Arnooow
AshHousewares
Austinsgrandpa
Avenger9555fight
Badgett6021133
Ballisticmatter
BaptizdInBlood
Baztian
Benjamin707
Bflame7
bica1982
BigGreenDragon
bigjim11
BirdmanForever
Bizerker21
bladesteele
BlobOfAbaddon
BloodlustTomTom
Bloody_lachtan
Blow_Me_Fred
BmXeR_369
BobbyGonda
BoNzo4Life
booshthelurker
Bremmer72
BrettDonofrio
BROTHERNATURE
C.M.X.4
cakadura
Call_Me_Joker
Captain-Crazzi
CaRNalDeCay
Caspar90
Cdn_Hey_You
Centurion050896
CH000L
Chanterboy
chaseoquinn
Chronicpyro209
Cmarra32
CoickiD
cole.ridgway
ColIider
CoolLeon321
coyotezeyes
CrashOkami
CrazyHomelessGuy
CRITCALSHOOK
damian001
davidtherandom
Dawnkeebals
dazzadavie
DeadEyeDroid
DeathEater9816
DeathStreak_UK
DEE1900
deidara1336
Dino_jaram
Discardeight0
DiscoCoodie
Dnutz90
DodgyCrook
Dogbone7
Dornon2
DRAY_K-47
Dr_Bob
DutchStoner
Dwaun1
ED_ROUMS
EightWinters
Eliots

ErnestoRock
Ethan.millsgrass
eusivecom
ExclusiveLt
FakinJamaican
FCP-Briggro
FisFis
flopperstopper1
Fronkonschteen
FugetSudo_J
fuzion17c
G-WizZ
Gam3rk1ng33
GammaRayHideaway
Genesicity
GermanScientist
GhettoBoyFiend
giggity62
GM-Shenmue
godzilla875
GreenRogue22598
gstratt61
GTAIV_King
gtakiller124
GTALAD4EVA
Hamanyz
handyandy1868
HARDROCK007
harleyjonesT
haroldox
hashmonger
hkl_100
hogiacymru
hottracer88
Hozztrozz
hugo02240
i-dunn0-o
ILikeVideo-Games
itouchroland
IWIHooligan
IWIQuest
IYIaximum
I_KeepTheBeat
JAHman00
jairoronaldo92
JamieMcNoggin
JamieMilne
jasper501
Jassal2008
Jchandler
JDiCECREAMz
jean123456789loo
jenya23man
JerryKapowitz
JesseMalhi
JoeyDynamite
Johacami
JonasREJCS
josuetrixgta4
jtotha5
Jun211
JustFlow
katyrain13
KaZoo66
Keef1RS
Keep_Rollin
KennethMcCormick
kevinzentenoxd
KillaKid1ills
killer1kush
kingofkings026
Knife-Fish
KnownLegend
lancer8869
Lance_Vance123
aZardo
leandro1928
LewisJamesMiller
life-of-music
Linkboy77
Loose_Goose82
LordBlighty
LordScoty
louis1993
luketid88
Mario64a
Marney-1
MAXpayne510

mbdrocks
McSeries23017
Merces_Letifer
michaelantj
michaelm21
migueltrix
Misandope
MisguidedChase
Mortilla
mouver
mrdapperdan
MrTubzy446
Musicman5150
MyTime251
n3wCl3u5_JIMBO
N9ne0sBaby
NeedlezKane
NerdNerdy
NichRezzed
NightAngel321
NihalZ
Ninjeestarr
Nisch1001
Noxia99
NYPDMAXPAYNE
oceanic71
odd_one
OFWGKTAz
oldstarcrime
ONEAD7
oOmLeSs66
Osiris0721
Parliaments
perchjuice
PetarNikolov
PFG420
Pike187
PlanetLunt
Prodigy_83
ProudMode
PS3llama
Purplekilla97
Qcfrank89
Quicksand989
Rafioso
raidersps2
Rambo_inger
RedDwarfPosse
redscorpion92
Rentaline
RestNP1eces86
reverendjocko
ricketts
RighteousKyll
Roarshackx
Rob9292
RobBellic
Robin-FreAkii
Rockstar_Vienna
rockunroll
Rodrigo_Andrade
RokDrk
Rollaw
royda5eleven
Ruined72
runner1000
RustyCommander
Ryan7331
SamuraiFoxhound
scareface1970
scohoe
Se7nAtE9
sebasdv
sensationstation
ShaneKarma
shemxu
shot_gun_shell
sittinduk
SkeliFish
SLARSCH
SLoPPYHoMiCiDe
SMOKINACESFB
soapyluggage
SoickiD
Soldier5190
SouthParkMex24
spankyspitfire
SpareBricks
SpBloodRed
Speedfreak_1-0-1
Sprunk95
StefanSmoarz
Stoner_Wolf
strider-karu
StryderJ
stumpy4770
stverdone
SUBLIMEtimothy
Suffocation25
suicidalfish
supercoolfitch
supershpangle
Supersonicreece
SuperSoviet
Supreme-Hobo
swagboy760
Sz-Oemer
Tallkido
TankLCD
TarTarTee
Tat79th
TAVOBLACKWALLIN
TazKarma
TechnoDik
tehLito
Testfriend
TGGF-Binda
THEBLACKTIGER007
TheConqueror45
TheRealRicciRich
thereckGTA
TheWatcher501
The_Infection
Thunder_Passion
Tin_Woodsman
toneek
tony421
treedee71
TRIPLE442
t_26_bern
utopianacht
vivek129
VKingGothikV
vlad-wwe
vladspartan
watcherVG
who-raa273
WolfRogers
xjohndoex86
xPANZRAMx
xPhilly
xRSLxMuSiCmAn
Xryder900
xXBlackTigerBjXx
xxjustinxx1
XXsinan
Xx_i_Am_God_xX
yabadaduuuu
Yachi07
Yingerman1
YoungJrBaby
ZigZagstory
ziphon
_andyface
Previously:
Red Dead Redemption Social Club Multiplayer Event Recap (7/27)
Max Payne 3 Social Club Multiplayer Recap: July Events
Max Payne 3 Social Club Multiplayer Recap: June Events