Earn Bonus XP in Max Payne 3 Multiplayer with Payne Thresholds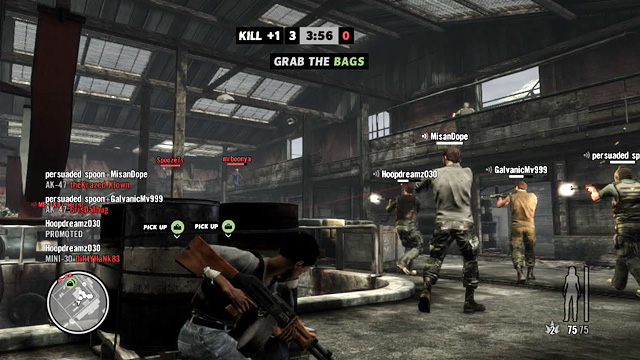 Grab the most bags in Gang Wars to cross the Postmaster General Payne Threshold and earn bonus XP in Max Payne 3 Multiplayer.
Coming next week to Max Payne 3 Multiplayer, the debut of Payne Thresholds, a diverse set of multiplayer challenges designed to reward players with bonuses for accomplishing certain feats during the course of a multiplayer match. Each Payne Threshold has a Bronze, Silver, Gold and Platinum level, and once you cross each of the first three individual thresholds you're rewarded with bonus XP, while achieving the Platinum level of any Payne Threshold unlocks a new custom title for your multiplayer character.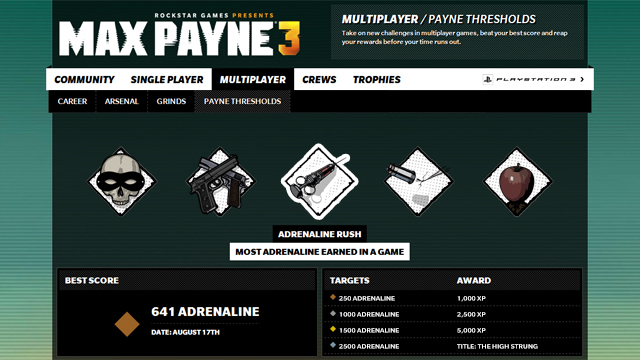 You'll be able to track Payne Thresholds at the Max Payne 3 section of the Rockstar Social Club.
Bronze: 1,000 XP | Silver: 2,500 XP | Gold: 5,000 XP | Platinum: Custom Title
Plus, you'll also be able to check your personal bests for any Payne Threshold against your friends, Crewmates and the rest of the world both in-game and
via the Social Club
. The first three Payne Thresholds, which will each be available as part of the new Title Update coming next week, are documented below:
Adrenaline Rush
Earn the most adrenaline in a game
Juggernaut
Take the most damage without dying
Postmaster General
Most packages delivered in a Delivery or Grab game during Gang Wars
Individual Payne Thresholds will only be available for a limited time - these three will open up starting with next week's Title Update goes live and last for only one week - so be sure to stay tuned to the Rockstar Newswire, as well as our
Twitter feed
for updates and notifications of new challenges.