The Crew Cut: KDR Stars
KDR STARS

We all know that it takes more than fragging to climb the Social Club Crew Leaderboards. You need to complete objectives in Gang Wars, hunt down Grinds and play together as a Crew if you want to earn the kind of XP that separates the contenders from the pretenders. However, this week we'd like to pay homage to those Crews that have their sights fixed firmly on their opponents' foreheads. These are the Crews with an average Kill/Death (K/D) Ratio higher than two, meaning their members have inflicted death more than twice as many times as they've been killed themselves. They may be scattered through the leaderboards but that doesn't mean you shouldn't be fear running afoul of them online.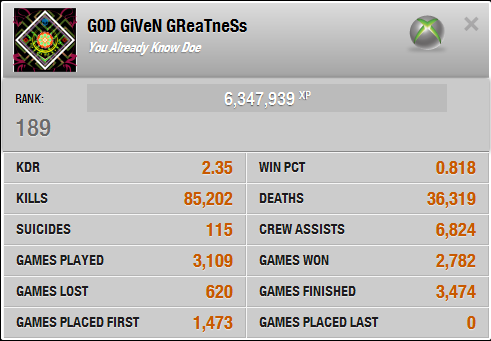 The G0d Given Greatness Crew on Xbox 360 may have a cocky name, but they're backing it up with their 2.34 KDR and their 88% Feuds average (387 won), despite having only 12 members. We reckon they should get in touch with the U Got Smacked Clan and set up a grudge match; this German Crew has nine members and a KDR of just over two, but they're still ahead of G0d Given Greatness by around 100 places on the global leaderboards.
The Skullz Crew are long-time fans of GTAIV multiplayer (as you can see from their website) and it's good to see them repping well in Max Payne 3 on PC with a very respectable 2.45 KDR average. Hitting the 2.0 mark dead on on PC are Pro and Deadly Crew, proving that their motto of "only for pro and perfect players ONLY!" is not just hyperbole. We've found just one XBox 360 Crew who have broken the 3.0 barrier - mad props to the four Crewmembers of Team Avarice who are up to a superhuman 3.4 KDR. They've also racked up a 0.82 win PCt and taken 90% of all their feuds. Their motto is currently "We're recruiting", but if you fancy it, make sure you know what you're getting yourself in for.
Crews with a KDR higher than two are harder to find on PS3, but the four members of crybaby killers1 Crew are making up for that with a great score of 2.62 and a daunting Feud record of 94% (482 won). While everyone else on PS3 has a lot of catching up to do there, previously featured Crew HOT Clan can proudly display a 2.11 KDR as well as another emblem featuring a GTA femme fatales, Misty.
EMBLEMS OF THE WEEK
Every week we see a new emblem on Social Club that pushes the boundaries of everything we've seen before. This week was no exception and we are spoilt for choice for emblems to feature. However, it was impossible to ignore these two gems that Stumpy4770 has come up with for the San Andreas and Sons Of GTA Crews. The shading detail on the clothing is fantastic and stumpy4770 has really captured the spirit of each Crew (although what happened to CJ's feet?!).
CuddlyBunnie2 is another user who has devoted a lot of time to the Emblem Editor, and is a self proclaimed "huge fan" of YourTaxesAtWork. From the impressive gallery in CuddlyBunnie202's Friendly Neighbor Crew, we've picked out this awesome impression of Catwoman. (CuddlyBunnie2020 also has the dubious honour of having published the first emblem on Social Club inspired by Sir Elton John!) Iknowthatfeel has also drawn inspiration from The Dark Knight with this spooky rendition of Bane emerging from the shadows for San Andreas SF Crew. Great work guys.
Thanks to everyone who has got in touch via Mouthoff and via the Newswire comments to promote their Crew and their emblem over the past few weeks. We're really glad that you're all enjoying the Crews feature of Social Club and that you are committed to having a successful Crew with an emblem to be proud of. If your Crew isn't featured in the Crew Cut, please remember that there's some fierce competition out there and we can't feature them all. We do check out every Crew that is sent our way, and we are tracking you all very closely so get back in game and online and show us what you got! Also Crew leaders, make sure you connect your Twitter and Facebook accounts to your profiles so that when your Crew is featured we can give you a shout out on our other media platforms.
Previously: