Gear Up for Wednesday's Max Payne 3 Social Club Multiplayer Event on PSN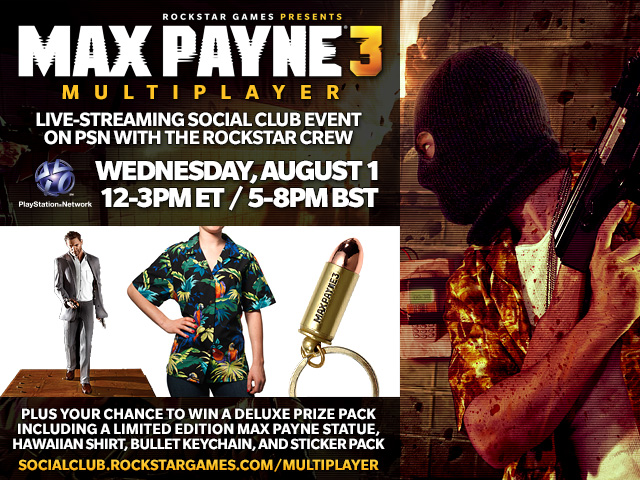 Update: The event has now ended. Thanks to everyone who joined us and look out for more Social Club Multiplayer Events in the coming weeks.
On Wednesday August 1, 12-3pm ET / 5-8pm BST, our squad of Rockstar Games developers will be heading into Max Payne 3 multiplayer on PSN. There'll be a live double-stream, Rockstar hosted chat, event leaderboard and Sweepstakes to win a deluxe prize pack, including Max Payne statue, Hawaiian shirt and bullet keychain, all over at the Social Club Multiplayer Event page. We've assembled an elite team for this particular throwdown, and we're going to be on the lookout for cohesive Crews and creative Loadouts as we discard casings across all multiplayer modes and maps, including those on the Local Justice DLC.
To join us, look for 'Social Club Multiplayer Event' on the in-game Playlists menu and keep an eye out for the following PSN IDs:
MaxPayneDev1
MaxPayneDev2
MaxPayneDev3
MaxPayneDev4
Also make sure you're following us on our Facebook, Twitter, Google+ and Steam (for PC) pages to get word of additional impromptu multiplayer sessions all summer long and beyond...