Crew Cut: Hardest of the Hardcore
In previous editions of the Crew Cut, we've looked at the ongoing tussles at the top of the Crew leaderboards, where players worldwide are fighting it out on Max Payne 3 multiplayer, earning precious XP to edge them closer to the top. However, that's not the only battle being waged: individual players within the larger Public Crews are putting in the time and talent to try and reach the top of their particular Crew leaderboard, and nowhere is this more competitive than in our largest Public Crew, the official Max Payne 3 Crew, Payne Killers.
Therefore, we'd like to offer special shoutouts to Fingerfinger, MrDixie and agent007marc - the top players in Payne Killers on PS3, Xbox 360 and PC respectively. If you're a Crew leader wondering how you can take your soldiers to the next level, you could do a lot worse than recruiting one of these guys...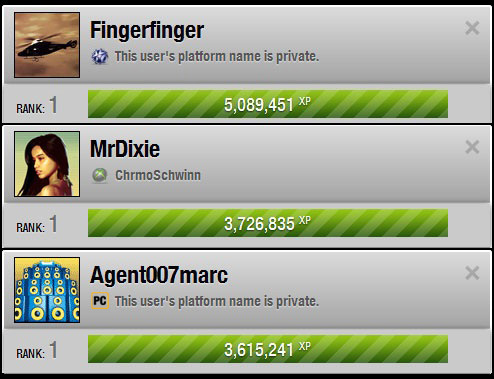 RECREWTMENT
Still flying solo in Max Multiplayer? We've gathered some Crews that are actively looking for new members; hit them up - it could be the start of a beautiful, bloody relationship:
Facepalm, "where face meets palm" have launched a social media campaign to boost their numbers. Ten members strong and led by PintsizedMunkeh, they are looking to take on the leaderboards on both Xbox 360 and PS3. Newswire comments regular Sprunk95 recently brought GTA TOWN, a Grand Theft Auto community on Facebook, to Social Club, and GTA TOWN CREW is looking for a talented emblem artist. If you think you can compete with Sprunk95's nifty Whiz Emblem, then this might be the Crew for you. The PS3 Crew Blood Money Rebels is now 25 members deep and looking for players to help in their ongoing Feud with the Public goliath Payne Killers Crew. Having won over 80 Feuds, these guys mean serious business. Finally, Infolady of Brazil - a longtime Rockstar fan who's also big on Red Dead - invites all to join her Crew Top Hand Legends. With Crew stats at 49% Win PCT, some new members may be just what this Crew needs to get in the black.
EMBLEMS DU SEMAINE

As you will know if you checked out our interview with elite emblem designer YourTaxesAtWork, we're always on the lookout for eye-catching Crew art and this week we'd like to share two excellent emblems that perfectly suit the Crews wearing them. On the left below, we have a fearsome panther designed by Kaspofunk for his Battlecat Crew. The red border makes the image pop and those piercing eyes really tell you who's boss when they appear on a kill screen in Max Payne 3 Multiplayer. On the right, we have the mischievous, taunting calling card of The Faceless Knights designed by another prolific artist, ZeroFoxFK, whom we've mentioned in the Crew Cut before.
We're also pleased to confirm that the Social Club team has recently added more than 100 new shapes and templates to the Emblem Editor for emblem artists to work with, a small sample of which you can see below. Hopefully this should mean the next set of artworks featured here in the Crew Cut is even more impressive than what we've seen yet.








If you've seen an amazing emblem, or if there's a Crew you feel should be mentioned in a future Crew Cut, email us at mouthoff@rockstargames.com and we'll take note.

TEAM JASTA CREW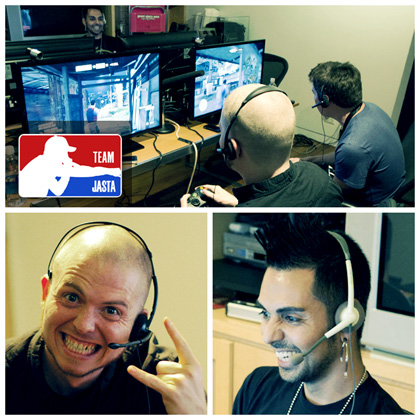 In the latest of our Rockstar Crew sessions here in NYC, yesterday we welcomed some of our esteemed friends from the world of metal - Jamey Jasta (TeamJasta on Social Club) of Hatebreed and his own eponymous band Jasta, along with radio personality Jose Mangin of Liquid Metal on Sirius XM and MTV2's Headbangers Ball and Seton O'Connor of The Dan Patrick Show. The dudes didn't get to enjoy the Rockstar Rooftop due to some gnarly storms over NYC, but still grouped up here in our HQ to kick off the launch of the official Team Jasta Crew at Social Club with lots of good times and bullets flying in Max Multiplayer live-streamed at the Rockstar Twitch page. The Team Jasta Crew is open for enrollment so sign up to wield heavy metal with like-minded fans. Look for more Rockstar Crew sessions in the weeks ahead by watching our Twitter feed.

Finally, look for a special competitive Crew event to take place in the coming weeks, which will be of particular interest to all international Crews playing with their compatriots while a certain sporting event takes place in London, England. We'll have a first announcement about that right here at the Newswire in the next week or so.
Previously: