Triple XP All Weekend Long + Red Dead Redemption & Undead Nightmare PSN Official Social Club Multiplayer Event (July 27, 4-7 PM Eastern)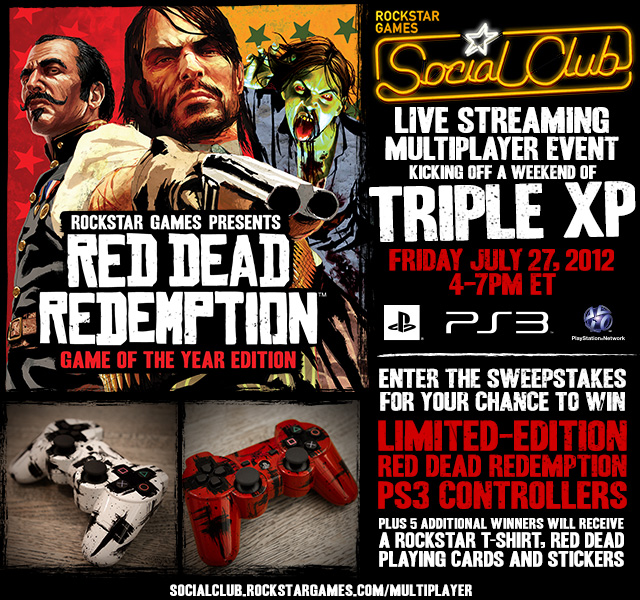 Update: The event and Triple XP have ended. Thanks to everyone that joined in.
The
Social Club Multiplayer Events Series
returns to the frontier of
Red Dead Redemption
for a Triple XP Event on PS3 Friday July 27th. Join us at
4-7pm ET
/
9pm-midnight BST
on PlayStation Network for live-streamed Triple XP action at both the Social Club and on our
TwitchTV page
, plus live community chat and the chance to win a pair of custom Red Dead PS3 controllers.
In addition to the Grand Prize winner who will receive two limited-edition Red Dead PS3 controllers, five runners-up will each receive
one of our latest Rockstar t-shirts
, a deck of Red Dead playing cards and a few packs of stickers. Prospective winners will be contacted following the random drawing on or around Monday, July 30th. Good luck to all!
Meanwhile, Red Dead players on both platforms will be treated to Triple XP across all Red Dead and Undead Nightmare multiplayer modes all weekend long...
OFFICIAL ROCKSTAR PSN IDs
RedDeadDev3
RedDeadDev4
RedDeadDev5
RedDeadDev6


HOW TO FIND US
Start multiplayer from the main menu, choosing 'Normal' from the list of difficulties. This will place you into a
Free Roam
lobby. It's best to invite at least one friend and form a posse, but this is not required. Then enter the game mode being discussed by "SocialClub" in the
chat
.
FORMING A POSSE
To start the game, invite your friends, form a posse and find Rockstar, follow these steps:
From the main menu, press 'Start' and then enter 'Online Multiplayer' by pressing the 'Square' button, and choose 'Normal'.
Once in a Free Roam lobby, press the 'Select' button to open the in-game multiplayer menu.
Press the 'R1' button and then the 'Triangle' button to 'Show Friends'. Invite at least one friend into your posse using the 'X' button.
Once your friends are in the game, press the 'Triangle' button again to return to the 'Players' menu and select them with the 'X' button to 'Propose New Posse' or 'Send Posse Invite'.
Once you and your friends are ready to go, start up the game mode we're currently playing. We'll announce modes in the chat.
If you're looking for even more chances to play multiplayer with us, be sure to check out upcoming events on the calendar, and follow us on our Twitter, Facebook, Google+ and Steam pages. We usually hop on at least once or twice a week to play...
Previously:
Red Dead Redemption PSN Social Club Multiplayer Event Recap Featuring Contest Winners and Fan Videos
Recapping the March 23rd Red Dead Redemption GOTY Xbox LIVE Social Club Multiplayer Event
Recap of the Red Dead Redemption Official Social Club Multiplayer Event on PSN (March 8) with Screens, Fan Video & Prize Winners