Max Payne 3 Social Club Multiplayer Recap: July Events
The summer calendar of live-streaming Social Club Multiplayer Events has been burning up this month with Social Club players teaming up with and taking on our crack squad of Rockstar Games developers in Max Payne 3 multiplayer. As we prep to close out July with a return trip to the wild west of Red Dead this Friday, here's a rundown of the action from our Max events.
On July 6th, we expanded the session to take place across all three platforms - starting with a bloody tour of the new maps from the Local Justice DLC pack on PlayStation Network, when we entered the 55th Battalion HQ with a trusty mini-30 for a game of Gang Wars. The central parking lot became the focus of an intense battle throughout the war. During a game of Short Fuse, our MaxPayneDev1 could get nowhere near the bomb sites due to fearless work from YoungJrBaby. The Policia de Cidade having abandoned their offices, MaxPayneDev1 and the Tropa Z moved in during a Turf Grab to control all three checkpoints. Not even miltarypicture5's RPG couldn't clear the amassed Tropa Z who claimed a resounding win. Going into the final Showdown with two wins apiece, the margin for error was small. After a long battle, flavio2212 got the final kill for the Cracha Preto who claimed a well-earned victory.
Check out

MaxPayneDev2

's stream from our July 6th Event. Video uploaded courtesy of Social Club's ShenmueSaga.
Playing on PC in Free Aim mode, MaxPayneDev2 kicked off a Gang War in the Bus Depot. Utilizing a super light Loadout with minimal armor, MaxPayneDev2 was able to use the increased speed to collect several bags during a round of Grab. Later, Dev1 was selected as the assassination target and headed straight into a house overlooking the ditch in the far corner of the map. As MaxPayneDev2's team took up strategic lookout points around their leader, the other gang closed in using smoke grenades from khlaa007 to try to smoke out the rat. Dual-wielding an M972 and PT92, MaxPayneDev2 was able to lead from the front to survive the hit, taking out three people in the process. We moved onto a round of all out Warfare. MaxPayneDev2 again used close range weapons and increased speed to good effect, hiding in the Depot garage waiting behind cover to surprise the enemy. After a 5 person kill streak, MaxPayneDev2 deployed a level 3 Trigger Happy burst and rained down hell from an elevated position with the grenade launcher. Within 2 minutes, MaxPayneDev2's Tropa Z leapt to a 21-7 lead, and the Cracha Preto were never able to recover from such a deficit. Dev1 picked out Hadghog of the leaderboard high-flying Crew Russian Bears Team as a stand out player on the opposing team. However despite such pedigree, the Cracha Preto weren't able to take more than one checkpoint during a round of passage. Tropa Z won the round and subsequently the War.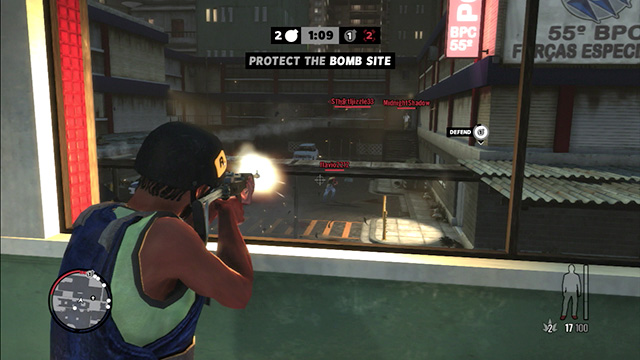 Our MaxPayneDev2 was not so successful during a Deathmatch in the Favelas, when Snieps187, leader of the all-German Crew Killer Without Mercy triumphed. Other stand out players on the day include GTAIV_King, Flight666, Multiplayer event regular tehLito and 911 Crew's Cky4life. Much props to G_R_I_M_M_E_R for a 29-to-6 KDR during a Team Deathmatch in the alleys with MaxPayneDev1. Our Devs were less impressed by the suicidal tendencies of MrFoxNik and Nakilevy who both walked into a gunfight while marked during an assassination defense. Those watching at the Social Club live stream and our Twitch.tv page also saw Kuichi inhabit the role of the sneaky sniper to perfection. Shouts as well to gulliblewriting, Marvelnerd, Ibarry2k, and krazedsoldier who stood out from the masses while playing with MaxPayneDev4 on Xbox LIVE. Also on XBL, MaxPayneDev3 found it heavy going against Hoopdreamz030 and jusjay who were rolling all over the other players. These two represent for The Heavy Hitterz Crew, who have recently entered the top 100 overall Crews on XBL hovering around the 50-mark - we'll be keeping a close eye on them in the near future.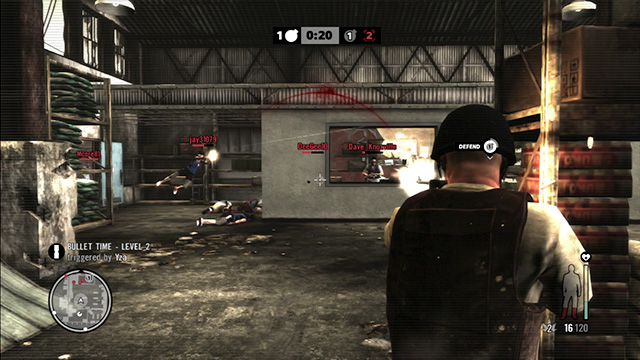 At our July 12th event, we had a fearsome quartet of some of our most skilled Rockstar devs hitting Xbox LIVE for a dedicated session of Max Payne 3 multiplayer in all online game modes. Keeping up with the elite players out there, three of them made the top 25 spots in the event leaderboard for the first time in a Social Club event. MaxPayneDev2, in particular, got off to a great start in the Favelas and was joined by a useful teammate in MaxPayneDev4 for our opening round of Gang Wars. By coincidence, the two colleagues were then reunited in a later game of Gang Wars, this time coming up against a formidable showing from The Elite Gamer Crew. Their green emblem became a persistent sight for our devs, with lostboyfound and IRAQDE3IL in particular proving stout competition.
Meanwhile, in what was turning out to be a theme for the day, MaxPayneDev1 and MaxPayneDev3 were paired on the same team in 55th Battalion HQ. Their team romped to an easy win, ably assisted by ThatSyndicate and BackHandB0b, whose artful use of the Sneaky Burst would later come back to sting our dev players. Elsewhere, MaxPayneDev2 teamed up with xAwakeJimmyx, who must surely go down as teammate of the event with incredible stats of 61 kills and 15 deaths.
Thanks to
ShenmueSaga we present i
n its entirety

MaxPayneDev1

's stream from our July 12th Event.
For the day's final round of Gang Wars, our four devs Crewed up and headed into the Favelas looking to take on all comers, only to come up against seven members of the mighty LXG Crew (ranked #1 worldwide of all private Crews on Xbox LIVE) for what must rank as one of the most exciting Social Club event matches we've ever had. It started with a bloodthirsty round of Last Man, where MaxPayneDev1 almost took out the entire opposing team single-handedly before being picked off by killer_clown423. It all came down to MaxPayneDev2 and F.Mayr, and our dev player pulled off the win, finishing off with a melee kill for panache.
Turf Grab was the next round, and it provided one of the more incredible comebacks seen in a round of Gang Wars. The LXG Crew team, powered by BackHandB0b, IcedOutCook, and Stealth666Ninja, managed to capture all turf almost immediately, and were within a hair's breadth of claiming the win, before our devs dug in and pulled off an incredible turnaround to take the round from this elite-of-the-elite Crew. The tug-of-war continued right up until the final round, for which our dev Crew went into Survivor with a slender lead that proved decisive, with MaxPayneDev2 claiming the final kill over killer_clown423.
And congratulations are in order to the prize winners from each event. In the July 6th event,
UselessTeammate
won the Grand Prize including a limited-edition Max Payne statue,
a Max Payne Hawaiian shirt
, a bullet keychain and assorted stickers; and runners-up
Nikibaby219
,
Ethan.millsgrass
,
bushisprez
,
FM.Haivala
and
Crippl3
scored a bullet keychain and stickers. In the July 12th Xbox LIVE event,
BebopR0CKSTEADY
won two Max Payne 3 controllers customized with the
Payne Killers public Crew
Emblem and Gamertag ID; and runners-up
NGAbreff
,
Captain_Gertcha
,
Daawuud
,
kmajik
and
Dogbone7
got bullet keychains and stickers.
As always, a huge thank you to everyone who came through whether to play, watch, chat, or enter to win prizes. Get ready for our next event this Friday July 27th, as we go back to the untamed wilds of New Austin in a Triple XP Red Dead Redemption Multiplayer Event (3XP to continue all weekend long). In the meantime, we're hosting Max Payne 3 Multiplayer Social Club Playlists twice more this week (today from noon til 5 PM; and for 24 hours beginning Friday night at midnight) in the last two chances to enter
our DLC Likeness casting
event. As always, we close out with a roll call to all who participated in the event Social Club playlists; if you don't see your Gamertag or PSN ID listed, give us a shout in the comments and we'll be glad to add it in.
DutchStoner

EARTHSCHAMPION

Ecko69x

NotSoAwesome

NYPDMAXPAYNE

O_Still_O

Ethorn

Hyperdirt