The Crew Cut: The Highly Accomplished
HIGHLY ACCOMPLISHED
This week, we take a look at the Accomplishments section of Crews' profile pages to see which squads are working together to reach their targets. Ghostface_Killas Crew's roster of 92 players have clearly put the time and teamwork in as they recently racked up 5,000 Crew assists in Max Payne 3 Multiplayer on Xbox LIVE. With extra XP gained for acting as accomplice to a Crewmate's kill, it's no surprise they've also crossed the 5,000,000 threshold and gained an XP IV Accomplishment in doing so. As well has having a killer emblem, Los Santos Police Crew have an even more impressive Crew-members-to-Crew-Assists ratio. Their 45 members have crossed the 1,000 mark for assists, achieving the Solidarity III Accomplishment. These PlayStation Network players are currently recruiting, so if you fancy joining up with a Crew on their way up, talk to their leadership triumvirate of PUREOWNAGE760, jessejames26 and "main Boss" kenny_fromLV.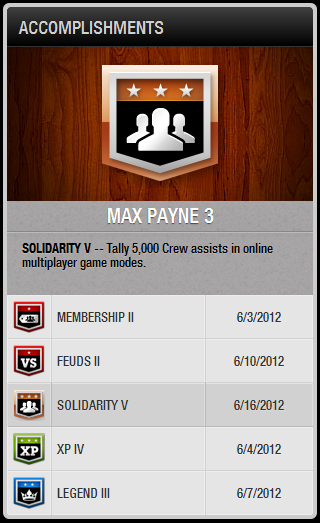 Ghostface_Killas Crew exhibit an impressive trophy cabinet of Accomplishments.
PC players looking for a talented and fun Crew to join could do worse than the CyberKillers. Not only do they have an awesome Daft Punk inspired emblem but their 14 players have put more than 1,000,000 points on the board, earning them an XP III Accomplishment. They are encouraging new users to "join today", so get involved. We also found one Crew who has set their own specific Accomplishment to target: Rampage Crew, led by FisFis, are out to "Kill 25 Crew members in 2 minutes!" Best of luck guys - let us know how you get on and who winds up serving as your foil.
MANGA & TOON EMBLEMS
We've come across two very nicely detailed emblems that pay homage to the Gekiga style of Japanese Manga drawing. The genre is characterized by gritty, bleak storylines featuring dangerous and often violent characters battling against dark demons both literal and metaphorical - an influence that some Social Club Crews apparently are finding apt to represent the mayhem and gunfire of Max Payne 3 Multiplayer. The pistol-wielding heroine on the left is an effort by
ZeroFoxFK
of
The Faceless Knights
Crew who we featured a few weeks back.
The Faceless Knights
gallery indicates that
ZeroFoxFK
is a keen tinkerer will go back and revise emblems, adding new layers to find the perfect combination. We particularly like the Faceless Knights initials tattooed onto his heroine's arm - nice touch. To the right, is an emblem designed by
leonpoly
for his Argentinian Crew,
Leon De Monos
. The boys from Buenos Aires are currently six-deep in membership, get in touch for your chance to sport this bad boy as your emblem.
Cartoons are also proving to be a prime source of inspiration for Social Club Crew emblems, with many users opting to strategically amuse their enemies into distraction and then follow-up laughter with pain. An impressive recreation of the
beloved Towelie
has turned up as the emblem for the high-minded
Chronic Vengeance
Crew, and despite several subsequent submissions to their gallery, quite rightly remains the Crew's active emblem.
HitmanForum Crew
make up for a woeful Feud win PCT with a retro and oddly pensive portrait of Sesame Street's mono-browed Bert, designed by Hungary's
Nashoba
. It seems that
Mercs Inc
Crew leader
Time_Victim
, featured
previously
on the Crew Cut, now has competition for title of best artist in Ponyville: the bronies of the 130-member strong
Str8 Outta Equestria
Crew have filled their gallery with various representations of Pinkie Pie et al. Check out their current active emblem, inspired by Twilight Sparkle, in the line-up below. Turning back the years are
The Magoo Crew
who we can only hope are mimicking Jim Backus' famous catchphrase over the comms everytime they notch another kill on Max Payne 3 Multiplayer: "
Oh Magoo, You've Done it Again
!".
Previous Crew Cut Editions: