Rockstar Game Tips: Max Payne 3 Arcade Modes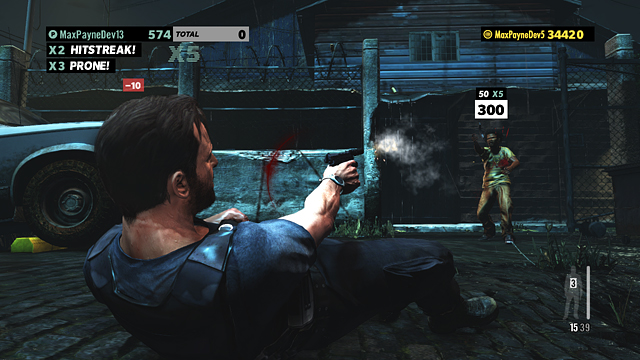 Our latest edition of Rockstar Game Tips, inside pro tips straight from Rockstar developers, takes an in-depth look at Max Payne 3's Arcade Modes - intense shootout challenges designed to test both your accuracy and your grasp of Max's signature abilities, Bullet Time® and Shootdodge™. There are two Arcade modes to master: Score Attack, which unlocks as you complete chapters in Story mode; and New York Minute, which is available upon full completion of the Story and also comes in Hardcore flavor.
When you complete a stage, you're awarded a Bronze, Silver, Gold or Platinum rank depending on your performance - and your score will determine your place on the Global leaderboard. In-game, you can also view a Leaderboard of players in either your Friends List or your Crew. Reaching certain milestones in these modes will unlock character avatars for Multiplayer Deathmatch like Fabiana Branco, Passos and more.
Score Attack Breakdown

In Score Attack, players blast through the full Story campaign, chapter by chapter, earning points for their precision and their panache. Each time you take down an enemy, you receive points based on the nature of the kill. Points are broken down as follows:
Scoring
Headshot: 100
Bodyshot: 10
Kill: 50
Explosion Kill: 200
Melee: 100
Vehicle Destruction: 250
To rack up a truly impressive score though, you need to take advantage of Hit Streak Multipliers and Action Multipliers. A Hit Streak is an unbroken succession of bullets successfully hitting enemies. If you miss, the Hit Streak ends and the multiplier is reset. Points earned are multiplied by whatever your current Hit Streak Multiplier is at that moment, in addition to any Action Multipliers that are in effect.
Kill Streak Multiplier Bonuses
3 Hit Streak: X2
6 Hit Streak: X3
12 Hit Streak: X5
24 Hit Streak: X10
Action Multiplier Bonuses
Shootdodge: X2
Prone: X3
Bullet Time: X2
Max Payne Moment: X2
Last Man Standing: 1-6
For example, If you're currently sitting on a 6 Hit Streak (X3) and you score a Headshot (100 points) while prone (X3) and with Bullet Time active (X2), that adds up to a X8 multiplier and you'll get 800 points in total for that kill: 100 X (3 + 3 + 2) = 800
You'll also want to avoid certain actions that will deduct points from your total as follows:
Points Deductions
Getting shot: -5
Take Painkiller: -50
Enter Last Man Standing: - 200
Kill Innocent Bystander: -150
Pro Tips
• Build up your Hit Streak multiplier and maintain it for as long as possible – if you're using an automatic weapon, then consider firing in short bursts for the sake of accuracy.
• Combine your multipliers. There are game states that will always reward the player, like being in Shootdodge or using Bullet Time, and these can be combined with Hit Streak multipliers. If you are strategic about how you use these, then you can score highly. For instance, if you have an enemy to kill, you could first Shootdodge onto the ground, then trigger Bullet Time, and THEN shoot the enemy. This would give a x3 multiplier for being prone plus an additional x2 for being in Bullet Time, multiplying any points scored by 5.
• Don't always aim for headshots first as each shot racks up points. Shooting enemies repeatedly in the body before finishing them with a headshot is often the best approach, as each shot will score points and add to your Hit Streak multiplier (provided you don't miss of course).
• Monitor your health and take Painkillers rather than go into Last Man Standing, as this will only take away 50 points, as opposed to 200.
• Pay attention to your environment, particularly any items or vehicles to use for those lucrative Explosion Kill and Vehicle Destruction scores.
• Whenever Bullet Cam is activated, don't forget that you can keep firing bullets into your enemy, picking up points for each one that finds its mark. It's a good idea to have an automatic weapon and a full clip when you're approaching the last enemy in the area.
New York Minute Scoring

New York Minute is the classic speed-run mode from the original Max Payne and it's unlocked in Max Payne 3 upon completion of the single-player story. At the start of each chapter, you have a minute on the clock and the goal is to finish the chapter with as much remaining time as possible, adding precious seconds by dispatching enemies as follows:
Kill: +5 seconds
Headshot kill: +6 seconds
Expert Tips
• Unlike in Score Attack, you'll want to aim straight for the head as this will take the enemy out of the equation quickly and add an extra precious second.
• Memorize each stage, paying close attention to where enemies appear and in what numbers. Knowing where your enemies are going to be will help you ensure you're in the right position to pick them off quickly.
Anything else related to Max Payne 3's Arcade Modes that you'd like some inside tips with? Any other aspects of Max or any other previously released Rockstar title that you'd like our developers to help you master? Just give a shout in comments or to
mouthoff@rockstargames.com
and we'll have a look for future editions of Rockstar Game Tips.
Previous Max Payne 3 Game Tips: