Live-Streaming Max Payne 3 Multiplayer Event on XBL this Thursday featuring The Opie & Anthony Crew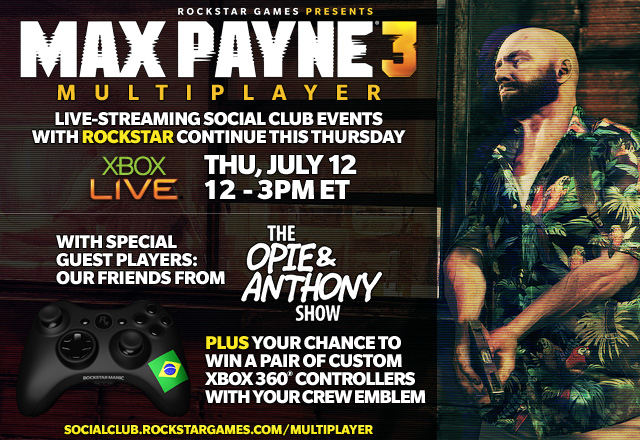 Update: Today's live-streaming ‪Max Payne 3 Xbox LIVE Social Club has ended - thanks to everyone that joined in.
Now that you've stocked up on unlocked weapons, Bursts and Items over this past weekend's first Double XP bonanza for Max Payne 3, it's time to show and prove and put 'em to good use in the live stream during our next Xbox LIVE Social Club Multiplayer Event this Thursday July 12th. Rally your Crew or find a new one to roll with via our new Open Enrollment feature.
You'll be able to watch the live double-stream of the entire event right here on the official Social Club Multiplayer Events page; with a third player stream on our our Rockstar Twitch.tv page. You can also get down in the Rockstar-hosted live Social Club chat and enter the Sweepstakes for the chance to win hand painted Xbox 360 controllers bearing your Gamertag and Crew emblem, as well as t-shirts and sticker packs. As usual for our Social Club events, the MaxPayneDev Crew of Rockstars will be out in force to show 'em how it's done. Keep an eye out for the following Gamertags, as well as the RSG Crew dogtag:
MaxPayneDev1
MaxPayneDev2
MaxPayneDev3
MaxPayneDev4
And as special guest players this week, we'll be welcoming our longtime friends from The Opie & Anthony Show. Fans can join up to their brand-new official Opie & Anthony Social Club Crew at http://socialclub.rockstargames.com/crew/opie_and_anthony.

You may recall the O&A crew joining in our Red Dead Redemption Myths and Mavericks Social Club Multiplayer Event last year, so we're excited to see how they do BulletTiming and Shootdodging through the battlegrounds of Sao Paulo and Hoboken streets in Max Payne 3 this year. For now, here's a list of Gamertags to look out for during the event (more may be added by Thursday) and look for the live stream right here and at http://socialclub.rockstargames.com/multiplayer: