Crew Cut - Open Enrollment, Hot Action & High Accomplishments

Selecting "Open Enrollment" in your Crew's settings lets users find and join your Crew quickly and easily.
OPEN ENROLLMENT FEATURE NOW AVAILABLE FOR PRIVATE CREWS

To aid in recruitment efforts for private Crews looking to swell their ranks with a come-one come-all ethos, we've recently rolled out a brand new Open Enrollment setting which will allow anyone to join your Crew without you needing to approve or deny each member's request. Crew Leaders can toggle this Recruitment Status directly in their Crew settings - just select "Open Enrollment" from the dropdown. And if you're a lone wolf looking to join one such all-welcoming private Crew, we just launched an Open Crews filter area for you to browse through Open Enrollment squads - if you see a Crew you want to get down with in there, you can just click 'Join' on the Crew page and you're in - reaping XP benefits, rocking their Emblem in-game, able to Feud with their rival Crews and more.
REVERSALS OF FORTUNE

A few weeks back, we picked out The Italian Job Crew as a team who were proving themselves on the PSN leaderboards but couldn't handle the pressure of a Feud. Checking back in, we're pleased to see they've taken heed and pulled their Feud win percentage up from a meagre 45%, to a respectable winning ratio of 59%. Tracking well, but keep it up compagni. Conversely, Xbox 360 Crew Ten Knobs were previously highlighted for their prowess at Payne Killer, but have completely dropped off the pace - cascading from 27th place down the leaderboards and out of the top 200. They've gained a few more members in that time, but the Crew Leaders will need to incite the troops to make sure that the Ten Knobs are repping online to restore the team to glory. All Crew leaders could take a lesson from the Payne Stake Crew who are going for it, promoting themselves all over the internet: we particularly enjoyed this video they posted to YouTube in aim to recruit hopefuls to their strong fighting unit.
FAN COMMUNITY CREWS

We've recently found several Crews led by some of our longtime fans and fansite community notables. Dedicated Social Club member and Max Payne 3 ass kicker Scareface1970 has set up the Scared 7 whose motto is a bit of brutally simple advice: "Don't Be Scared and Kill". Amongst the roster, we spotted a few of the faces of Max Payne 3 Multiplayer: ElvisMarques and Twisted AZ who were selected from our Twitter Casting event earlier this year and can be found in the Multiplayer Avatars menu as Elvis and Nick respectively. (On that note, and as we just announced yesterday, don't miss your chance to be immortalized as a Multiplayer Avatar face in one or DLC packs later this year; read up on the details and schedule for special Social Club playlists to join online to be eligible.) Twisted_ AZ has his own Crew: the Twisted Tea Baggers. He's managed to recruit another Newswire regular, ChicagoEnigma. Big thanks to ChicagoEnigma for putting together this blog post on RockstarNetwork.com about Crews looking for new recruits, which provided much of the inspiration for this weeks Crew Cut. Finally, it would be remiss of us not to throw out a mention for Community stalwart Sprunk95 and his GTA Town Crew. Be sure to check out the Crew's Facebook page where Sprunk95 is hosting giveaways from his personal Rockstar sticker collection for Crew members.
EMBLEM EXCELLENCE

As ever, we've been keeping a sharp eye on your artistic emblem efforts both in-game and online. First up this week are The Clownz Crew. It was difficult to pick just one of RealDeathClown's emblems to display here, but the Crew's active Emblem inspired by the malevolent clown Pennywise of Stephen King's It just couldn't be ignored. See their gallery for the Sheperd Fairey-inspired "Clown" poster and many more besides. Dwindlebag has created a wonderfully detailed Emblem for his Crew Bad_Dude_Inc depicting Max Payne himself. Placing the image behind a mock TV, complete with analog fuzzy lines lends a great vibe to the image. The Drunken Senseis Crew have gone for a sweet, simple literal depiction of their Crew name, a bushido master with bottle-up against the rising sun flag. We sign off our emblem round up this week with a sexy and unforgettable emblem from the Global Assault Team. As the French filmmaker Jean-Luc Godard so brilliantly put it, "All you need...is a girl and a gun".
HOT 97'S OFFICIAL PUBLIC CREW
Finally, fans of New York hip-hop can join a new official public Crew formed by our friends at Hot 97. We've been allies with the pioneering hip-hop station (currently celebrating their 20th year since first adopting a "Where Hip-Hop Lives" programming format) for a long time now, and keen listeners to GTAIV's radio dial may know that they were good enough sports to let us parody them with The Beat 102.7 - borrowing some of their signature DJs and the iconic voice of the station, Eric Edwards. To kick off the launch of the Hot 97 Official Social Club Crew last week, we welcomed a few station DJs and rapper friends to the Rockstar rooftop to set things off with a public Max Payne 3 Multiplayer session - including DJ Bobby Trends of Funkmaster Flex's Big Dog Pitbulls DJ syndicate, serious gamer DJ Kast One of the Heavy Hitters, J. Medina who co-hosts DJ Mister Cee's radio show, plus Maino (aka Maino_HustleHard at the Social Club) known for "Getaway Driver" from the GTAIV Soundtrack and Uncle Murda (_Uncle_Murda_ at the Social Club) who did "Anybody Can Get It" also off the GTAIV Soundtrack. Known for their specialty in gun talk, Maino and Murda found most of the online shooters in Max Payne 3's virtual killing fields to be pretty overwhelmingly stiff competition, but wound up bodying the other guest players for bloody bragging rights as you can see in this highlight recap reel from the live-stream that Hot 97 posted on YouTube. Since the launch of the HOT Crew, it's now 60-deep with Social Club members showing and proving - shout to the top Crew leaderboard players by-platform horribletrade366 (Xbox LIVE), greenwzrd23 (PSN) and jpwilly (PC).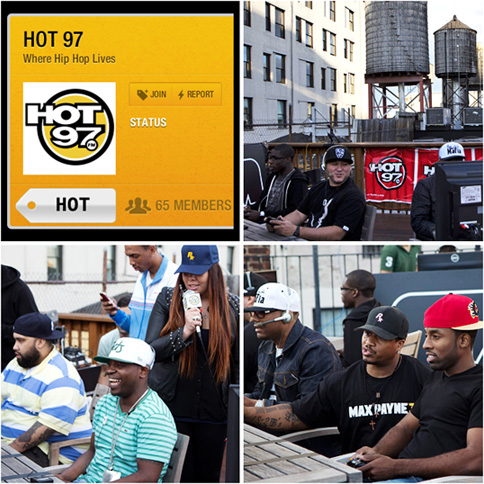 Stay tuned for more Multiplayer sessions hosted by the Official Hot 97 Crew featuring other soundtrack alumni as well as other special Rockstar friend Crew multiplayer sessions we're lining up for the weeks ahead including ones with Trouble & Bass from the Max Payne 3 soundtrack and with our longtime friends from the Opie & Anthony radio show very soon.
Previous Crew Cut Editions: