Last Chance to Have Your Likeness as a Max Payne 3 Multiplayer Avatar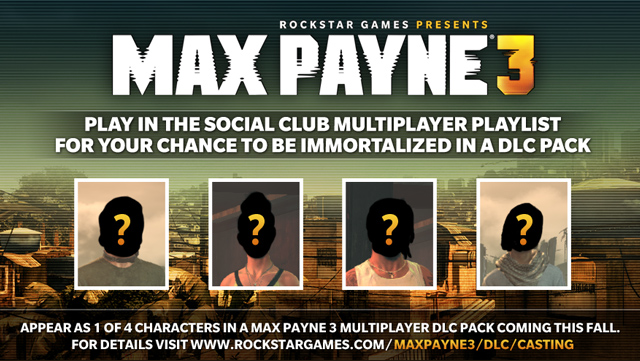 After the success of the first casting for Max Payne 3 Multiplayer Avatars, we are giving you one more chance to have your likeness appear as a member of a new Gang of Max Payne 3 Avatars, to be released as part of one of our Max Payne 3 DLC packs this Fall.

This is your last chance to get your mug into Max Payne 3, and this time we're looking for recruits directly from the online Multiplayer community: beginning tomorrow, and for all of July, we'll be hosting a series of Social Club Multiplayer Event playlists across all platforms and in both Soft Lock and Free Aim game modes. Twice a week, for the next four weeks, you will see "Social Club Event Playlist" appear in the Max Payne 3 Multiplayer menus (see full schedule below). Startup Max Payne 3 and select the playlist. Complete one full game with an account linked to Social Club, and you'll automatically be in consideration to have your face in the game.
Each week we will reach out via email to a randomly selected group of players who have participated and invite them to submit photos of themselves for consideration to be one of our new Gang Avatars. Those selected must respond with a picture within 24 hours to be considered. One person each week will be selected for casting. If you aren't initially picked, you can enter again the following week, simply by playing another session in the Social Club Multiplayer Event playlist.
Make sure you have your Xbox LIVE or PlayStation Network account linked to Social Club. If you haven't already set up a Social Club account, click here to do so. If you already have a Social Club account, click here to link your gaming network account.

Full details, along with terms and conditions can be found on our official contest page here. Any questions? Feel free to drop us a line at mouthoff@rockstargames.com and we'll be happy to answer. We'll see you online...
Previously: